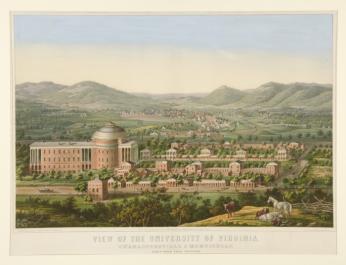 Every 'Hoo down in 'Hooville
Liked college a lot
But the Grinch, who lived above C-ville,
Did not
High on Lewis Mountain, to the west of the picturesque college town of Charlottesville, sits a house that looks down on the famous University of Virginia. You can see it from most places around central Grounds (that's UVA-speak for "campus") and its dominant presence has sparked all sorts of legends and rumors throughout the years. The most persistent involves a famous face you probably know, though it's unlikely you've ever thought about this person in conjunction with a Virginia college. 
According to legend, Massachusetts resident Dr. Theodore Giesel  - better known to the majority of the world as Dr. Seuss – lived in the Lewis Mountain House after his application to the university was rejected. Giesel was allegedly so upset over being snubbed by UVA that he purchased a house on the hill overlooking the school, because its elevated location allowed him to "look down" on the institution that rejected him. It's also allegedly the inspiration behind his famous children's book How the Grinch Stole Christmas. Which does, after all, come with repeated references to all those 'Hoos down in 'Hooville – something that UVA students, nicknamed "Wahoos" – or 'Hoos for short – in honor of a particular type of fish, have always embraced.
If you happen to be in any way connected to the University of Virginia, you've probably heard this urban legend before.  It's not true, but it's one of the most persistent myths associated with Mr. Jefferson's University, and, much like the dozens of completely anachronistic but apparently personally-sanctioned Jeffersonian traditions, we're all kind of fond of it.
Seriously. UVA tour guides still tell this story. Take your kids. Take a friend's kid. You'll hear it.
UVA students and alumni love this story though. Tell us that Giesel spent most of his life in New England or California, we don't care. Remind us that The Grinch spells it W-H-O –S down in W-H-O-ville, not (the obviously more correct) H-O-O-S and H-O-O-ville, we're really not that interested. Mostly because we like that Cindy Lou Who (Hoo, duh) and company are all obviously perfect beings, and fantastic stand-ins for the general Cavalier student body.
There's apparently just something about that house. Though the Seuss rumor is by far the most prevalent story you're likely to hear about its origins, there are several others, most of which have to do with some individual wanting to snub the school in some way. One story claims that the house was built by a graduate from UVA's in-state rival Virginia Tech, because he held a grudge about not being admitted to Virginia instead (not true). There's another story that a former student expelled for violating the University's iron-clad Honor Code lived there for a time after he became successful from attending some other school (also not true). 
The Lewis Mountain House is itself a rather significant part of Charlottesville history, though, and is recognized on the National Registry of Historic Places. Designed by local Charlottesville architect Eugene Bradley and known as the Kearny House after its first owner Brigadier General John Watts Kearny, it was built in 1909 and is frequently mistaken for Monticello, the home of third President Thomas Jefferson, by visitors. FYI: Monticello doesn't actually overlook the University – another common UVA misconception – though you can actually see down to Grounds from the house's back porch through a gap in the tree canopy. That Jefferson and his sight lines!
Kearny was the son of Philip Kearny, a highly praised, but now largely forgotten Union general in the Civil War who went by the nickname of the One-Armed Devil and was once close friends with Confederate General Robert E. Lee. The younger Kearny occupied the house until his death in 1933, when it was purchased by a Roman Catholic monastic order called The Society of the Precious Blood for a bargain basement price of about $50,000. The house subsequently became a monastery of sorts, where monks grew wine grapes and trained priests until 1950.
Lewis Mountain House is currently owned by the Campbell family (no relation to the famous soup company before someone asks), who acquired the property in the early 1950s. Thomas Campbell, a New York lawyer, lived in the house with his wife Julia and their two sons, and made a few modern improvements, like adding a telescope so he could watch the baseball games down at UVA's Lambeth Field.  After Mr. Campbell died in 1971, Mrs. Campbell retained ownership of the house, shut it off to the public, and labeled the area a no-trespassing zone, which is probably a big part of the reason that stories surrounding it continued to flourish.  (Another popular rumor about that house? People used to say Mrs. Campbell had trained her dogs to sniff out and confront clueless tourists who showed up in her driveway thinking her home was Monticello. Yikes.)
Julia Campbell passed away in late 2008, but the house remains in the Campbell family to this day.
As you can see, none of the folks who have owned this house seem terribly inclined to care about whether they're officially allowed to sing The Good Old Song or not. In fact, there's no evidence that anyone with any connection to UVA has ever lived in the Lewis Mountain House at all, or that it's ever had any legit association with the University, beyond all the stories that get told by the students.
But, next time you take a friend to the Charlottesville area, take them somewhere they can see the house. And tell them the Grinch lived there.
(Be responsible and tell them the truth later, but only after you get to see them look impressed with your knowledge first.)