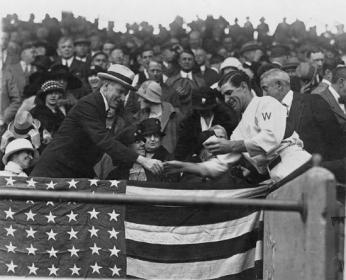 In 1924, the Washington Senators and the New York Giants (the forebearers to today's Washington Nationals and San Francisco Giants) met in the World Series. The series lasted seven games and the final game went into extra innings at Griffith Stadium. With one out in the bottom of the twelfth inning and runners on first and second, Senators' outfielder Earl McNeely hit a ground ball to the third basemen. The ball took a bad hop and Muddy Ruel ran home with the Series-winning run. The city went wild.
As the front page of the Washington Evening Star proclaimed on the next day, "Time may erase the solemn pages of history, fleeting ages may sink nations into the dust of forgotten pasts. But nothing will ever dim the memory of that wonderous hour when Washington won the world base ball championship."
No doubt that seemed true at the time to readers who were basking in the glow of Washington's first World Series championship. However, it may have been a little optimistic.
The Senators had a few more good seasons in the 1920s and early '30s. But, with the decades of lackluster teams following the 1933 American League Championship, the 34 years when D.C. was without a team, the early struggles of the current Nationals franchise, it's probably hard for most fans to visualize what a baseball championship in the nation's capital actually looked like.
Well, thanks to the Library of Congress, it just got a whole lot easier.
In 2013 Lynanne Schweighofer, a Moving Image Preservation Specialist at the Packard Campus in Culpeper, Virginia, came into possession of eight rolls of nitrate film reels. Schwieghofer got the reels from her parents who found them while cleaning out their deceased neighbor's home when they were serving as the executors to her estate. Upon inspection, Schweighofer discovered that one of the reels contained a "Kinograms" newsreel featuring a prominent story on Game 7 of the 1924 World Series. The good folks at the Library of Congress cleaned up the footage, digitized it, and reached out to a local composer, Andrew Simpson, to compose a musical score.
The resulting video is incredible! The only known footage from the series, it's pretty much a 1920s-style Sportscenter highlight package, which shows the pivotal points in the game, including McNeely's game-winning hit. Cheers to the LOC for recapturing one of Washington's greatest sports moments. For more on how they did it, check out their National Audio-Visual Conference Center blog. Go Nats!