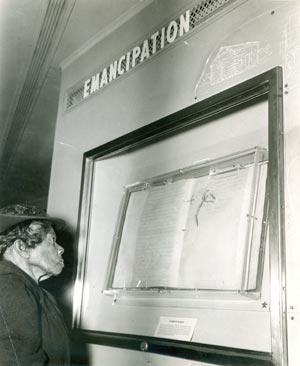 This is one of the most powerful images I have seen in a long time. It is a 1947 photo of Sally Fickland, the oldest living former slave in the country at the time, looking at the Emancipation Proclamation, which ordered that slaves in the South be freed in 1863.
Can you imagine the emotions that she must have been feeling in that moment?
From Sunday, December 30 through Tuesday, January 1, the National Archives is celebrating the 150th Anniversary of the document with a special display of the original document in the East Rotunda Gallery. The commemoration will include extended viewing hours (including a 10am - 1am hours on New Years Eve), inspirational music, historical reenactments and a dramatic reading of the Emancipation Proclamation by Dr. Bernice Johnson Reagon.
Do yourself a favor and go check it out. Since the National Archives carefully limits the light exposure of this landmark document, it is not often put on display. So, this weekend is really special.
For a full listing of events, visit the National Archives website.