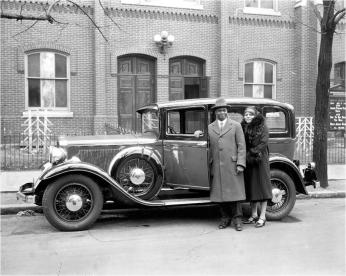 Addison Scurlock dressed in a suit and tie whenever he held a camera. Confident and serious about his work and his appearance, he presented himself to the world the same way that he presented his subjects.
Scurlock was only 17 when he moved to Washington and listed "photographer" as his profession in the 1900 census. He apprenticed with a white photographer for three years before opening his own studio in his parents' house. By 1911 he had a studio in northwest Washington, and soon he had two apprentices of his own: his sons, Robert and George. As adults, they joined him in the photography business. 
"I would describe my father as very intense, in all of his endeavors," Robert Scurlock said in a 2003 interview. "He had a lot of drive to him. If he saw something he wanted to explore, he would find all means of doing it."
Scurlock's subjects — usually members of the black middle class — were the kind of people who wore gowns and danced in ballrooms with vaulted ceilings and ornate chandeliers. They were part of what some have called Washington's secret city, the black community that seemed practically invisible to the white majority.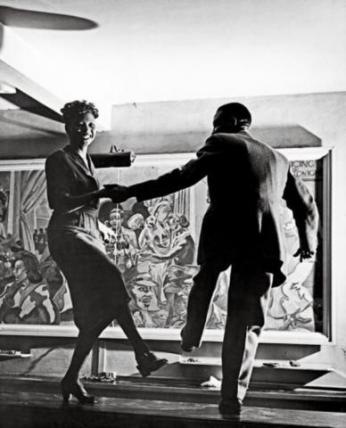 Until then, blacks had generally been portrayed in the media through minstrel caricatures. But Scurlock started photographing members of his community at home in front of their fireplaces, outside their offices, and on college campuses. They dressed nicely and kept steady jobs, and their children went to summer camp. 
"You see these amazing strivers, you see these people who have acquired homes and businesses," Lonnie Bunch, director of the National Museum of African American History and Culture, told Smithsonian Magazine when the museum showcased the Scurlocks' work in 2010. "In some ways I think the Scurlocks saw themselves as partners with Du Bois in ... crafting a new vision of America, a vision where racial equality and racial improvement was possible."
And the Scurlocks' subject matter rarely differed — the photographs portray Washington's middle class black community almost exclusively. "They don't get into poverty," Paul Gardullo, co-curator of the Smithsonian exhibition, said. "It wasn't their project, and there simply wasn't money in that."
Scurlock hung his photographs in the window of his studio. And in the black community, appearing in one of those photographs became something of a status symbol. It was understood that if anyone of high social standing hosted an event, Scurlock would be there to photograph it. He was, according to historian Jeffrey Fearing, a sort of "photographic Boswell — the keeper of the visual memory of the community in all its quotidian ordinariness and occasional flashes of grandeur and moment."
Throughout his career, Scurlock was committed to perfecting the meticulous details of his craft. His family remembers him constantly adjusting the lights and repositioning his subjects inside his studio, and his wife, Essie, called him "an unusual man in every way." She added, "Full of life, flexible, always ready to participate in whatever activity. But photography was his happiness."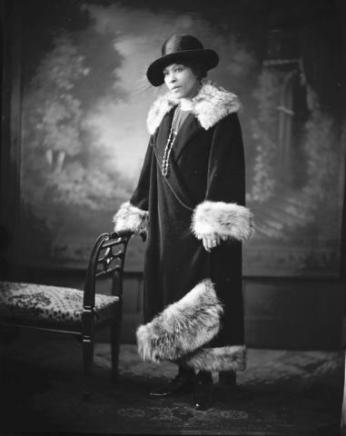 When his sons joined the business, they adopted their father's signature style: the "Scurlock look." Their photographs were almost always posed, and their subjects had a sense of dignity and purpose about them. There were rarely shadows, and the Scurlocks would retouch their photos later to portray their subjects in the most flattering light possible. The Scurlock men held the conviction that nobody was ordinary — a little girl's performance in her dance class was equal to Marian Anderson's performance at the Lincoln Memorial, and both subjects would be portrayed with poise and dignity.
"My father was a member of a gone breed, a real painstaking artist," Robert said in a 1976 interview. "He believed in art, not this snap-and-run technique some commercial photographers use today."
The Scurlocks photographed prominent black leaders like Booker T. Washington, W.E.B. Du Bois, and Duke Ellington. Once, Addison even photographed President Calvin Coolidge on the White House lawn. During the event, Scurlock wasn't happy with the way Coolidge was positioned, so he walked up to him and moved him around. The Secret Service agents weren't pleased.
Addison worked until a year before his death in 1964. Ten years later, George left the business, but it stayed open until Robert's death in 1994. The family's collection — about 250,000 negatives and 10,000 prints — is now part of the Smithsonian's archive.