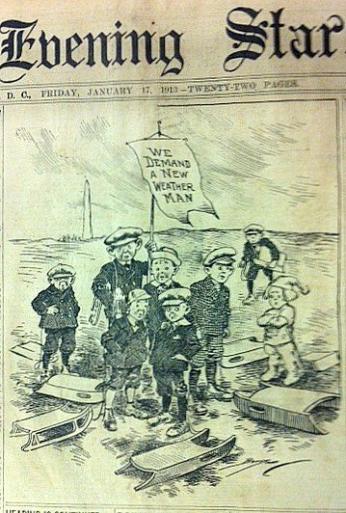 Weren't we supposed to get snow today? At one point the word was that D.C. might get five or six inches... then it was down to an inch or two... then a dusting... now, nothing. It's a major disappointment for those of us who like the white fluffy stuff.
Well, it seems predicting the weather here has always been a little bit of a crapshoot. Check out this cartoon that ran on the front page of the Washington Evening Star newspaper exactly 100 years ago today, January 17, 1913.
A bunch of stocking-cap-clad kids are ready to go sledding in Washington but, like today... NO SNOW, just clouds. I wonder if their grassroots "We Demand A New Weather Man" campaign had any impact?
Kudos to the folks at the D.C. Public Library's Washingtoniana division for pulling this gem out of the archives.