Thanks to Samantha Bass of the Jewish Historical Society of Greater Washington for this guest post.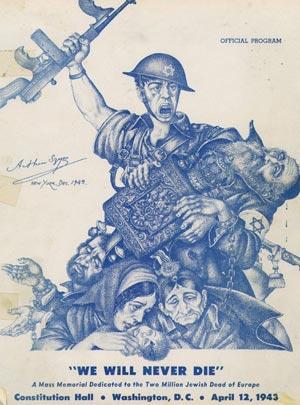 In an age before e-news, social media, and cellphones, one pageant helped bring the truth about the tragedy unfolding in Hitler's Europe to the nation's attention.
In late 1942 the U.S. government confirmed what had already been reported in Jewish circles: two million Jews had been massacred in Nazi Europe. Frustrated with the relegation of this news to the inside pages of most newspapers, academy-award winning screenwriter Ben Hecht and Peter Bergson (born Hillel Kook), a Zionist emissary from what was then Palestine, collaborated to produce the show.
Although Hollywood support of political causes was not common back in the 1940s, the pair found allies. Famous actors Edward G. Robinson, Paul Muni, and Sylvia Sydney had starring roles, Moss Hart directed, and world-renown musician Kurt Weill composed an original score for the event. Artist Arthur Szyk provided the program cover art, "Tears of Rage," to depict the meaning of the pageant: "Action – Not Pity." The pageant opened at Madison Square Garden in 1943 with Marlon Brando in the lead, and ultimately reached over 100,000 people in six cities.
The Washington performance on April 12, 1943 is truly a local story, for not only were the audience members key Washington diplomats and politicians, but many of the performers were Washingtonians. Then eleven-year-old Dorothy Kornhauser remembers donning a white dress and face paint to play a ghost in the scene "Remember Us." Society members Rudy Arkin and Norman Kamerow were also extras on the set.
The late Harry Selden wrote and edited Peter Bergson's publications, lobbied Congress, organized rallies, and championed for the rescue of refugees and building a Jewish state.
Well aware of their official audience, Hecht inserted a special scene, "Words for Washington," which asked diplomats and politicians to take action to rescue the Jews. In 1943, who would have thought that when many members of Congress were just learning about the Holocaust, a survivor would be elected to Congress thirty-eight years later?
The Washington Post ran prominent articles about the pageant and the First Lady wrote about the pageant in her syndicated column "My Day," telling readers that "No one who heard each group come forward and give the story of what had happened to it at the hands of a ruthless German military, will ever forget those haunting words: 'Remember us.'"

For Further Reading
Breitman, Richard and Allan Lichtman. FDR and the Jews. Boston: Harvard University Press, 2013.
Roth, Walter. Avengers and Defenders: Glimpses of Chicago's Jewish Past. Chicago: Academy Chicago Publishers, 2008.
Wyman, David and Rafael Medoff. A Race Against Death: Peter Bergson, America, and the Holocaust. The New Press, 2002.
United States Holocaust Memorial Museum. "We Will Never Die: Shattering the Silence Surrounding the Holocaust." Holocaust Encyclopedia. http://www.ushmm.org/wlc/en/article.php?ModuleId=10007036. Accessed on April 16, 2013.
NOTE: This post was originally published in advance of a special event held at the Jewish Historical Society of Greater Washington on April 25, 2013. That event included readings from the pageant's original script by D.C. Councilmember Jack Evans, Ford's Theatre Director Paul R. Tetreault, Adas Israel Congregation Cantor Arianne Brown and Managing Director of the Washington Jewish Week Meredith Jacobs. Dr. Rafael Medoff, director of The David S. Wyman Institute for Holocaust Studies, and Dr. Allan Lichtman of American University and co-author of the recent book FDR and the Jews, discussed the 1943 pageant and the American Jewish community at the time. Holocaust survivor Dr. Alfred Munzer shared his experiences hidden as an infant in the Netherlands.