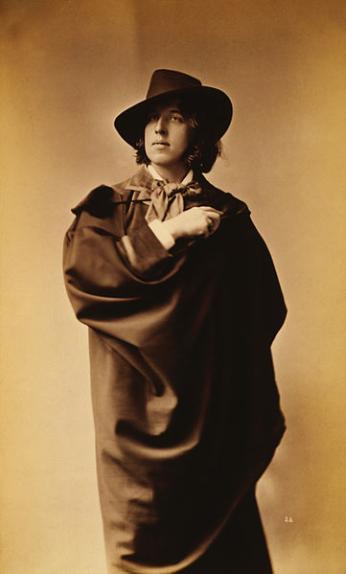 You know who was just too fabulous for Washington. D.C. to handle? Oscar Wilde. This fellow caused quite a stir when he visited in the January of 1882 as part of a lecture tour on the "Philosophy of Aestheticism". The general theory of 'aestheticism' seemed to be living in beauty, and Oscar Wilde practiced what he preached; half of any article about him was devoted to his devilish style. Newspaper reporters practically fawned over him, and we're not going to blame them. Listen to this:
"Short embroidered jacket, with ruby silk cuffs and facings, and wearing knee-breeches and black silk stockings, with low-cut patent leather shoes, tied by wide silk ribbons… Bryonic shirt collar… cut low and brought together by a wide white satin tie."
And that was just his first day in town. Here's what he wore the next day.
"A tight-fitting gray ulster [a type of coat], … a pair of velvet knee-pants. A pair of black silk stockings and patent-leather shoes, with large clack silk bows. … A wide Byronic collar and a blue bow of the most delicate and ethereal shade, with long streaming ends." He wore a hat " in the shape of a polo cap of a peculiar blackish-brownish hue, bound with pink. A pair of semi-gauntleted flesh-colored kid gloves and a light, fancy cane completed the garb."
By night he'd changed into a "short, close-fitting dressing jacket of blue cashmere, with collar and deep cuffs of cardinal satin. … with a low-cut vest, displaying a magnificent expanse of shirt-front. In the centre of the shirt was an immense stud of clustered diamonds.  In place of the morning's blue bow, Mr. Wilde wore a white silk tie."
No wonder the papers were so taken with him!
Oscar Wilde was sensational all over Washington; he even created a teeny scandal when he tried to be admitted to Congress without first sending in a card. On the afternoon of the 20th, Wilde asked to speak with Speaker Keifer while Congress was in session and was mildly surprised to be stopped at the door. Upon learning that he had to send in his card, the poet laughed and remarked that the British Parliament never required the same. While Wilde still wasn't allowed on the floor, the Speaker met with him personally that night at his hotel.
Well, of course Keifer did. Just look at that author; he's one "Wilde man of England."
Sources:
"Wilde Oscar, the Lover of the Big Sunflower, Has Arrived in the Capital...," National Republican (Washington, DC), January 20, 1882, Image1, col. 5.
"Oscar and Our Man," National Republican (Washington, DC), January 21, 1882, Image 1, col. 3.