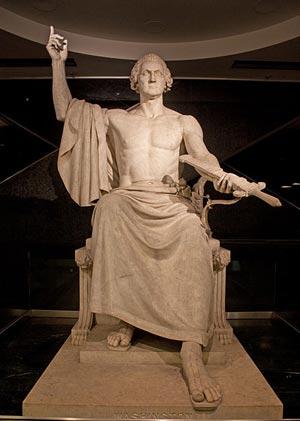 The nation's capital is chock full of statues, memorials, monuments, historic markers, and museums. As the seat of the United States government, Washington has a unique niche as both a repository of history and as a tourist spot. Some monuments are world-famous, some now reside in hidden corners, some are the centers of conspiracy theories (as Dan Brown and National Treasure fans will know), and some have been forgotten altogether. One statue in particular has been all of these things – and more – since it was first created: Horatio Greenough's George Washington.
The journey of Greenough's Washington statue is a strange one indeed. In 1832, Congress commissioned the sculptor to create a statue of George Washington for display in the Capitol Rotunda, to commemorate the centennial of his birth. Greenough was Boston-born and Harvard-educated, and by 1832 had built a reputation for himself as an accomplished artist.
Asked to show the first President sitting instead of standing, Greenough came up with a classical depiction of Washington, seated with his chest bared, a toga draped over his lap and his right arm raised to the heavens. Washington offers the hilt of his sword to the observer, symbolizing his resignation from his post as leader of the Continental Army. The figures of a Native American and Christopher Columbus stand to both sides of Washington, and the side panels of the chair he sits in bear images of Helios and an infant Hercules, from Greek mythology.
After its completion in Italy in 1840, the statue was ready for shipment, but caused all sorts of logistical problems for the government. The statue weighed twelve tons, and reportedly took twenty-two yoke of oxen to haul it to Genoa from Florence, where Greenough spent most of his professional life. The statue also apparently attracted attention wherever it went, as devout Catholics crowded the streets, thinking that it was a representation of a saint.
Washington finally arrived in the District in 1841, ready to take up its new home in the Rotunda. But the weight of the statue immediately caused problems, as it threatened to collapse the floor. The lighting inside was also poor, and so the statue was moved outside to the Capitol lawn at the request of Greenough. That seemed like a good solution except that the problem now was that it was on display for all to see… and everyone seemed to hate it.
Well, maybe not everyone, but a general hue and cry went out about the way that the man who was "first in war, first in peace, and first in the heart's of his countrymen," was depicted. People were scandalized, offended, and downright angry that Washington had been sculpted in such scant clothing. Some joked that it looked like he had just come out of a bath and was reaching for his towel, or that he was reaching for his clothes, which were on display at the Patent Office down the street.
By 1908, there had already been several attempts in Congress to move the statue again. Some focused on the inappropriate depiction of Washington, but many more noted that the marble statue was succumbing to the elements, and yearly repairs were not something that the Congress wanted to fund. The statue actually had to be covered for long periods to protect it from winter winds and summer heat, and so some also felt that there was no purpose in keeping it outdoors if it had to be covered up intermittently.
The statue was relocated in 1908 by order of Congress to the Smithsonian Castle, where it remained until 1964, when it was moved to the new Museum of History & Technology, which we now know as the National Museum of American History. The object of derision and scorn since it was first made public in 1841, Greenough's Washington is now tucked away, but still serves as a powerful symbol of Washington's near god-like place in the imaginations of many Americans.