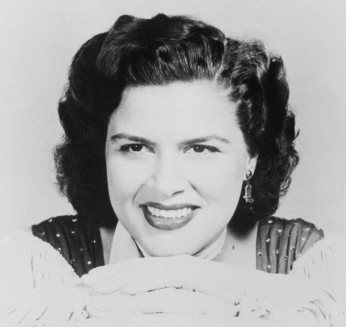 In the late 1950s and early 1960s, Patsy Cline, the subject of an American Masters documentary, was the first female country music star to become a crossover sensation on the pop charts, with hits such as "Walkin' After Midnight," "I Fall to Pieces" and "Crazy," and more than a half-century after her death in a plane crash at age 30, her sultry alto voice still beguiles fans across the world. 
But while Cline first achieved fame on the nationally-televised "Arthur Godfrey's Talent Scouts" program and scored her biggest hits while a cast member of Nashville's Grand Ole Opry in the early 1960s, Washington, D.C. played a crucial role in her career. For the singer, who was born and raised just 75 miles away in Winchester, Va., the District's then-thriving "Nashville North" country music scene provided a stepping-stone to greatness — a supportive milieu in which she could earn a paycheck, develop her talent, gain exposure on TV and in local nightspots, and evolve into a performer who could captivate larger audiences. 
According to Cline biographer Margaret Jones, one important person in Cline's rise was Ben Adelman, a former member of the U.S. Navy Band who'd fallen in love with country music after World War II. In the early 1950s, Adelman opened True Tone, a low-budget recording studio, in a room on the third floor of a Georgia Avenue row house, and spent his savings equipping it with recording gear that he ordered from Germany. For a lot of fledgling country musicians trying to make it in Nashville North, cutting a demo in Adelman's studio was the best shot at getting a contract with a label. In the cramped, stuffy space filled with a wild jungle of wires — Adelman propped up his recorder on a chair — it was challenging to get a decent take. Nevertheless, as musician Wade Holmes told Jones, "Patsy always sounded good. She had a real feel for singing, and she carried her own." According to G.E. Hewitt's Patsy Cline Discography website, Cline performed at 12 recording sessions at True Tone in 1953-54. 
Cline got her first big break in August 1954, when she went to Warrenton, Va. to compete in the National Country Music Championships, a talent contest sponsored by Connie B. Gay. Cline's rendition of "Faded Love" won her the $100 prize as best female vocalist.
More importantly, Cline also won a regular daytime gig at WRAL-AM's studio in Arlington — performing jingles and singing on Gay's "Town and Country Time" radio program, where the house act was Jimmy Dean and the Texas Wildcats. In September of that year, according to Cline biographer Ellis Nassour, it was Dean who introduced the singer to the D.C. area's radio audience. "I know that you're gonna hear a whole lot about a real fine youn'un by the name of Patsy Cline," he told them. Dean asked her what song she would perform.
"I'm gonna walk a li'l bit of dog!" she replied, before launching into the Tex Grimsley tune, "I'm Walking the Dog."
Around that time, her True Tone tapes got the attention of one of Adelman's industry contacts, Bill McCall of California-based 4 Star Records, who came to Washington and signed Cline to her first recording contract at age 22. 
Over the next several years, Cline would continue to hone her talents. In October 1955 she made the first of multiple appearances on Gay's local TV show, "Town & Country Jamboree," for which she earned the humble sum of $120.36 per performance, according to Nassour. She also performed at local nightspots such as the Famous Club. 
But Cline was destined for far bigger things. In 1957, she landed a spot on Arthur Godfrey's program, where she won the competition with her performance of "Walkin' After Midnight." As the Washington Star reported, "Since her appearance on Godfrey's show, she has received a countless number of congratulatory calls and telegrams." More importantly, when the song broke big on both the country and pop charts, she had become a star at last.