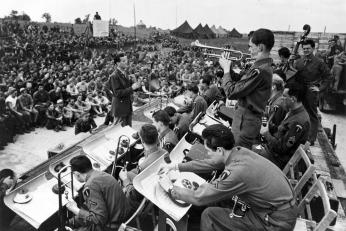 On Nov. 13, 1945, the National Press Club hosted a dinner honoring President Harry Truman at Hotel Statler (the present-day Capital Hilton Hotel). The 1,000 person guest list featured a virtual who's who of Washington's political elite: Truman, former President Dwight Eisenhower, General Henry "Hap" Arnold, Prime Minister Mackenzie King of Canada, some cabinet members, several Supreme Court justices, various members of Congress, and Eddie Cantor served as master of ceremonies.[1] Attendees looked forward to a performance by Glenn Miller's famous Army Air Force Band.
While festive, the evening was also bittersweet, for the band was without its leader. Nearly a year earlier, Miller had gone missing over the English Channel, while traveling from England to France to give concerts to the troops liberating Europe.
Before the music started, Cantor offered a eulogy in which he praised Miller's admirable character, and true dedication to his music and country:
"Glenn Miller was a very wonderful man who led a very wonderful band. As a civilian, he led an orchestra that for three and a half years was the number one band in America. He could have stayed and made himself a lot more money, and then, if he wanted to, he could have retired, an independently wealthy man. He chose not to. He was an extremely patriotic man and he felt an intense obligation to serve his country that had gone into war. He disbanded his great orchestra and formed an even greater one. Still, he could have remained here in America. Again he chose not to. Instead, he chose to take himself and his orchestra overseas to where he felt he could do the most good for our fighting men. What a tremendous morale-building job he and his men did over there. Now this great band is back here with us this evening, but without its most important member, Maj. Glenn Miller himself. For, as we know all too well, he made the supreme sacrifice for his country. He will never be forgotten for always we will have the sound of the great music that he created." [2]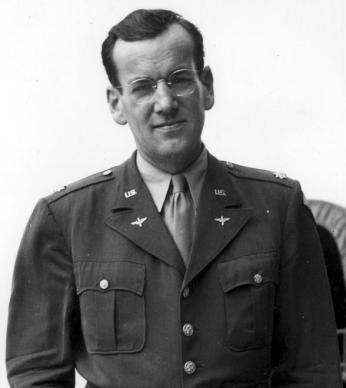 After these words, "the curtains parted and the band played the opening bars of Moonlight Serenade"—Miller's most famous composition.[3] As soon as the first notes flowed out, President Truman and Prime Minister King stood to lead the audience in a spontaneous standing ovation to show their appreciation for everything the band had done for the troops while overseas.
Although this event honored his dedicated military service, Major Glenn Miller was not solely the commander of The Army Air Force Band (AAF); in fact, Miller was already a music superstar when he entered the military.
If you were to think about the musicians dominating the Top 40 charts today, then you have a pretty good equivalent to the popularity Miller and his original jazz orchestra held in the late 1930s and early 1940s. Under Miller's direction, and tireless rehearsal schedule, which expected perfection, the group produced 70 top ten singles, and 22 number one records in just four years. It also remains to hold some of the most successful song recordings in music history with 23 number-one-hits (more than both Elvis Presley and The Beatles).[4] George T. Simon, a former Miller Band drummer, later remarked that Miller's recording of In the Mood made him "the Michael Jackson of his day."[5]
Just as the Glenn Miller Orchestra reached the height of its popularity in 1942, Miller decided to quit his life as a civilian (and a $15-20,000 a week salary!), and volunteer his musical talents to the war effort by joining the Army Air Forces. Because of his age, 38, and his glasses, he knew that he would not be drafted, and therefore obtained a commission in the AAF on Nov.. 23, 1942. He was sent to Maxwell Field Air Force Base in Montgomery, Alabama where he played trombone in their dance band "The Rhythmaires," until he was able to suggest the establishment of official AAF bands to Major General Walter R. Weaver.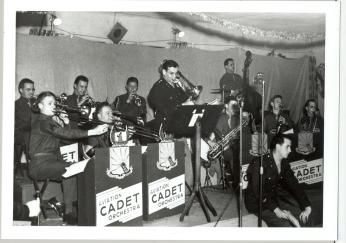 Weaver agreed, and by March of 1943, Miller was commanding a group of musicians that consistently performed live and made recordings of their swing tunes for active servicemen across the country.[6] This group was particularly famous for its instrumental I Sustain the Wings radio broadcasts that aired on CBS, and later NBC, weekly on Saturdays from September 1943 until June 10, 1944 when they departed for England.
It was June 6, 1944, the D-Day invasion of Normandy, that changed everything for Miller; he wanted to use his music to help boost the morale of the men fighting overseas, rather than just performing domestically. He persuaded General Henry "Hap" Arnold to allow him to take a 50-piece band to England to play for the troops—this group was quickly known as Glenn Miller's Band. Between mid-June and early-December of 1944, Glenn Miller's Band gave 300 live performances in England, as well as 500 radio broadcasts to Allied troops.[7] Miller felt a strong sense of responsibility in using his music to help the troops overseas, who were in many cases giving their lives to protect the United States in World War II. Major General Jimmy Doolittle remarked: "Next to a letter from home, Capt. Miller, your organization is the greatest morale builder in the European Theatre of Operations."[8]
Continuing to build morale across the European Theatre, Miller prepared to travel with the band to France in December of 1944 to start the next round of shows. In an effort to ensure all of the details for the band's appearance were taken care of, Miller departed England a day earlier than the rest of the band, taking his manager's place on the flight from Twinwood Farm airfield near Bedford, England, to Paris, France. On the day of the flight, Dec. 15, 1944, however, Miller was reported missing when the Norseman plane carrying him disappeared over the English Channel. There has been a great deal of speculation, and even some conspiracy theories, regarding the disappearance of Miller and the plane he was in (neither of which have been found to this day). One theory that was widely accepted for a long time was that bombs being jettisoned over the English Channel by returning Allied bomber planes had stricken Miller's plane down.[9] Most recent conclusions have determined, however, that the cause was likely a combination of human error, bad winter weather, and a malfunctioning, frozen-over carburetor that caused the engine to fail.[10]
The AAF Band traveled to Paris the next day only to find that Miller was not there to greet them. Still in a bout of confusion, they proceeded to play the Christmas show for the troops in France—their first show in newly liberated Paris. After that performance, the AAF Band continued to tour the European Theatre for the next six months, boosting the morale of troops without Miller at the helm.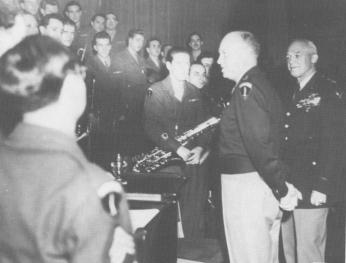 The AAF Band's performance for the Press Club in Washington was a significant one for the group, though they did not know it until the very end. Once the band had finished playing, Eisenhower approached the stage to thank the boys for the incredible work they had done overseas, and to inform them that they were being discharged.[11] The band's set at the Press Club's dinner would be the last public performance the original group would play. Four days later, on Nov. 17, 1945, the Band gave its last ever performance on their famous I Sustain the Wings broadcast over NBC at 11:30 pm from Bolling Field Air Force Base in D.C.
Although Miller's original AAF Band was discharged, his and the Band's legacy is still carried on today through The Airmen of Note—a jazz ensemble of the U.S. Air Force started in 1950. The ensemble calls Joint Base Anacostia-Bolling here in Washington home, and they continue to keep soldiers and civilians alike "in the mood" for Glenn Miller and his unique big band sound.
For a closer look into Glenn Miller's mysterious disappearance, check out the PBS production History Detectives Special Investigations: The Disappearance of Glenn Miller