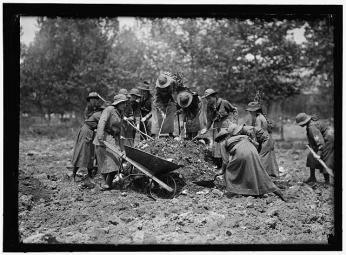 If you were to delve into the history of the Girl Scouts of the Nation's Capital (GSNC), most of what you would find relates to troops' longstanding history of service (like the time they provided free meals to the D.C. community during the 1918 pandemic? Yeah, that was pretty cool). After all, Girl Scout's mission statement espouses values like "courage, confidence, leadership, and character."[1] But as historian Miya Carey reveals, the GSNC's legacy is complicated by its historical exclusion of Black troops.
Juliette Gordon Low founded Girls Scouts in 1912 in her hometown of Savannah, Georgia, in an attempt to provide girls an opportunity to explore the outdoor world and hone their education.[2] Not long after, in June 1913, Low moved to Washington and established the Girl Scout national headquarters at the Munsey Building (1327 E St. NW), effectively making D.C. the new "hub" of Girl Scout activity.[3] The first Girl Scout troop in Washington was formed later that same year, and by February 1914, The Washington Post reported that "Girls in every section of Washington [were] taking an active part of the organization."[4]
What The Post likely meant was white girls in every section of Washington were taking part, as it would take another 15 years for a troop of Black girls to form, and even longer for the GSNC to officially recognize and support Black Girl Scout troops.
Carrie Knox, who served as the head of two Black community centers in D.C. (Burrville and Dunbar), can be credited as starting one of the first Girl Scout troops for Black girls in Washington. Knox formed a troop in 1929, but it disbanded a few years later, likely due to a lack of support. Gladys Ward, another community leader, took up Knox's efforts, advocating for troop recognition in the 1930s and leading 50 Black girls on a hike in Maryland in an attempt to meet Girl Scout requirements.[5]
The GSNC proved a little more responsive in the 1930s, and in 1933 they established a Committee on Colored Troops to communicate with the existing Black troops in the District.[6] According to historian Miya Cary's research, advocates for Black Girl Scout troops felt that the need extended beyond recognition of Black troops or even integration. What Black Girl Scouts troops really needed was equal access to opportunities and facilities – particularly GSNC camps, like Camp May Flather in the Virginia mountains, which had a strict whites-only policy.[7]
So even when the GSNC officially sanctioned Black Girl Scout troops in 1934, by creating a new Girl Scout "District VII" for Black troops, District VII's appointed leader, activist Virginia Richardson McGuire, pushed for more. She accepted the position with the condition that the GSNC offer an equal program to Black troops as they did white troops.[8] This meant integrating Camp May Flather.
Progress on the local level was slow, but for their part, Black Girl Scout troops didn't remain stagnant. Troops camped at Rockwood, an integrated camp operated by the national organization, Girl Scouts USA, as opposed to the local council.[9] Leaders of District VII even began fundraising to open their own camp for Black Girl Scout troops.[10] Finally, in 1955, the GSNC's Committee on Camping to officially recommend that Camp May Flather be desegregated -- one year after the U.S. Supreme Court's decision in Brown v. Board of Education overturned "separate but equal" segregation in America's public schools.
The Committee on Camping recommends that there be no restrictions in any camp based on race. This means that in troop camping we will continue the present practice of camping as troops, but when council-wide encampments are held, there is no segregation.

Day camps will continue to be operated by District Committees and attendance will be limited by District jurisdiction.

Established camps will be open to all girls in the District of Columbia and Montgomery County [Maryland] regardless of district jurisdiction.[7]
Shortly after, in 1957, the GSNC's troops officially integrated. Well, at least on paper. District VII disbanded and scouts were instructed to join troops based on locality rather than race. But since most troops were founded in what were largely homogenous churches, community centers, or neighborhoods, the actual makeup of troops didn't change all that much, and Black Girl Scouts continued to experience micro-aggressions, racial hostilities, and other forms of discrimination in their work as scouts and in their relationship with the GSNC at large.
This began to change, at least within the GSNC, when Ethel Harvey was named the first African-American president of the GSNC -- and the first African-American president of any Girl Scout council in the nation -- in 1972. Her leadership wouldn't ameliorate all the injustices Black Girl Scouts faced, but it did bring Washington's Girl Scouts a little closer to fulfilling the Girl Scout law:
I will do my best to be honest and fair, friendly and helpful, considerate and caring, courageous and strong, and responsible for what I say and do, and to respect myself and others, respect authority, use resources wisely, make the world a better place, and be a sister to every Girl Scout.[11]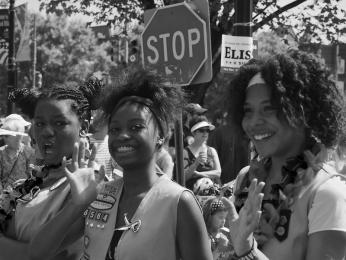 For more on this history, check out Miya Cary's research and Ann Robertson's Girl Scout History Project, both of which served as great resources for this article.
^ "Who We Are," Girl Scouts, https://mission-statement.com/girls-scout/
^ "Our History," Girl Scouts, https://www.girlscouts.org/en/about-girl-scouts/our-history.html
^ Ann E. Robertson. Girl Scout Council of the Nation's Capital, Arcadia Publishing, District of Columbia, p. 11
^  "GIRL SCOUTS INCREASE: FOURTH TROOP WILL SOON JOIN OTHER PATROLS OF…"The Washington Post (1877-1922); Feb 22, 1914, pg. 10
^ Miya Carey. "Becoming "a Force for Desegregation": The Girl Scouts and Civil Rights in the Nation's Capital." Washington History 29, no. 2 (2017): 52-60. www.jstor.org/stable/90015025, p. 54
^ Ibid, p. 55
a, b Ann E. Robertson, "Camp May Flather Desegregates in 1955," Girl Scout History Project, 31 August, 2015, https://gshistory.com/2015/08/31/camp-may-flather-desegregates-in-1955/
^ Miya Carey. "Becoming "a Force for Desegregation": The Girl Scouts and Civil Rights in the Nation's Capital." Washington History 29, no. 2 (2017): 52-60. www.jstor.org/stable/90015025, p. 56
^ Ibid., p. 57
^ Ibid., p. 57
^ Ann E. Robertson. Girl Scout Council of the Nation's Capital, Arcadia Publishing, District of Columbia, p. 26