Just as this week's cold snap sent many people searching for their winter coats, it also reminded some shivering citizens of a particular month-long "celebration" that keeps their cheeks warm, too: "No-Shave November." As a person who appreciates history and a good facial hair crop, I couldn't help but think of certain furry Civil War general who rose to prominence 150 years ago this week.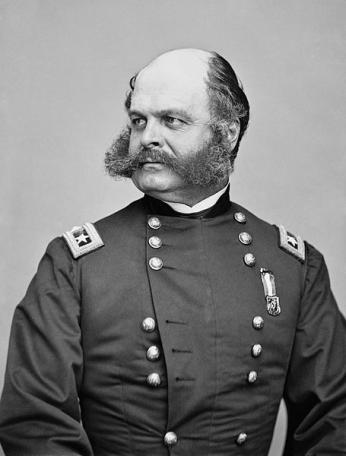 By November of 1862, the Civil War's second year was drawing to a close, and President Lincoln had run out of patience with the commander of the Army of the Potomac, General George McClellan. On November 5, the President relieved McClellan of his command and, two days later, named General Ambrose E. Burnside to the post.
The change didn't have the desired effect. The new commander quickly demonstrated his incompetence at the Battle of Fredericksburg in December 1862 and was reassigned in January. But despite his shortcomings on the battlefield, General Burnside is still remembered and celebrated for one thing: his incredible facial hair, now called sideburns in his honor.
In truth, Burnside's "distinctive" look was not really very distinctive at all -- there were many… um…  interesting facial hair trends of the nineteenth century. But even in an army that offered plenty of competition, Burnside's style had a lasting legacy. In the "Best Facial Hair in the Civil War" poll by Smithsonian Magazine, he is far and away the top choice.
So, regardless of his military failings, Burnside's greatness when it comes to facial hair is undeniable. Ever since he showed us how it could be done, men all over have carefully manicured their faces in tribute. (Elvis, anyone?) Undoubtedly, some brave soul will attempt to revive the original "Burnside" style during this No-Shave November. In fact, I'm considering it myself.