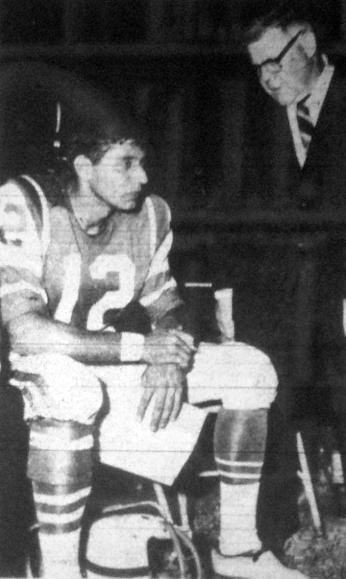 So where do you think Hall of Fame quarterback Joe Namath made his professional football debut? Shea Stadium in New York? Wrong. Fenway Park in Boston? Wrong again. D.C. Stadium in Washington? Nice try, but no.
The correct answer is… George Washington High School in Alexandria, Virginia. Say what? Yes, it's true.
On August 7, 1965 Namath and the New York Jets played the Houston Oilers at GWHS in their first preseason game of the 1965 AFL season. (Namath had participated in the Jets' rookie game vs. the Boston Patriots a few days prior, but this was his first taste of the "varsity.") The game was a charity benefit sponsored by Kena Temple, the local Shriners organization, and was wrapped into the city's annual "Alexandria Days" summer festival.
As you might imagine, hosting a professional football game was a pretty big deal for Alexandria. Temporary bleachers were brought in and GW's stadium, which was already pretty big for a high school stadium, was enlarged to seat 25,000 people. Tickets went for $6.00 and could be purchased at locations around the D.C. area including the Pentagon, the Willard Hotel and select businesses.[1]
Prior to the game, Houston coach Hugh "Bones" Taylor (who had been a Redskin during his playing days) was presented with a key to the city and Oilers players – including future Hall of Famer George Blanda – took part in the a parade down King Street, tossing miniature footballs to kids along the way.[2] At GW, Shriners kept fans entertained with the "Kena Klowns," a pep band of Temple members and a color guard.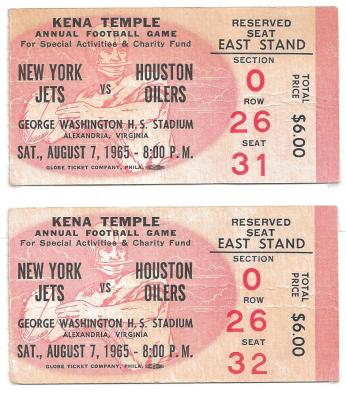 But clearly Namath, who had just signed the richest contract in pro football history, was the big attraction. As the Alexandria Gazette put it beforehand, "the eyes of the sports world will be focused on Alexandria to see just how he fares against the play-for-pay boys."[3]
So, how did Namath fare in Alexandria?
Pretty well, actually. Playing only half the game (he split time with another quarterback) Namath led the Jets to 13 points and threw for 110 yards. The performance inspired Gazette reporter Lloyd Groves to write that Namath, "no doubt, made believers out of most of the fans who witnessed his pro football baptism."[4] In the end, however, "Broadway" Joe (or maybe we should call him "King Street" Joe?) wasn't enough to knock off the Oilers, who took home a 21-16 victory.
Special thanks to Dave Beach (GWHS '55) and Doug Garthoff (GWHS '60) for their assistance with this article. To learn more about the history of George Washington High School check out the GWHS Alumni Association website.