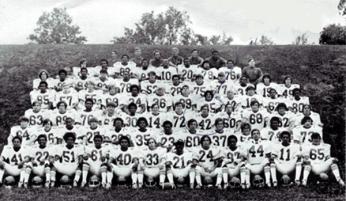 It's about time for my annual viewing of Remember the Titans. And fittingly so, since today is the anniversary of the 1971 T.C. Williams High School team's victory in the Virginia State High School championship game. Despite what you might remember from the Disney movie, which came out in 2000, the game was not close. There was no trick play in the final seconds to secure the victory. (Too bad -- Denzel Washington's "Fake 23 blast with a backside Georgia reverse" seemed to be quite a play. Maybe the Redskins should try it.)
The real 1971 Titans dominated the state title game, defeating Salem's Andrew Lewis High School 27-0 and holding them to NEGATIVE 5 total yards. It was the ninth shutout of T.C.'s perfect 13-0 season. As Lewis' head coach Eddie Joyce put it, "I knew they were great, now I've got to feel they are kind of super. If they played in this neck of the woods, I'd have to think about outlawing them."[1] Interestingly, Joyce might actually have been able to do that, since he also moonlighted as the Salem mayor. Fortunately, Alexandria fell a little bit outside of his jurisdiction.
As you might imagine, the fictional final play was not the only liberty that the movie producers took with this bit of our local history. ESPN and Chasing the Frog have put together nice point-by-point summaries of how some other facts were distorted or exaggerated. But while some facets of the film were made up, it did illustrate some truths.
The decision to consolidate Alexandria's three high schools and send all 11th and 12th graders (both black and white) to T.C. Williams in 1971 presented some unique challenges. "This dramatic, sudden change caused a lot of tension and apprehension. As the only three high schools in the City, there had been strong rivalries and competition between the schools for the city and district championships at all levels of academic and athletic competition."[2]
Race relations certainly figured into the equation as well and Herman Boone's selection as T.C. Williams' head coach was controversial. As the Washington Post described the situation on the eve of the title game:
Life may get back to normal for Boone, the man thrust into perhaps the most sensitive coaching position in the state last spring, when three Alexandria high schools were consolidated into one. He was a black coach hired despite the fact that two whites with more seniority were available. He was faced with athletes from three different schools who were now being asked to forget the past animosities and concentrate on becoming a team.[3]
In Boone's own words, "Yes, I've been under a hell of a lot of pressure. I guess we all have.... so many little things I can't begin to tell you."[4] (One of those unmentionables was that a toilet was thrown through the coach's window by a disgruntled "fan.")
By all accounts, Boone, his assistant coaches and his players rose to the challenge. Undefeated and state champions is about as good as it gets for a high school football team. More importantly, however, the team helped bring the Alexandria community closer together, during that magical season and since.
For more on the team and the great charitable work they have been doing visit 71originaltitans.com. And, just for fun, check out highlights from the movie.