February 3 marks the anniversary of the Four Chaplains' heroic sacrifice during World War II. To commemorate the event we're happy to have a guest post by David McKenzie of the Jewish Historical Society of Greater Washington. Thanks, David!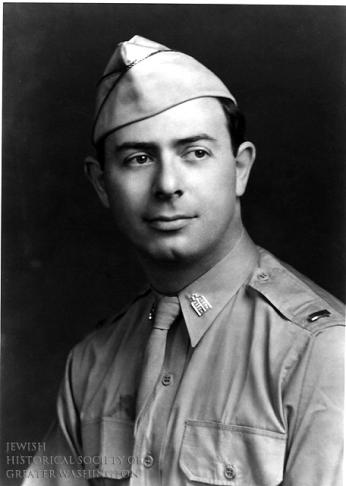 The Second World War abounds with stories of heroism. On February 3, we commemorate the anniversary of a now little-known event: the sinking of the U.S. Army transport ship Dorchester and the brave sacrifices made by four chaplains, including the Washington-raised Rabbi Alexander Goode.
Goode was born in Brooklyn in 1911 and grew up here Washington, graduating from Eastern High School. He served Washington Hebrew Congregation during the summers while studying for his rabbinic ordination at Hebrew Union College. Following in the footsteps of his father, Rabbi Hyman Goodekowitz, Goode was ordained in 1937.
After ordination he settled into a quiet life as the rabbi of Temple Beth Israel in York, Pennsylvania. Goode became known for his wisdom on the issues of the time—including his warnings about the rise of Nazi Germany.
When World War II broke out, he felt a calling to serve his country. At age 32, Rabbi Goode left his pulpit and enlisted as a military chaplain.
In January 1943, Goode and three other chaplains—Methodist Minister George Fox, Dutch Reformed Minister Clark Poling, and the Roman Catholic Father John P. Washington—boarded the Dorchester, an overcrowded Army transport carrying more than 900 soldiers and civilian workers to Europe.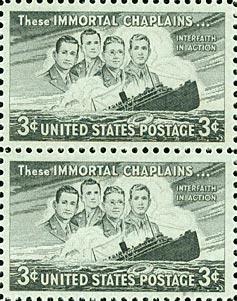 On February 3, off the Greenland coast, a German U-boat torpedoed the ship. In the ensuing pandemonium, Rabbi Goode and the three Christian chaplains calmly directed their fellow soldiers to lifeboats.
They went above and beyond the call of duty, sacrificing their lives so that others might live. When dozens of men were left without life jackets, the chaplains gave theirs. They joined arms at the ship's railing, praying and singing hymns to men on lifeboats and in the water. When the Dorchester sank a mere 27 minutes after the torpedo struck, the chaplains went down with the ship.
Since then, the Four Chaplains' sacrifice has been honored in many ways:
An annual commemoration on February 3.
A postage stamp issued in 1948.
In 1961, the Chaplains Medal for Heroism was created specifically for Goode and the other chaplains; it was presented to surviving family members.
Stained-glass windows at the National Cathedral and the Pentagon's chapel.
Chaplain Goode's name is the first inscribed on the memorial at Arlington National Cemetary for Jewish chaplains who gave their lives in the line of duty.
We at the Jewish Historical Society of Greater Washington have been commemorating the Four Chaplains for many years. In 2007, we created a poster and lesson plan (grades 7-12) about their sacrifices.