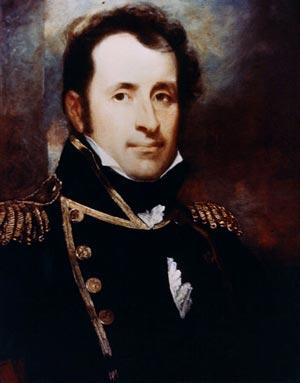 In the early 19th century, taking a life was as easy as taking offense. Just ask Commodore Stephen Decatur. On March 22, 1820, he was killed in a duel leaving (as some claim) his spirit to wander and perhaps seek retribution from the parties that coldly arranged his death.
Decatur was born in 1779 and had a mostly praise-worthy navy career, earning "the heart of a nation" and the malice of a few whose careers he stepped over to achieve his own greatness. One of these was Commodore James Barron.
Barron and Decatur had gotten off on the wrong foot in 1806 when the former made a less-than-praiseworthy remark about Decatur's love life. But things got really unpleasant a year later when Barron was court martialed for unpreparedness in battle and Decatur was called upon to serve as one of the judges. Decatur voted against Barron, of course. Barron was given the "draconian" punishment of five years suspension without pay while Decatur was given control of Barron's old ship.
During the War 1812, with his suspension over, Barron asked the Navy repeatedly to accept him back into active service but his requests were denied. He was forced to remain in Denmark, where he was stranded without funds to return to America.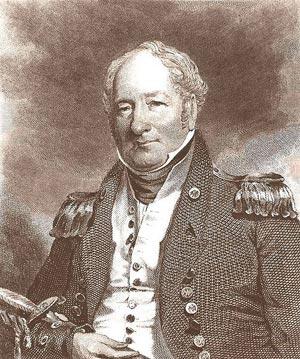 Decatur, ignorant of Barron's reasons for staying in Denmark, referred to him in public as cowardly for staying away from the war. These remarks were heard by Captain Jesse D. Elliot and relayed to Barron, who was finally able to return to America in 1819. This started a chain of correspondence between Decatur and Barron that would eventually lead to a duel between them.
It might not have gotten that far had two outside parties not been very interested in the demise of Stephen Decatur. One was Captain Elliot, who first entered the Decatur-Barron conflict in 1807, when he testified in defense of Barron during his court martial. But Elliot's determination that Decatur should die actually had little to do with Barron, but rather with his own long-standing feud with Master Commandant Oliver H. Perry over Elliot's conduct at the Battle of Lake Erie during the War of 1812.
The story of that war between honorable men is just as long and ridiculous as this one, so here's what you need to know: Elliot was convinced that Decatur had documents from Perry that implicated Elliot in purposeful negligence during the War. Since Perry died of yellow fever in 1819, Elliot turned his hate towards Decatur and attempted to use Barron as a tool to carry out his own revenge. He did everything he could to inspire to the two to duel, which they agreed to do in March 1820, and Elliot was named Barron's "second."
The other person on the outside of the Decatur-Barron conflict that worked toward a fatal ending was Commodore William Bainbridge. This commodore was a friend of Decatur's until the latter worked against him to receive a valuable posting in the Second Barbary War (1815). Bainbridge was furious and considered Decatur his enemy for many years. But then, in a complete and total coincidence (?!), Bainbridge reconciled with Decatur shortly before the Decatur-Barron duel. When Decatur was in need of a second, his first choices being ideologically opposed to dueling, guess who stepped forward to help out? Yeah – Bainbridge.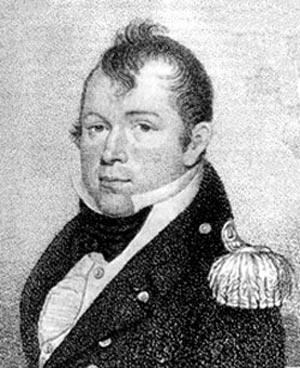 Now might be a good time to explain a little bit more about the customs surrounding the uber-progressive method of conflict resolution known as dueling. "Seconds" were men who accompanied the duelists and negotiated the terms of the duel: weapons to be used, conditions (first blood, death, etc.), location of the duel, etc. They were also generally responsible for trying to broker last minute reconciliations between the combatants, which would cancel the duel.
All of this is to say that Elliot and Bainbridge had some level of control over the outcome and it seems that they did what they could to make sure the duel would be deadly. Consider these tid bits: Instead of the usual ten paces, the duelers were placed eight paces away from each other to make it easier on the near-sighted Barron. Instead of having their pistol by their sides or in the air, the duelers were instructed to aim before the count at each other, increasing the already-high odds of bloodshed. Additionally, right before the duel there was an exchange of words between Barron and Decatur that might have led to reconciliation but the seconds did little to encourage the resolution.
So, at 9 o'clock on the morning of March 22, 1820, the two commodores commenced their duel at the Bladensburg Dueling Grounds. It was over shortly.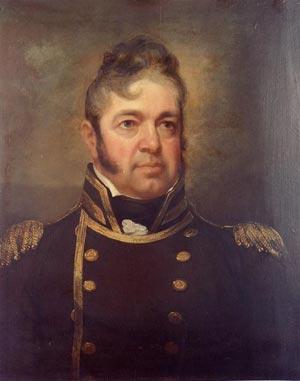 After the shots were fired, both men were wounded severely. Afraid of dying, they made peace with one other. Barron explained his reasons for staying in Denmark (a sense of honor had kept him from expressing it before) and Decatur regretted his careless words. Barron forgave Decatur "from the bottom of his heart" and Decatur returned the sentiment, declaring that he did not fault Barron for his death. There was a sense between the two that they might have been able to be friends, had they been clear with each other and not advised so fervently to violence.
Barron survived his wounds and lived to be 83. Decatur was brought back to his home and died in "terrible agony" ten hours later. His funeral was widely attended. His ghost supposedly still haunts  Decatur House today. People also claim hear the piteous weeping of his wife, who spent the rest of her days in anguish, bitterly blaming everyone involved for the 'assassination' of her husband.
As for the seconds… In the years after the duel, Bainbridge expressed sorrow at the death of his former friend, though it's difficult to know if these feelings were genuine or not. Indeed, many scholars believe that Bainbridge was gunning for Decatur just as much as Elliot had been. Bainbridge's private papers were burned after his death by his descendants, so clues to his motivations are scarce.
Elliot bolted after the shots were fired, fearing that both men had died and he might be accused of murder. He had to be brought back and forced into a carriage with the wounded Barron. After the episode, he continued his stormy military career.
It's a pretty sad story all around. So if you're ever in a duel, be on the lookout for potential outside sources of danger because every second counts.

Sources
Clark, Allen C. 1940/1941. "Commodore James Barron, Commodore Stephen Decatur: The Barron-Decatur Duel." Records of the Columbia Historical Society, Washington D.C., 42/43, 189-215.
Long, David. F. 1979. "William Bainbridge and the Barron-Decatur Duel: Mere Participant or Active Plotter?" The Pennsylvania Magazine of History and Biography, 103, 34-52.