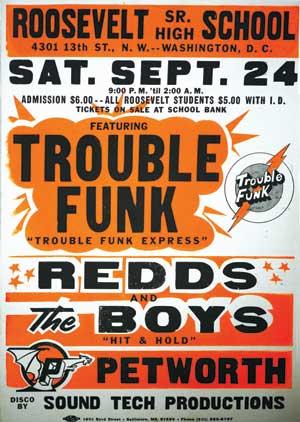 Chuck Brown, Trouble Funk, Rare Essence, Minor Threat, SOA.
If you lived in DC in the 1980s, you probably recognize these as local Go-Go and hardcore bands. If that's the case, the Corcoran Gallery of Art's exhibit, Pump Me Up, is sure to invoke nostalgia. For those who have come here more recently, the exhibit offers a rare opportunity to see how much DC has changed in the last thirty years. (You definitely get a different image of the 80s than at a Legwarmers concert at the State Theatre!) Either way, it's worth a visit.
To put it mildly, the 1980s was a tumultuous period for the District of Columbia. There was a lot going on and homegrown music was right at the center of the city's experience. Go-Go is a DC style that grew out of funk and incorporates elements of hip-hop, which was in its infancy in the 70s. It's all about rhythm and call-and-response audience participation, and individual songs often lasted over ten minutes. (You can hear some of these elements in Chuck Brown's performance of Wind Me Up. R.I.P. Godfather of Go-Go.)
Hardcore was DC's particular brand of loud punk rock; Minor Threat, The Faith, and other bands on local label Dischord Records brought hardcore into the national punk scene in the early and mid 80s. Minor Threat gained national recognition in the early 80s, and they're now considered a pivotal hardcore band.[1](Here's their song "I Don't Wanna Hear It:")
This musical culture really came to life for me when I went to the Corcoran's "Bustin Loose," panel discussion. It was a great event that explored Go-Go and hardcore with four guys who were majorly involved in the 1980s.
DJ Kool and Iley Brown represented the Go-Go scene; DJ Kool played shows with Trouble Funk, Rare Essence, and many other influential Go-Go bands before releasing his biggest single, "Let Me Clear My Throat," in 1996. Brown donated several Go-Go related objects to the exhibit and is now affiliated with Stride Records, a small independent label in DC that primarily signs Go-Go and funk artists. Alec MacKaye and Seth Hurwitz discussed the DC hardcore scene. MacKaye was the frontman for DC hardcore band The Untouchables and younger brother of Minor Threat singer Ian MacKaye. Hurwitz is now one of the co-owners of the 9:30 Club.
Moderator Jonathan Fischer, managing editor of the Washington City Paper, kept the discussion moving by asking the panelists about their personal experiences and about the broader legacy of the two movements. DJ Kool showed civic pride throughout the discussion, saying that "Go-Go could have only happened in DC..." and that Go-Go was DC's superior answer to hip hop, which was just starting to grow in New York. That line garnered applause from the 150-person audience, many of whom later revealed that they were former members of Go-Go bands during the audience Q&A. (A member of Rare Essence was actually standing at the back of the lecture hall, which was pretty exciting.)
All four panelists agreed that Go-Go and hardcore suffered from lack of official support; DC radio rarely put their records in heavy rotation, and Go-Go shows were often broken up by DC police. Both scenes had reputations for violence, which, fairly or unfairly, limited their acceptance and exposure in the mainstream. DJ Kool and Iley Brown mentioned that Go-Go bands would often "shout out" to individuals in the audience, which inadvertently alerted rival gangs to each others' presence and caused fights to break out. Despite these obstacles, Go-Go and hardcore bands regularly sold out shows at RFK, the 9:30 Club, and venues all over the DC area. As Alec MacKaye put it, "DC was ours because nobody else wanted it."
The discussion ended with an audience Q&A; the crowd had been responsive throughout the lecture, and after thirty minutes of questions people were still anxious to ask more. The discussion kept coming back to the legacy and the future of hardcore and Go-Go; the punk scene in DC has died down somewhat, but Go-Go has evolved into bounce beat music that's still popular in the area. The panelists all admitted that they were still shocked to see Globe posters, Marion Barry campaign buttons, and other 80s memorabilia in a museum. Of course, none of them ever thought there would be an exhibit celebrating DC's unique 1980s culture, but they all expressed pride at being a part of a movement that has a lasting legacy on their city. Alec MacKaye put it best: "They say museums are where art goes to die, but they're also where people get inspired."
The Pump Me Up exhibit ran until April 7, 2013.