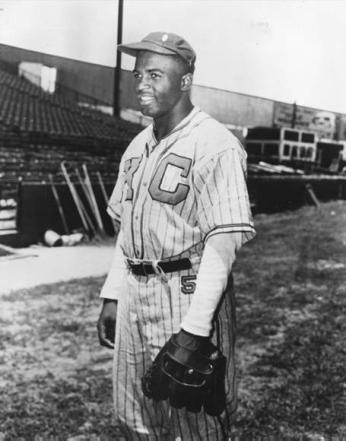 When you see the Jackie Robinson film, 42, it's safe to assume there won't be any scenes of Robinson's Dodgers playing the Senators in Washington. That's because it never happened, aside from maybe an exhibition game. The teams were in different leagues, so only a World Series would have had them square off. And, anyone who knows anything about baseball (or has seen Damn Yankees) knows the Senators were not exactly World Series material in the 1940s and 1950s.
How does the saying go? "Washington: First in war. First in peace. Last in the American League." Yep. That pretty much sums it up.
But what you may not know is that Robinson actually did play in D.C. before he became a Dodger and it was a pretty big deal. It happened June 24, 1945, while he was a highly-touted rookie with the Kansas City Monarchs in the Negro League. The Monarchs came to town to play Washington's Homestead Grays in a doubleheader at Griffith Stadium and over 18,000 fans — twice the size of a normal Senators crowd that season — came out to watch.
Even though the game included other players who were established stars, including several who would later be inducted into the Baseball Hall of Fame, Robinson was the main attraction. As the Washington Post wrote a few days before the game:
A medically discharged Army lieutenant who formerly was one of the most versatile Negro athletes in the United States may steal the show from Satchelfoot Paige and Josh Gibson when Kansis (sic) City's Monarchs visit Griffith Stadium tomorrow for a 2 p.m. double-header with Washington's Homestead Grays. Outstanding newcomer to the Monarchs is shortstop Jackie Robinson…. who presently is being acclaimed as the 1945 Negro baseball rookie of the year.
Though the Grays won both games easily (unlike the Senators, they didn't lose often) the prognostications about Robinson were spot-on. Over the two games, he equaled the National Negro League record by going 7 for 7 with a walk. Not a bad day's work at the plate!
For a more detailed account of the game, check out Aaron Stilley's blog, "Jackie with the Monarchs," which traces every game Robinson played for Kansas City in 1945 in "real time" 65 years later. Also, before you head to the theater, check out WETA Around Town's review of the 42 movie, which stars Howard University graduate Chadwick Boseman as Robinson.
Sources
"Monarchs Feature Paige, Robinson in Double Header," Washington Post, 23 June 1945, p.8.
"18,000 Watch Grays Blast Satch Paige," Washington Post, 25 June 1945, p.9.
"Jackie with the Monarchs," blog by Aaron Stilley
"1945 Washington Senators," Seamheads.com