American Masters documentary
, was deeply influenced by Indian philosophy and religion. But that spiritual quest, curiously, led him to not to
Varanasi
or some other Indian city, but to Washington, D.C.
It happened in the spring of 1955. It was four years after the publication of Salinger's celebrated novel, The Catcher in the Rye, and two years after his anthology, Nine Stories, futher established him as a literary sensation. As Kenneth Slawenski describes in his 2011 biography of the author, Salinger and his new bride, Claire Douglas--daughter of the respected British art critic Robert Langdon Douglas--lived an austere existence in a remote cottage in Cornish, N.H. where the couple grew their own food and drew water from an old well, when they weren't meditating, doing yoga, or reading spiritual tracts. In particular, the Salingers were enamored of Paramahansa Yogananda's The Autobiography of a Yogi. They even wrote to the book's publisher, the Self-Realization Fellowship, and asked where they could find a spiritual teacher who could guide them in their search for enlightenment. (Paramansa Yoganda himself wasn't available, since he had died in 1952.) The fellowship recommended Swami Premandanda, who had established a church in Washington, D.C., and advised Salinger to write to him, which he did. The spiritual teacher wrote back, saying that he would be willing to initiate them as "householder" devotees, as married adherents of Hinduism are called.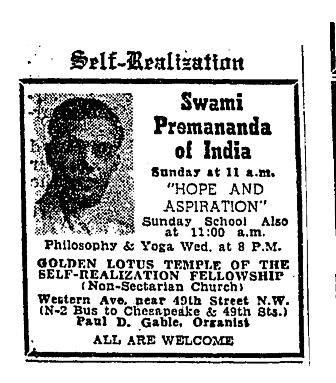 Washington Post ad for DC-based Swami Premananda of India, who counseled J.D. Salinger and his wife on yoga and meditation in 1955. (Photo source: Washington Post)

Thus, in March, Salinger and his wife boarded a train in Windsor, Vt., near their home, and traveled south to Washington. As their daughter Margaret Salinger details in her 2001 family memoir Dream Catcher, the couple--in keeping with swami's instructions--had abstained from eating breakfast and brought offerings of fresh fruit, flowers and money. With her husband, Claire previously had visited the Ramakrishna-Vivekananda Center, located in a high-ceilinged brownstone on New York's Upper East Side, and apparently expected a temple that was similarly elegant and serene. "Her mind was filled with visions, from Paramahansa Yogananda's lush autobiography, of saffron robes, incense, and refulgent palaces in the sky of the Indian pantheon," Margaret Salinger wrote.

Instead, the Golden Lotus Temple of the Self-Realization Fellowship, located at Western Avenue near 49th Street in NW on the edge of Bethesda, apparently struck Salinger's wife, with her upscale background, as disappointingly declasse. She later described it to her daughter as having been in a lower-middle-class suburban area, "home for porters on the trains and people who bag groceries, that atmosphere. It wasn't my class of people." The church itself, located in a brick house, was "storefronty, kind of like a small grocery store...I didn't like the low ceilings of this horrid little place."

Mrs. Salinger apparently was able to contain her distaste long enough for the couple to meet Swami Premandanda, whom she described as "this nice, sweet little Indian man," who lacked the aura of grandeur that she had been expecting. "Without his robes on, you'd never have noticed him," she later recalled.

She didn't know that the swami, born Jotindranath Banerjee in India and a graduate of the University of Calcutta, was actually an important figure in the spread of Indian spiritual beliefs in America. He was a disciple of Paramahansa Yogananda at his school in Ranchi, India, and after the elder spiritual leader emigrated to the U.S., he had summoned Premananda in 1928 to follow him and lead a temple in Washington. In

Autobiography of a Yogi

, the elder called the Washington temple "a memorial in stone to your [Premananda's] tireless devotion." His 1995

Washington Post

obituary describes him as a linguist, translator and author of books about the Hindu religion. He gave public classes in Indian philosophy and yoga, and for 20 years hosted a local radio program. He was sufficiently respected among religious circles in the nation's capital that when the U.S. government held a memorial service at the

Departmental Auditorium

for slain Indian leader Mohandas K. Gandhi in February 1948, Premananda was selected to be the first on the bill to address the audience, which included both President Truman and Indian ambassador M. Asaf Ali. (A

Washington Post

account described him as a "a short, dark-haired man attired in a flowing bright yellow gown" who reassured the mourners: "The soul is immortal.")

Curiously, the Indian mystic also became a 33rd-degree Mason in the

Scottish Rite

, and a

Shriner

as well.

After the temple's morning service, the swami met privately with the Salingers, and gave each of them a mantra to recite, along with instructions on how to perform

Kriya yoga

breathing exercises that they were to perform for 10 minutes every morning and evening. In her account, the swami told them to return for more advanced training if they saw a white light in their middle of their foreheads (something that Salinger's wife revealed to her daughter that she actually did eventually experience, though she never went back to the Washington temple). The couple then took a train back home.

Premananda continued on with his spiritual work before retiring in the late 1970s. Part of his legacy is the

Mahatma Gandhi Memorial Center

, which he founded in 1976.