It's a foreign concept now, but for many years, Arlington County did not have its own fire department. Instead, the county was served by a number of independent volunteer fire departments. These were organized locally, typically within neighborhoods where citizen leaders saw the need for some level of fire protection and established a resource right in their own neighborhood. (The first such VFD was established in Cherrydale in 1898.) When a fire broke out, the volunteers would leave their homes or businesses and go fight the flames.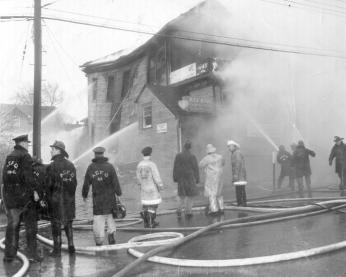 With the growth of the county, Arlington established a career fire service in July of 1940 and hired its first class of full-time firefighters but this career ladder was initially only open to whites. Black neighborhoods continued to rely on their own volunteer units. (As we know, this is not the only example of the black community rallying together to provide services for itself during the Jim Crow era.) The county eventually began to hire some African Americans but, for many years, blacks were only assigned to Fire Station 8, which became Arlington's de facto "black firehouse."
While slow in integrating, the Arlington County Fire Department was ahead of the curve when it came to breaking the gender barrier. In 1974, Arlington hired the nation's first career female firefighter, Judy Livers. Livers — later Judy Brewer — served in the department for over 25 years and was a pathfinder for other female firefighters across the country. Apparently, those early days weren't so easy for Judy or her male colleagues.
The department has changed along with the changing times. According to ACFD Chief Jim Schwartz, "Our focus on terrorism actually predates the 9/11 attacks. The Arlington County Fire Department was the leader in championing preparedness efforts – the development of capabilities to respond to weapons of mass destruction. And that came from a lessons learned from the sarin attack in the Tokyo subway in 1995, where Arlington County rallied the region to develop what resulted in the nation's first non-military terrorism response team, something back then called the Metropolitan Medical Strike Team, a specialized team of fire, EMS and law enforcement assets, doctors and nurses that were capable of responding to the types of incidents that nobody else in the area could respond to, that was leveraged by the federal government for almost 15 years as a prepositioned asset for special events like Presidential inaugurations and joint sessions of Congress."
This post was originally published in advance of the Arlington Historical Society's public program in September 2014, which featured a talk by Arlington County Fire Chief Jim Schwartz. Big thanks to Chief Schwartz, Captain Gregg Karl, Captain Chuck Kramaric, and Tonia Heggs of the Arlington County Fire Department for their help with this video and post!