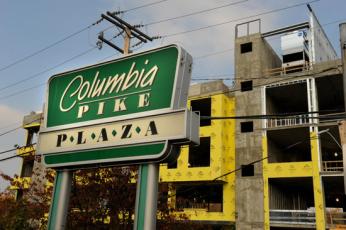 Over the past several decades, Arlington's Columbia Pike corridor has grown into one of the most ethnically diverse communities in the nation. The neighborhood is literally home to the world, which makes it a fascinating subject for study. But how do you capture the essence of a community? It's a big question and one that Lloyd Wolf and his collaborators on the Columbia Pike Documentary Project have been trying to answer for almost 10 years.
We sat down with Wolf to learn more about the project. Check out the video below for some highlights from the conversation.
The Columbia Pike Documentary project started in 2007 as the brainchild of Wolf, his longtime collaborator Paula Endo and her husband, Todd Endo, when they, "began to think that the Pike was something that was special and unusual and was deserving of attention." The group added several more photographers to the fold -- Duy Tran, Mimi Xang Ho and Aleksandra Lagkueva -- and set about photographing as many aspects of the Pike as they could, from buildings and places to people and faces. The end result is an extensive and incredible collection of images, which form the basis for an upcoming book and ongoing blog.
According to Wolf, "We have covered every building on the Pike more than once. Many, many of the businesses. People on the streets, people in their homes, people at festivals. Over quite a bit of time many things have been photographed multiple times like the blues festival, farmers markets, the Prio Bangla festival, Bolivian dancing, we've had a lot of. There's no one single part. The idea is to show what kind of community we're in and to be as fair to the community as possible. It's the faces and places, the physical aspect of the Pike, which is of interest because it's evolving as well as who lives there and how they live....
"There's several main goals for the project. There's not just one. It's to form a long term community record. It's to share the community with other communities that are similar. It's also to examine and, to some extent, promulgate the successful diversity on the Pike."