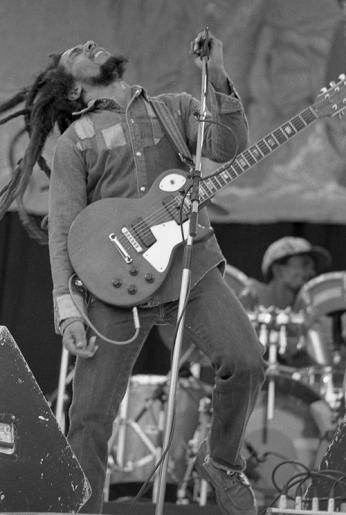 Today, it's common to see people wearing t-shirts emblazoned with Bob Marley's instantly recognizable likeness, and the reggae classics that he recorded with the Wailers are so iconic that they're used in TV commercials.
But back on the afternoon of October 14, 1973, when the then-28-year-old singer with the dreadlocks and wispy beard and his band stepped out onto the stage at the U.S. Naval Academy's Halsey Field House, things were quite different. It's a safe bet that hardly anyone in the audience even knew who Marley and the Wailers were, or had heard their LP Catch A Fire, which Rolling Stone critic Rob Haughton lauded as filled with "lilting tunes of hypnotic character headed by super-progressive lead guitar work, Motown variations, and cowboy nuances, all backed by the tricky Jamaican beat that serves to keep the decibel level in a moderate range."
Reggae, for that matter, was still a novel entity to many. To the extent that American listeners were familiar with it, it was mostly through their own musicians' attempts to copy the sound, such as Three Dog Night's cover of the Maytone's "Black and White," and Houston native Johnny Nash's "I Can See Clearly Now," which broke through to top the Billboard 100 chart in 1972. (That song has an odd local connection, in that Nash filmed a music video in front of the White House.) Actual Jamaican music and the culture from which it emerged was still so foreign that when director Perry Henzell'sThe Harder They Come opened at the Janus theater on Connecticut Avenue N.W. in February, the film had subtitles to translate Jamaican English for the audience.
For their part, Marley and the Wailers were so in need of exposure that they had signed up as an opening act for Sly and the Family Stone. Though it might have seemed like a good pairing — the eccentric pop-funk pioneer Sly was still a major star — things didn't go too well. By some accounts, Marley and the Wailers' obvious brilliance was discomforting to the headliner, who didn't relish being overshadowed. By other accounts, Sly's audiences didn't get Marley and the Wailers. When they opened for Sly at a hockey arena in Las Vegas, where according to Marley biographer Timothy White, some in the audience had expected them to be an old surf-rock band called the Fabulous Wailers, who'd had a hit with an instrumental song called "Tall Cool One." Instead, jaws dropped when Marley — "this skinny black Medusa," as White describes him — stepped to the mike to sing "Concrete Jungle." "Holy s---," the drummer for one of the other acts on the bill reportedly asked someone from Sly's band. "What country are those guys from? They look like they're something out of the Old Testament."
"We just played and everybody sat there," Marley's tour manager Lee Jaffe lamented about the tour with Sly, according to Sly's biographer Eddie Santiago.
The reception in Annapolis wasn't much better. According to accounts in the Annapolis Evening Capital and the Washington Post, the field house was filled with 2,000 to 3,000 midshipmen, clad in white shirts and ties, and their Homecoming dates, who sat on blue and gold blankets on the gym floor. As the Post's Tom Zito observed, "the midshipmen seemed more interested in nuzzling up to their dates, most of whom were sedately attired in the sort of dresses and pantsuits that grace advertisements in the New Yorker." What they apparently weren't very interested in was reggae. The Wailers — Peter Tosh on vocals and lead guitar, Ashton Barrett on bass, Earl "Wya" Lindo on keyboards, and Joe Higgs on vocals and percussion — performed five of what Zito lauded as "infectuously rhythmic, heavily percussive tunes." Unfortunately, the setlist seems to have vanished, but it probably included songs such as "Get Up, Stand Up" from their next LP, Burnin' which would be released a few days after the show.
But the audience was unimpressed. According to Zito, the only real applause that Marley and the Wailers got was when they finished their last number. Capital reviewer Karen Donofrio, who called the concert a "disaster," observed: "The sea of white shirts seemed relieved, anticipating arrival of the stars."
As often happened at Sly and the Family Stone performances, though, things got more chaotic. It took an hour for Sly and his musicians to take the stage, and when they did, Sly — clad in a white-sequined satin suit and wide-brimmed white hat — did his best to provoke the audience by making fun of their staid attire. "It looks like a classroom out there," he sneered. "Like everybody had to get all dressed up the same...that necktie is kinda like a restraint cord around your neck. Loosen it up!" In Donofrio's account, Sly seemed to be peeved by the standing crowd's reluctance to dance, and played for just 45 minutes.
Shortly after that Sly dumped Marley and the Wailers from the tour, according to White. They didn't return to Washington until April 26, 1976, when they played a 75-minute set that included "Trenchtown Rock" and "I Shot the Sheriff" to a considerably more enthusiastic audience of more than 4,000 at Georgetown University's McDonough Arena. They were scheduled to play a third concert at the University of Maryland's Cole Field House on September 23, 1980. But although 10,000 tickets had been sold, the show had to be cancelled, because Marley had become too ill from cancer to perform. He would die the following May, at age 36.