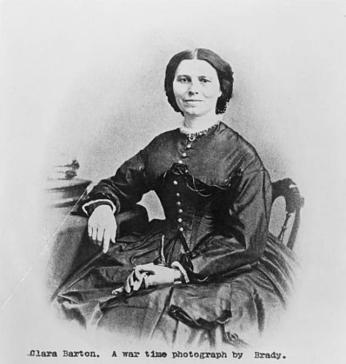 She was one of the first female government employees, she was the first woman legally allowed on the battlefield in America, she founded the American Red Cross, and she chose to live out her days in Glen Echo, Maryland. Clara Barton, the unstoppable force of the 19th century.
Born in 1821, Clara Barton first came to DC in 1854 to work as a copyist in the Patent Office. At this time, you could count the number of female government employees on one hand (this was even before the treasury girls!). Her tenure as the "angel of the battlefield" began April 19, 1861, when she got the word that wounded Union soldiers were being brought into the city. She went directly to the depot to meet the "ragged, bloody, draggled men" who had nothing with them but their torn and dirty clothing. Barton saw their need immediately and she sought to meet it. That first day she tore up her own old sheets to provide towels and handkerchiefs for the soldiers. In the following days, she would return to the soldiers' infirmary with baskets and basket of clothes and food, the start of her highly successful supply drives to get the soldiers what they sorely needed.
For weeks she ventured just outside of Washington to the Union camps, distributing her supplies and bringing what comfort she could to, as she put it, "any portion of 75,000 strange, ill-convened and homesick boys." For months her own residence was full to the brim with food and linens for the soldiers; her drives ended up being so successful she rented a warehouse to hold everything. After the first Battle of Bull Run, she watched the "shattered army stream back into the capital" and brought in and helped those "who looked the worst and limped the hardest."[1]
After the death of her father in 1862, Barton set her sights on actually going to the battlefields to hand out her aid. Clara had this to say about her decision: "I'm well and strong and young- young enough to go to the front. If I can't be a soldier, I'll help soldiers."[2] After furious campaigning to be allowed to go to the front (men at the time had some pretty unreasonable ideas about women, obviously) she got the green light.
And so as soon as news of the Battle of Cedar Mountain (August 9, 1862) reached her, she took her wagons and men and supplies and set off. She was able to save a great many lives by showing up with bandages just as the doctors ran out. Barton had this to say for anyone who still said that it was improper for her to lend a hand: "if you chance to feel, that the positions I occupied were rough and unseemly for a woman – I can only reply that they were rough and unseemly for men."[3]  
Just after Cedar Mountain, news of the second Battle of Bull Run (August 28-30) reached Barton's ears. Hearing that 8,000 men had already died, she loaded three train cars and set off at once, reaching Fairfax Station on the 31st. Barton wrote about the scene that awaited her and her people:
The ground, for acres, was a thinly wooded slope – and… the wounded were pouring in by scores of wagon loads… all day they came and the whole hillside was covered… and when the night shut in, in the mist and darkness about us, we knew that standing apart from the world of anxious hearts, throbbing over the whole country, we were a little band of almost empty handed workers literally by ourselves in the wild woods of Virginia, with 3,000 suffering men crowded upon the few acres within our reach.
In the middle of this slaughter, Clara Barton worked tirelessly to feed and comfort as many as she possibly could. She barely slept as the Battle of Chantilly (September 1, 1862) brought more men to the hillside, packing them so thickly that it was impossible to walk without stepping on a wounded man. She met young Massachusetts boys, former students, who wept at the sight of their former teacher, appearing to them as if out of a dream. She wrapped their mangled bodies in blankets, put socks on their damp feet, and took dictation for letters home. She bandaged wounds, assisted in surgeries, and even performed at least one minor operation herself. It will surprise no nurse or army doctor in this country that when she arrived back home in DC, she slept for 24 hours straight.
As Barton's operation grew and improved, so did her reputation. Her greatest contribution was the structure she brought to medical efforts in the military. She was able to organize supply acquisition and disbursement better than anyone else in the Union; she often arrived at military hospitals on the front lines with cartloads of fresh supplies before the Quartermaster even knew there had been a battle. Her work at the Battle of Antietam (September 17, 1862) brought her special notice, and the Army brass told her that she could have anything she needed in the future.
The common soldiers, too, appreciated her deeply — both the Union and Confederate boys, as she did not make a distinction in her administration of treatment. One story places Barton in the city of Fredericksburg in the middle of a raging battle. An officer who saw her, a woman making her way through the firestorm, asked her in shock whether she needed any protection getting out of the city. Barton replied that she believed herself to be the "best-protected woman in the country."[4] Nearby soldiers cheered heartily for their angel. The officer got the picture.
After the war and with the sponsorship of Abraham Lincoln, Clara Barton set up an office in DC (which you can visit today as a museum) to locate and publish information about missing soldiers. Barton and her staff were able to discover the fate of more than 22,000 missing soldiers. The next period of her life she spent lecturing and traveling the world, eventually finding her next passion, the Red Cross. After much campaigning, Barton convinced America to form a branch of the Red Cross, with her at the head. Under her leadership, the American Red Cross helped many people in peacetime, influencing the International Red Cross to expand its own mission to include peacetime relief as well.
Clara Barton finished out her days at her house in Glen Echo, Maryland, which also doubled as the Red Cross Headquarters. She died at age 90 in 1912, her mind and abilities sharp as ever before her last bout with tuberculosis.
Sources:
Many thanks to the fine park rangers at the Clara Barton National Historical Site.
"Clara Barton." American National Biography Online. ANB.org.
"Clara Barton" National Park Service pamphlet, 2011.
Epler, Percy Harold. The Life of Clara Barton. (Macmillan: 1915).
"Founder Clara Barton." American Red Cross. RedCross.org.
Ross, Ishbel. Angel of the Battlefield: The Life of Clara Barton. (Harper & Row: 1956).