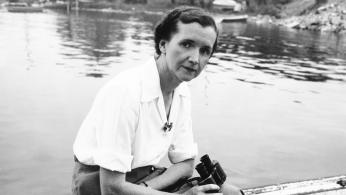 Back in the late 1950s, the local homeowners' organization in Silver Spring's Quaint Acres neighborhood called a meeting to discuss a pesticide spraying program that some wanted to protect their yards and gardens from bugs. A few of the residents happened to know that one of their neighbors, a biologist and science writer named Rachel Carson, had been gathering research on pesticides' effects. As recounted by Linda Lear in her 1997 biography Rachel Carson: Witness for Nature, the association's president invited Carson to come to the meeting and give a presentation on what she knew.
It would be several years until Carson's 1962 book Silent Spring would shake up the nation in a way that few books have ever done, with its warning of how nature was being destroyed by chemicals that not only killed insects but got into the food chain to endanger birds, fish and ultimately humans. At the time, the woman whose work helped launch the modern environmental movement wasn't quite yet the celebrity author who would later be interviewed on national television in prime time.  
Even so, Carson was persuasive. As the New York Times once described her, she was a "small, solemn-looking woman," with the gaze of someone who preferred to listen rather than talk. In Lear's account, Carson had planned to talk about the harm that pesticides caused to wildlife. But she abandoned her prepared text and instead focused on a more disturbing human issue — the link between the chemicals and cancer. In addition to citing scientific research, she told the story of several people whose illnesses seemed connected to pesticide exposure.
Carson's words apparently had a potent effect upon her neighbors. After she finished, the association voted against the spraying. As Lear details in her book, Carson was pleased. "I felt this was a fair little test of the reception that may be given the book," she wrote to a friend.
Carson, who was born in Pennsylvania, came to Maryland to earn a masters degree in biology at Johns Hopkins University in Baltimore. She went on to teach zoology at the University of Maryland, and from 1936 to 1952 worked for the Bureau of Fisheries and its successor agency, the U.S. Fish and Wildlife Service, rising to the position of editor in chief of the agency's publications. During those years, she also built a separate career as a writer, producing magazine articles for publications such as The Atlantic, and publishing nonfiction books such as 1941's Under the Sea Wind and The Sea Around Us (1951).  
Carson moved to Silver Spring in 1937 to be close to her work, and lived there for much of the rest of her life in several places in the area. According to Lear's book, her first home was a two-story red brick house at the corner of Highland Drive and Colesville Road in Silver Spring's Woodside Park neighborhood. She also lived for a time in a house on Maple Avenue in Takoma Park. In 1957, she moved into a house that she built at 1701 Berwick Road in Silver Spring.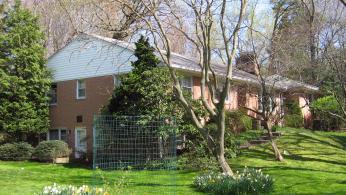 The Maryland Historical Trust describes her house as a "simple, post-World War II ranch style structure." But Carson, who helped design the house herself, put in features that reflected her interest in nature, such a mirrored shelves over the kitchen sink to hold a collection of shells. Her study, where she wrote Silent Spring, was a corner room with windows on three sides, looking out onto a property that she'd carefully landscaped to surround herself with nature. Her front yard contained only a small lawn, with most of the space given over to native trees and shrubs. She also planted several birch trees, which it's believed that she brought from Maine. Carson's New York Times obituary notes that the author was fond of her flower garden, where she loved to watch birds that alighted on the plants. 
According to the Rachel Carson Landmark Alliance, Carson was photographed at the house by Alfred Eisenstadt, who took the pictures for a Life magazine article. She also sat for a famous interview there with CBS reporter Eric Savereid for a 1963 CBS Reports special, "The Silent Spring of Rachel Carson," which helped spread the message in her book to millions of TV viewers .
Carson died at her Silver Spring home on April 14, 1964 at age 56, after battling breast cancer for several years. Her house is now included in the National Register of Historic Places.