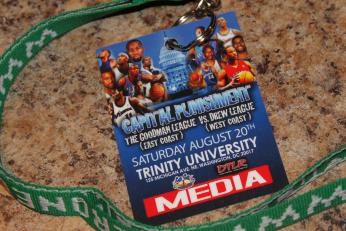 On August 20, 2011, basketball lovers from across the DMV swarmed to the tiny gymnasium on Trinity University's campus in Northeast, Washington, D.C. Not everyone who showed up would make it inside. Event organizers oversold tickets and a line extended outside the building that exceeded the gym's 1,500 seat maximum capacity.[1] Nobody knew when they would ever see this many professional players of this caliber in action and in person again, and fans were desperate for a glimpse of what was sure to be a high-flying game.
The NBA was in the middle of a lockout, which prevented players from accessing team facilities while owners negotiated with the NBA Players Association over the league's collective bargaining agreement. The entire upcoming season was in jeopardy of being canceled and players had to find other creative ways to get their offseason work in. Luckily for fans in our nation's capital, basketball in D.C. is played in the summertime and the city's famous streetball league, the Goodman League, provided one unique outlet for NBA players to face off against tough competition.
The league was originally founded in 1975 as the Barry Farms Community Basketball League by Ervin Brady, Carlton Reed, and Morty Hammonds.[2] It was renamed the Goodman League in 2000 in honor of beloved community member, George Goodman, who worked at the Barry Farm Community Center and was murdered in 1984.[3]
Every summer, starting in early June and running through August, games are played six days a week among the GL's thirty-six teams. Games are all played at the Barry Farms Dwellings outdoors basketball courts in the Barry Farm neighborhood in Southeast, D.C.[4] The league is notorious for its tough, hard-nosed competition that includes current professional and college players, as well as local streetball legends who are otherwise ordinary guys. Major political figures like former Secretary of Education Arne Duncan – who played at Harvard and then professionally overseas – have even suited up and taken their chances on the courts.[5]
Even before the 2011 NBA lockout, the Goodman League was no stranger to hosting some of the world's best players. In fact, it played a part in a number of current NBA players' basketball upbringings. NBA players originally from the area – like former number two overall draft pick, Michael Beasley, and NCAA national champion with the University of North Carolina, Ty Lawson – have frequented the Goodman League courts in past summers.[6] Kevin Durant – NBA superstar, two-time NBA Finals MVP,  and District native – has played in the league since he was 16 years old.[7] Durant has even paid homage to his hometown league by including Goodman League uniforms in a commercial he shot for Nike.[8]
Famous players receive no special treatment, however, and often have to go head to head with local hoopers groomed in D.C.'s especially tough brand of basketball. Pros are treated like "regular Joes" and are expected to earn their respect on the court just like everyone else.[9]
NBA players who grace the Goodman League courts also have to take their chances at dealing with a flurry of good-natured jabs at their expense, courtesy of league commissioner and nightly MC, Miles Rawls.[10] Rawls took over the league in 1997 and has since successfully grown it in size and status, even securing a sponsorship from Nike who paid for a brand new court in 2012.[11] Every night, for each and every matchup, Rawls – who has claimed to be "the best play-by-play man in the land"[12] – announces games with flair and excitement and a steady supply of jokes.[13]
His antics on the microphone are just one aspect of the community feeling he has worked to form through the Goodman League over the years. The outdoor facility in Barry Farms can seat about 1,500 people, not including those sitting courtside in lawn chairs, and all games are free to the public.[14] Wings are sold by various vendors, people catch up and play cards, and children run around on smaller courts where games aren't being played.[15] Over the years, the league has even been credited with reducing crime in the surrounding neighborhood.[16]
Here's how Rawls has described his league: "It's like a combination of a comedy show, basketball, cookout, and church all rolled into one."[17]
It was Rawls who first had the idea for the special 2011 game to be played in the middle of the NBA lockout.[18] In place of his usual summer charity event, Rawls envisioned a friendly exhibition matchup between the best players from his Goodman League and the West Coast's Drew League – a similar summer pro-am league based in Los Angeles.[19] The winner of the game would get to claim bragging rights for their city as the best summer league in the country.
To set up the game, Rawls reached out to Drew League commissioner, Dino Smiley, in April to offer a challenge.[20] Of course, in classic streetball fashion, the two commissioners exchanged some friendly trash-talk. The Washington Post reported that: "In the initial phone and e-mail correspondence with Smiley, Rawls questioned the toughness of players in the Drew League because they compete in an air-conditioned gym instead of outdoors; Smiley mocked the Goodman League for playing on a converted tennis court at Barry Farm, because 'we don't play tennis.'"[21]
Kevin Durant was the first NBA player who committed to the game after Smiley approached him about the possibility of an east-west battle.[22] Durant then helped on the organizing end of things by making phone calls to recruit some elite talent.[23] Several NBA players ended up agreeing to play, including some of the game's biggest names. In addition to Durant, the Goodman League squad included NBA players John Wall, Demarcus Cousins, Ty Lawson, and Tyreke Evans, along with a couple of GL streetballers. The Drew League's team was made up of a number of NBA players who grew up in Los Angeles, including James Harden, DeMar DeRozan, Brandon Jennings, and JaVale McGee.[24]
Smiley refused to allow the game to be played outside at the Goodman League's usual outdoor facility, so Rawls eventually nailed down Trinity University to host the game set to take place in August.[25] The game, billed as "Capital Punishment," garnered major local and national attention.[26] Anticipation quickly grew thanks to the ongoing NBA – the lockout meant fans had no idea when their next opportunity to see an actual NBA game would be.
More than anything else, though, the game was about the pride of two basketball-crazy cities.
"It's going to be fun," Durant said. "It's good for the game of basketball - especially with the lockout. Guys coming together, two big cities coming together, that's something that really doesn't happen too much. I really just want to do it for the people, man."[27]
On game night, the event was a success and lived up to its high expectations. Players competed hard and were grateful to play in front of the enthusiastic crowd that is a staple of the Goodman League's unique culture.
"It was exciting, really just for the community and people who can't come to NBA games and see their favorite basketball players go head to head," said JaVale McGee, former-Wizard and Drew League player that night.[28]
The District's Goodman League etched out the Drew League to win 135-134, thanks in part to a pair of game-winning free throws with 21.5 seconds to go from, you guessed it, Kevin Durant.[29] "That's something players only dream of. To play with so many great players at one time, it's a blessing man. To play in my home town, too, you can't beat that," Durant said.[30]
For one night, basketball fans across the country learned what those close to the Goodman League had known for years: in the summertime, Washington, D.C. is the basketball capital of the world.
^ Lee, Michael. 2011. "Kevin Durant sparks Goodman League past Drew League in East-West battle forsummer supremacy." The Washington Post, Aug 20.
^ "About." The Goodman League. http://thegoodmanleaguelive.com/about/.
^ Woods, Shemar. 2011. "Goodman League and basketball provide an oasis for residents of D.C.'s BarryFarm." The Washington Post, Jun 29.https://www.washingtonpost.com/sports/wizards/goodman-league-and-basketball-provide-an-oasis-for-residents-of-dcs-barry-farm/2011/06/25/AGNVWLrH_story.html?noredirect=on&utm_term=.84936e0fd220
^ "About." The Goodman League.
^ Steinberg, Dan. "Arne Duncans Barry Farm Highlight Reel." The Washington Post, July 17, 2013.http://www.highbeam.com/doc/1P2-34911979.html?refid=easy_hf.
^ Prada, Mike. "Why Goodman League Is Not Your Typical Basketball Summer League." SB Nation DC. July 20,2011.https://dc.sbnation.com/washington-wizards/2011/7/20/2284205/goodman-le….
^ Ibid
^ Steinberg, Dan. 2012. "Barry Farm Gets a Makeover with the Help of NBA Stars." The WashingtonPost, Jun 05.https://search-proquest-com.dclibrary.idm.oclc.org/docview/1018452581?a….
^ Williamson, Chris. "The Goodman League: Much Bigger than Basketball." WUSA. August 12, 2017.https://www.wusa9.com/article/sports/the-goodman-league-much-bigger-tha….
^ Prada, "Why Goodman League Is Not Your Typical Basketball Summer League."
^ Steinberg, "Barry Farm Gets a Makeover with the Help of NBA Stars."
^ Williamson, "The Goodman League: Much Bigger than Basketball."
^ Prada, "Why Goodman League is Not Your Typical Basketball Summer League."
^ Williamson, "The Goodman League: Much Bigger than Basketball."
^ Ibid
^ Woods, "Goodman League and basketball provide an oasis."
^ Williamson, "The Goodman League: Much Bigger than Basketball."
^ Lee, Michael. 2011. "Drew, Goodman Leagues are Ready to Settle Bragging Rights." The WashingtonPost, Aug 19.https://search-proquest-com.dclibrary.idm.oclc.org/docview/884247552?ac…;
^ Ibid
^ Ibid
^ Ibid
^ Ibid
^ Ibid
^ Ibid
^ Ibid
^ Ibid
^ Ibid
^ Lee, "Kevin Durant sparks Goodman League."
^ Mason, Beckley. "Stars Put on a Show, If Only for One Night." ESPN. August 21, 2011.http://www.espn.com/nba/story/_/id/6881578/goodman-league-bests-drew-le….
^ Lee, "Kevin Durant sparks Goodman League."