There was once a Maryland settlement so sporadic, unplanned, and unorganized that it really didn't have a name. Despite being on the outskirts of the national capital city, this little junction town was only a rest stop for travelers, who passed through on their way to the Potomac ports. In 1871, thanks to a local postmaster, it finally got its official name. Bethesda, I'm looking at you.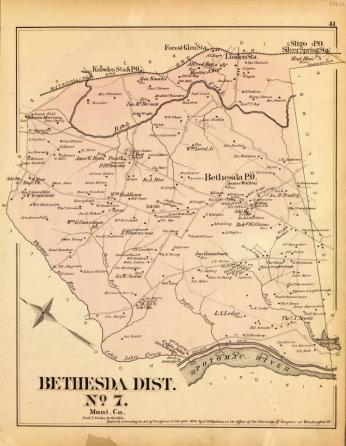 An early resident of Bethesda, Maryland once described it as merely "a wide spot on the road."[1] Surrounded by farms and tobacco plantations, this wide spot was on an important, well-traveled trade route between northern Maryland towns and ports on the Potomac River. The stretch between Georgetown and Rockville, especially, became a highway for farmers, merchants, food crop, tobacco, and cattle.[2] Traffic increased in the early nineteenth century, after Washington, D.C. became a city—now, in addition to travelers coming and going from the capital, farmers constantly supplied the city's markets. By this time, the old road had fallen into disrepair, so local shareholders paid to have it widened, extended, and paved. With such constant (and profitable) activity, it makes sense that people started to settle along the road.
The first building in this little settlement was a tollbooth, built at the junction of present-day Old Georgetown Road (MD Route 187) and Wisconsin Avenue, which guarded the newly-paved road—a horse and its rider could pass through for 6¢, a carriage or stagecoach for 25¢, and 12¢ for a herd of cattle.[3] By the 1850s, several other buildings had joined it. The "old stone tavern," the first commercial business in the area, offered food, drink, and shelter to turnpike travelers.[4] In the 1820s, a local Presbyterian congregation built a meeting house overlooking the pike. New residents and workers built houses scattered around the junction. They were eventually serviced by a general store, run by the local businessman William E. Darcy. In 1862, the growing size and population of this little community warranted the creation of a post office—because it operated in a back room of the general store, the mailing address was the rather unimaginative "Darcy's Store, Maryland."[5] The makeshift name was fine for a while, since a few roadside buildings could hardly be considered a real town.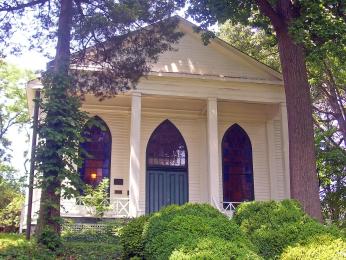 A few years later, though, one new resident of Darcy's Store decided that the name was completely inadequate. Robert Franck, the new postmaster, petitioned the county government for a new, more permanent name. After consulting with residents and gaining their consent, he chose to name the town after its most prominent local landmark: the Presbyterians' Bethesda Meeting House. (The meeting house, itself, was named for Jerusalem's historic Pool of Bethesda, mentioned in the New Testament as the site of one of Jesus's miracles.) The name change became official on January 23, 1871.
Since then, Bethesda has become one of Washington's busiest, most populated suburban communities. It's hard to believe that, only 150 years ago, it was a little roadside stop haphazardly named after its general store!