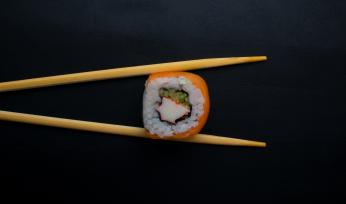 These days, it's no longer cool to bristle at the thought of eating raw fish. Sushi and sashimi have become city staples, and D.C. has a pretty diverse offering. You can grab a sushi lunch from your local Whole Foods, or you can drop hundreds at a Michelin starred Japanese dinner-spot downtown. Compared to cities like New York or LA, though, Washington was actually fairly late to the sushi-game. But it only took one man and one restaurant to shake things up.
When Japanese immigrant Kojiro Inoue first moved to the Washington area in 1971, D.C. had some Japanese restaurants but couldn't boast of any that offered sushi. It was for good reason—hardly anyone seemed interested in the idea of eating raw fish. "Sushi wasn't popular,"[1] explained Inoue to The Washington Post years later. So when Inoue decided to start a small sushi bar within the Silver Spring Japanese restaurant Sakura Place, the endeavor wasn't without its risks.
"It was a hard time," remembered Inoue. "Only five stools at [the] sushi bar. Everybody was surprised at raw fish. 'What's this? What's that?' American people were scared of it…Only Embassy of Japan and Japanese correspondents came."[2]
What's more, quality fish was hard to come by. Inoue frequented a fish store on Georgia Ave., but the fish was rarely fresh. "A fish is a fish," Inoue recalled the store clerk saying in defense.[3] Inoue made things work by buying fish frozen from Japan or from California, taking weekly trips to the airport to pick up new supply.
The tide began to turn in the late 1970s. According to Inoue, Japanese restaurants skyrocketed in popularity because of the McGovern report of 1977, which cited that 500,000 Americans that year suffered from heart attacks. "Japanese food is low in cholesterol," reasoned Inoue.[4]
It's also likely that Inoue simply made good sushi. Prior to immigrating to the U.S., Inoue studied at the prestigious Tsuji Cooking School in Osaka and served as an apprentice at several esteemed restaurants in Japan.[5] In other words, he knew what he was doing, and he felt more than qualified to open his own restaurant—one entirely dedicated to sushi and sashimi. And that's exactly what he did in Georgetown.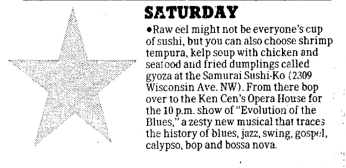 Sometime during the late 1970s, "Samurai Sushi-Ko"[6] at 2309 Wisconsin Ave. NW presented the District with its first sushi experience. (The timeline is a little unclear because in order to obtain a loan, Inoue had to start the restaurant as a sandwich shop and slowly transition to sushi.[7]) There was certainly some trepidation -- Inoue had to go so far as to explain to customers exactly how to eat the dish (i.e. with soy sauce and wasabi, and with chopsticks rather than a fork and knife).[8] And, a 1980 advertisement for Sushi-Ko made sure to clarify that though "raw eel may not be everyone's cup of sushi,"[9] restaurant goers can still choose safer items like "shrimp tempura…and fried dumplings." But, by and large, Sushi-Ko seemed to pique District residents' curiosity.
According to all accounts, it was Sushi-Ko's "unexpected popularity" that led other Japanese restaurants to follow suit and present sushi and sashimi as a regular menu offering.[10] By 1983, The Washington Post covered the "Sushi…Bar Boom in D.C."[11] Another Post article was bold enough to assert "If you want to be cool, eat sushi,"[12] citing over ten restaurants in D.C. where one could get their sushi-fix.
Chef Daisuke Utagawa, who frequented Inoue's sushi bar at Sakura Palace as a child,[13] purchased Sushi-Ko from Inoue in 1988 and ran the restaurant until 2012, when the restaurant closed due to tax and financial struggles.[14] Utagawa reopened the restaurant as Sushiko in Chevy Chase, MD. Given the restaurant's rave reviews, it's pretty safe to say D.C. has finally gotten over its fear of fish.
^ Kojiro Inoue, "A WASHINGTON LIFE: 'I Made at Least 1,000 Pieces of Sushi a Day. Now I Have Sushi Elbow," The Washington Post, February 26, 1989: I22.
^ Ibid.
^ Ibid.
^ Ibid.
^ Ibid.
^ Stuart Auerbach, "Sushi Spawns Bar Boom in D.C.," The Washington Post, March 7, 1983: WB1.
^ Kojiro Inoue, "A WASHINGTON LIFE: 'I Made at Least 1,000 Pieces of Sushi a Day. Now I Have Sushi Elbow," The Washington Post, February 26, 1989: I22.
^ Ibid.
^ The Washington Star, May 23, 1980: 13
^ "Japan's Unique Wondrous Cuisine," The Washington Star, May 3, 1981: 180
^ Stuart Auerbach, "Sushi Spawns Bar Boom in D.C.," The Washington Post, March 7, 1983: WB1.
^ Eve Ziebert, "District Dining: If You Want to Be Cool, Eat Sushi," The Washington Post, July 4, 1985: 7
^ Kojiro Inoue, "A WASHINGTON LIFE: 'I Made at Least 1,000 Pieces of Sushi a Day. Now I Have Sushi Elbow," The Washington Post, February 26, 1989: I22.
^ Chris Jones. "Sushi-Ko Sold to Ferry Huang," 22 Aug 2019. Glover Park D.C. https://www.gloverparkdc.com/post/2019/08/22/sushi-keiko-sold-to-ferry-…;