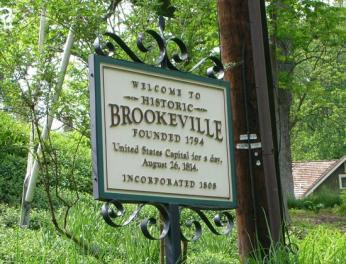 If you're passing through Brookeville, Maryland these days the town might not seem too different from the other suburban stops along Georgia Avenue. But don't be fooled. Brookeville has a unique claim to fame. For one day during the War of 1812, it was the capital of the United States.
As the British army swept into Washington in August of 1814 following the Battle of Bladensburg, President Madison and his wife, Dolley, fled the White House (but not before she stopped to save the portrait of George Washington). The President first went south into Virginia, but soon turned north towards Maryland in the hopes of meeting up with American troops. As night descended on August 26th, the President's carriage rolled into Brookeville in search of accommodations for the night.
The first house he arrived at was owned by a Mr. James Pleasants, who was known in the town for both his failed efforts to build a flying machine and his curmudgeonly demeanor. Mr. Pleasants refused to be roused from bed even for the President, and Madison moved on to the largest home in the town, that of Richard Thomas. Mr. Thomas, a stringent Federalist, also declined to house the exiled President on the grounds that he "had no use for anyone who would carry on a war so distasteful."[1]
The President was finally invited inside at the residence of Caleb Bentley, and Bentley's granddaughter, Mary Bentley Thomas, made a record of the visit.[2] The President only asked for one room for his officers, then stayed up in an armchair with a secretary's table the entire night, dispatching orders and letters in the aftermath of the British torching of the national capital. A guard of soldiers also stayed up the entire night, and according to the Mrs. Thomas' account, their constant marching around the house destroyed Mrs. Bentley's vegetable and flower garden.
The next day, the exiled President received word that the British has decamped from Washington and were loading themselves on ships to make a move towards Fort McHenry and the port of Baltimore. (It was during the subsequent attack on Fort McHenry that Francis Scott Key would pen "The Star Spangled Banner.") After thanking his hosts, the President departed and returned to burned-out Washington. The chair that Madison occupied the whole night became a treasured family heirloom.
Today Brookeville is home to fewer than two hundred residents but the town remains proud of its unique footnote in history. A roadside marker reminds visitors that the town was, indeed, the "United States Capital for a Day." But, thanks to the grumpiness of one resident and the political feelings of another, it almost didn't happen. Luckily for President Madison, Caleb Bentley was more generous than his neighbors.
And the rest, as they say, was history.