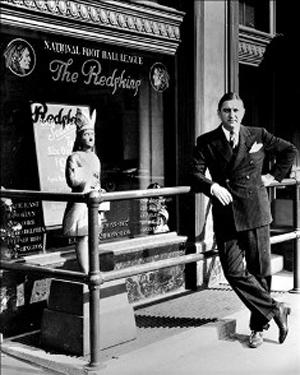 With a seating capacity of up to 100,000, a retractable roof, and a 60 yard-long HD video board amongst other amenities, the Cowboys Stadium in Arlington, Texas is something to behold. And Cowboys owner Jerry Jones is certainly proud of his sporting palace, which has hosted soccer, basketball and other sports in addition to Cowboys football games.  
But, when it comes to innovative stadium designs, Jones has nothing on former Redskins owner George Preston Marshall.
In moving the team from Boston to Washington in the 1930s, Marshall looked to build a stadium, which was a step up from the others around the league. He hired architect Jules De Sibour, who had designed several hotels in the District and was the consulting architect at the U.S. Naval Academy, to work with him on the design. (Fun fact: De Sibour was also a descendant of King Louis XI of France.)
The two men came up with a very innovative design for a climate-controlled, 70,000 seat, all-weather stadium to be located in the District. The domed stadium featured a retractable roof made of steel and glass, tiered seating and flexibility to accommodate ice hockey, track, baseball, swimming or boxing in addition to Redskins football. (Sound familiar, Jerry Jones?) It was truly a forward-thinking plan, and Marshall and De Sibour received a patent for the design from the U.S. Patent and Trademark Office in 1936.
As it turned out, the D.C. dome was never built. Politics were a constant obstacle to stadium construction efforts in the District over the years and America's involvement in World War II soon had officials concentrating on more important matters. The Redskins would continue to play in rickety Griffith Stadium until the 1961 season, when they moved into D.C. Stadium (renamed R.F.K. Stadium in 1969) amidst controversy over Marshall's racist policies for the team. It seems that as progressive as the owner was in regard to stadium designs, he was very backwards when it came to his views on race.
To learn more about Marshall's dome design and the District's long, winding history with regard to stadium construction, I encourage you to check out Brett Abrams's informative book, Capitol Sporting Grounds: A History of Stadium and Ballpark Construction in Washington, D.C. (McFarland & Company, Inc., 2009), which was the basis for this post.