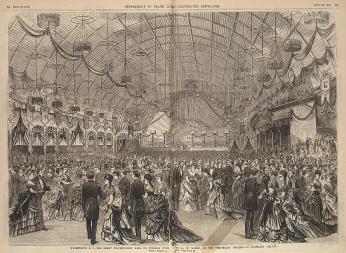 March 4th, 1873 — Ulysses S. Grant's second inauguration — still stands as the coldest March day on record for Washington, and it was a wintry disaster. Just how cold was it? Look at it this way: the recorded temperature at noon was 16°F. Wind gusts of 40mph created a wind chill of "-15° to -30°F." The inaugural parade sent many frost-bitten cadets to the hospital. And forget about having any music to see them off — the musicians' breath froze in their instruments and they were quite unable to play.
The inaugural ball was even worse. It took place in a temporary structure not designed to withstand the cold. Guests arrived and kept their overcoats firmly wrapped around them. They must have looked quite silly as they stiffly danced to whatever music the musicians could coax out of their frozen instruments.
While they were dancing, dead birds fell on their heads. (Yes, you heard that right!) Hundreds of canaries in cages had been hung from the ceiling above to add a cheery atmosphere with their song, but any of the little birds that hadn't frozen to death were obviously too cold to sing. The dead ones slipped from their perches and fell on the unfortunate dancers below. Even the refreshments offered the guests no relief. The champagne was reportedly frozen solid and one guest "claimed the coffee turned to frappe." 
---
Sources:
Jacob, Kathryn A. (1995). Capital Elites: High Society in Washington, D.C., after the Civil War. Washington and London: Smithsonian Institution.
Kranz, M. (n.d.). Ulysses S. Grant, Second Inauguration [Video file]. Retrieved from http://memory.loc.gov/ammem/pihtml/pivid09.html
Swearing-In Ceremony for President Ulysses S. Grant. (n.d.) Retrieved March, 2013, from http://www.inaugural.senate.gov/swearing-in/event/ulysses-s-grant-1873