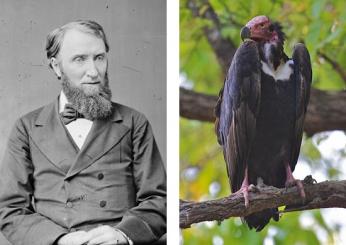 Around these parts it's pretty common to have buildings named after politicians. The Ronald Reagan Building and International Trade Center, the Rayburn House Office Building, the Tip O'Neill Building, the Clinton E.P.A. Building – the list goes on and on.
Well, back in the 1890s, the Washington Post felt that Rep. Joseph G. Cannon (R – Illinois) deserved a different kind of recognition for his work on the National Zoo project. Cannon had raised the ire of the paper's editors when he had helped push through a provision that called on local D.C. residents to pay for half the cost of the new zoo. This was a major burden as the city was already operating with a $370,000 deficit in 1890-91. Plus, in the minds of Post editors, the Zoo was a national project, which should have been fully funded by the Federal government.[1] (Side note: Isn't taxation without representation great?)
In honor of Cannon, the Post offered the following tongue-in-cheek editorial in February 1891, a few days after the Zoo received two East Indian Pondicherry vultures at a cost of $200 per bird:
The people of the District of Columbia should feel very grateful to the House of Representatives for voting them a half interest in the birds. They are no doubt cheap at the price mentioned, and particularly valuable as the nucleus for a Government scavenger farm. The Post would suggest that the head of this interesting family be christened, 'Joe Cannon,' in honor of the distinguished member of the Fifteenth Illinois district, whose efforts in behalf of saddling half the keeping of the national menagerie upon the people of Washington certainly deserve some fitting testimonial.[2]
No word on whether Rep. Cannon ever came to the zoo to visit his namesake. But, we do know that he got his name on a building in 1962, which was (coincidentally) just a few years after the Friends of the National Zoo (FONZ) persuaded Congress to fund the Zoo's budget entirely through the Smithsonian.