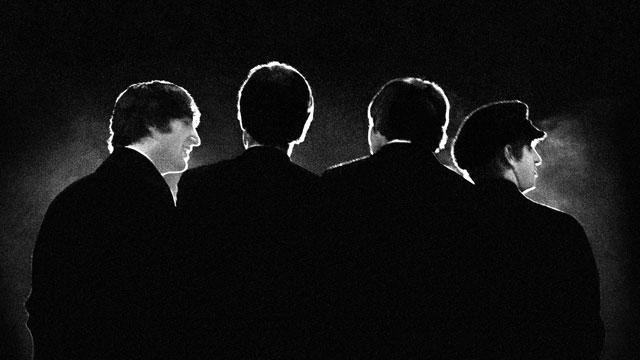 In a previous post, we looked at the prelude to the Beatles' first-ever concert in the U.S. on February 11, 1964 at the Washington Coliseum. Here's more of what happened on that historic evening.
The Fab Four took the stage at a little past 8:30 p.m., clad "in tight gray suits with black Chesterfield collars," as an Associated Press account detailed. The crowd of around 8,000 fans was the biggest audience that they'd ever faced. "We'd only been used to 2,000 at home," as Ringo Starr later recalled to biographer Hunter Davies.
Oddly, the Washington news media doesn't seem to have paid much attention to the actual concert, covering only the Beatles' arrival and what they did afterward. But according to a 2004 retrospective by Washington Post music writer Richard Harrington, Beatle fans' reputation for raucous, frenzied enthusiasm apparently had made an impression upon the District police. Just as they'd cordoned off the Union Station platform where the Beatles' train had arrived that afternoon, they formed a phalanx that escorted the band onstage. During the show, 30 officers ringed the stage itself. "At least one stuck a pair of .38 caliber bullets in his ears for plugs," Harrington recounted.
And that ear protection came in handy. As Washington DJ Carroll James introduced the quarter that he hailed as "the world's most exciting group," the audience erupted into a deafening, high-pitched cacophony.
"I have no idea what they sounded like," one of the attendees, local high-school student Lee McGavin, recalled. "From the moment they stepped on stage, the shrieks from the audience drowned out rational thought, let alone the sound system. I may have heard three or four bars of their performance when the throbbing audience was in danger of passing into unconsciousness from hyperventilating and those convinced me that it really was the Beatles."
In the film footage of the performance, the Beatles and stagehands tinker with their gear for a few minutes before launching into "Roll Over Beethoven," a Chuck Berry cover, with George Harrison switching mike stands as he sang the lead vocal, due to an apparent glitch in the sound system.
As Harrington's account details, the Beatles were hampered throughout by their underpowered sound system — three tiny Vox amplifiers and two microphones — and by the stage, which was set up like a boxing ring in the center of the Coliseum. "That was the first time we'd ever played in the round," as Paul McCartney recalled. "We said: 'Do we have to do it?' 'Yeah. We've sold tickets everywhere. You'll have to turn around.' 'How the hell are we doing to do that?' 'Well, just do a few numbers east then shuffle around north. Then do a few numbers north and shuffle around west.' We said: 'What's Ringo doing to do?'" Starr's drum kit was mounted on a shaky riser, which the stage crew had to rotate by hand.
The changing positions presented another hazard to the Beatles. Their fans, who'd apparently read newspaper stories in which Lennon had joked that Harrison had eaten all of Lennon's jelly beans, pelted Harrison with the candies from every angle. As Harrison later recalled to Davies: "It was terrible. They hurt. They don't have soft jelly babies in America, but hard jellybeans like bullets." In addition, according to the AP, the audience threw "peanuts, combs and anything else that readily came to hand."
After "From Me to You," Paul McCartney invited the audience to "clap your hands, you know, and stamp your feet" to the next number, "I Saw Her Standing There."
The rest of the set consisted of "This Boy," "All My Loving," "I Wanna Be Your Man," "Please Please Me," "'Till There Was You," "She Loves You," "I Want to Hold Your Hand," "Twist and Shout," and a cover of Little Richard's "Long Tall Sally."
As McCartney later recalled: "I don't remember thinking we played particularly well. But looking back, time has been very kind to us. It was a cool gig. After the show, the group headed to an event at the British Embassy, where things proceeded to get, well, a little bizarre. For more on that historically awkward gathering, check out this article.