Brazil, the site of the 2014 FIFA World Cup, is known for transforming the game of soccer with the free-wheeling offensive style that its great players pioneered. But Brazil also has another creative export that's nearly as famous as soccer virtuosos Pele or Ronaldo — bossa nova, a hybrid of jazz and Brazil's own African-influenced Samba music. Oddly, though, it was an album recorded in Washington, DC in February 1962, at the instigation of one of the area's musical giants, that helped popularize bossa nova as an international sensation.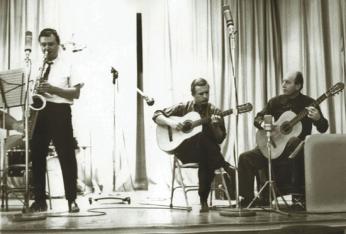 The record was Jazz Samba, an LP by saxophonist Stan Getz and local guitarist Charlie Byrd. After being released on the Verve label in April 1962, it became the first jazz album to top the Billboard 100 chart, and sold 1.6 million copies over the next five years. One track, "Desafinado," won a Grammy for Getz for best jazz solo performance.
​In a 2012 retrospective, Washington Post music writer Chris Richards observed that the record's success caused Frank Sinatra and Elvis Presley, among others, to begin experimenting with Brazilian music.  "Bossa nova's pliant melodies and hushed rhythms expanded America's notions of global pop music moments before Motown and the Beatles roared," he observed. The record became such a sensation that Billboard soon asked in a headline: "Is the bossa nova the new twist?"
Bossa nova came to Washington because of Byrd, a native of Suffolk, Va., who had learned guitar as a child from his mandolinist father, and drew inspiration from the Belgian guitarist Django Reinhardt, whom he met while serving in the U.S. Army in Europe during World War II. After a stint playing jazz in New York, Byrd returned to Washington in the 1950s, and for a time studied classical guitar under Sophocles Pappas at the old Columbia School of Music.  Byrd made a name for himself in the city through his regular performances at the Showboat Lounge, a club operated by his family at 18th Street and Columbia Road NW in Adams Morgan.
In 1961, Byrd toured South America as part of a cultural exchange tour sponsored by the U.S. State Department. While there, he heard Brazilian musicians' experimental jazz-samba fusion, and liked it so much that he brought tapes of the music back home with him. But Byrd, it should be mentioned, wasn't the only proponent of Brazilian music in Washington. According to a 1962 United Press International article, local jazz DJ Felix Grant began playing Brazilian records on his WMAL show in the late 1950s. Probably around 1960, he met Brazilian DJ Paulo Santos, who was visiting Washington, through the Pan American Union, and invited Santos onto his program to play some early bossa nova records by guitarist João Gilberto. Byrd himself described Grant as the man "who introduced the bossa nova."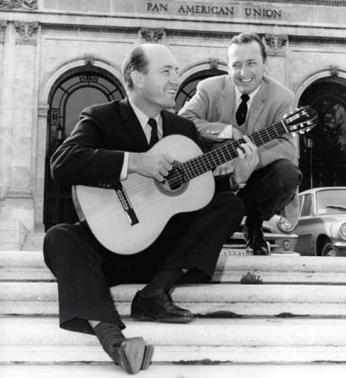 As recounted by Getz biographer Dave Gelly, in December 1961, Byrd went to see a performance by Getz at a Washington, DC club, and visited him backstage. Byrd played the Brazilian tapes for Getz, who then convinced Verve to let them make an LP of Brazilian-influenced music. In preparation, Byrd put together and rehearsed a rhythm section, made up of musicians who'd been on the Brazil tour, including his bassist brother Gene (later known as Joe) Byrd, and drummers Buddy Deppenschmidt and Bill Reichenbach.
In February 1962, Getz and jazz producer Creed Taylor flew down from New York to begin the session. According to Richards' article, Getz often liked to record at the Morris Cafritz Center on 16th Street N.W., but traffic noise that day prompted him to choose an alternate location. Gelly tells it slightly differently; he reports that Byrd took Getz to a hall attached to the All Souls Unitarian Church at Harvard and 16th, because it supposedly had the best accoustics available in the District. 
Amazingly, the ensemble took just three hours to record Jazz Samba's seven tracks, getting down all but one in a single take, and working so fast and fluidly that Getz and Taylor were able to get back to New York in time for dinner. Byrd's clever rhythm arrangement meshed defty with Getz's solo on the opening cut, "Desafinado," and Byrd's idea of using two drummers turned out to be a masterstroke. As Gelly observed, "each could play a simple patter, the two patterns combining to create a shifting, shimmering beat."  Though Getz was pleased with the result, he never figured that it would become such a commercial breakthrough. "I thought it was just pretty music," he later explained. "I never thought it would be a hit."
But it was. Unfortunately, Byrd was deprived of a share of the Grammy for "Desafinado" because his solo was cut from the single version. And the record's success led to a financial dispute, in which Byrd ended up suing Getz and the record company over royalties, and settled for $50,000.
After the bossa nova craze subsided, Byrd continued to perform in the Washington area and elsewhere over the next several decades, including a show in his hometown of Annapolis just two months before his death in 1999 at age 74.