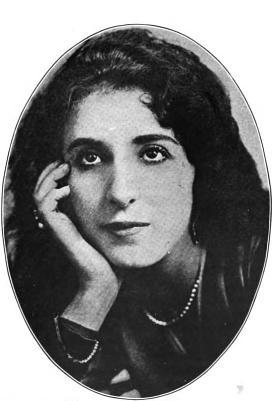 Washington has always been a town that likes gossip and scandal. So, it's probably not a surprise that turn-of-the-century Washingtonians were quite interested in vampire stories. You see, back then, "vampire" was a term for a dark, seductive woman who lured men into her poisonous embrace, sucked him dry of wealth and left him debauched and ruined – a femme fatale of the most frightening and glamorous sort.
An independent and sexual woman with power over men? Yikes! If the newspapers saw a chance to embellish an account of a "real vampire," boy did they go for it.
Take the case of Despina Davidovitch Storch. A Turkish beauty born in 1895, she captured imaginations in 1918 when she was arrested as a German spy. Storch had supposedly wooed admirals and ambassadors in all the great capitals in Europe and lived in splendor with unlimited funds from the German Foreign office.
She also graced Washington with her presence, going by the alias "Baroness de Bellville." Word has it she held her famous salons, to which all the important diplomats and military men were invited, in her rooms at the Shoreham Hotel. It was also allegedly here where she met with the German ambassador to pass on everything she learned at her salons.
The fortune of the "Turkish Delight," this "modern Cleopatra" unfortunately did not last long after being captured. Storch died of pneumonia shortly after being taken into custody (there were whispers that it was poison!).[1] The 23-year-old 'vamp' was buried in a white coffin at funeral attended only by her accomplice and probable lover, Baron Henri Deville, who was let out of federal custody for the occasion.[2]
The Washington Times was so enamored with Storch that it ran an eleven chapter series entitled "Mme. Storch – Vampire and German Spy" in the summer of 1918 – a full two page spread each Sunday detailing her career. You can read chapters 5-11 in the Library of Congress's Chronicling America project. See the links below:
But Storch wasn't the only vampire getting press in Washington. Though the papers did not devote quite as much attention to other vampires, they were still a very popular topic of "news." Consider these headlines:
So why were vampires such a source of fascination for Washington readers and newspaper editors? Well, for one sex sells – some things never change. But, for another, society was shifting. As evidenced by the rise of the bachelor girls, gender roles were changing and these vampire stories offered an interesting – if highly embellished – commentary.