Since Congress established the National Cancer Institute in 1937, funding research to better understand — and hopefully find a cure — for the disease has been the major focus of the federal war on cancer. But on another front, the U.S. Food and Drug Administration has fought a long battle against unproven remedies offered to the desperately ill by practitioners and promoters outside the medical mainstream. In particular, the agency fought a pitched battle in the 1950s and early 1960s against a Texas-based self-styled healer named Harry Hoxsey — even taking the unusual step in 1957 of putting up posters in 46,000 post offices throughout the nation, warning people that Hoxsey's anti-cancer treatment was worthless and fraudulent.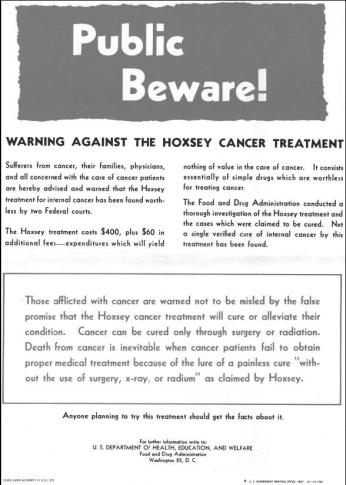 Hoxsey was the dark side of the self-made, rags-to-riches success story that Americans so revere. According to medical historian James Harvey Young, he was born in 1901 and grew up in a rural village in Illinois, one of 12 children of a self-taught unlicensed veterinarian. After his father died in 1919, eighth-grade dropout Hoxsey went to work as a coal miner and insurance salesman, before discovering a far more lucrative career. He began peddling an anti-cancer herbal mixture that he claimed had been invented by his great-grandfather, who'd supposedly noticed that after a horse had eaten wild plants in a meadow, the animal's leg tumor had vanished. As Hoxsey told it, the potion had been passed down in the family, and his own father had taught him the precise mixture by having him write it out 250 times, until he'd committed it to memory. (That Hoxsey's father had died of cancer, despite the herbal cure, was a part of the yarn that Hoxsey usually left out.) In 1922, Hoxsey began peddling the mixture, supposedly first using it to cure a Civil War veteran of lip cancer. Soon after that, with the support of investors, he took over an old building once used by the Order of the Moose in Taylorville, Il., and converted it into the Hoxide Institute, where he advertised that cancer patients would receive treatment "under strictly ethical medical supervision, painlessly, without operation, and with permanent results."
Hoxsey's Taylorville clinic attracted a steady stream of patients. But after many of them died at the institute, a local doctor wrote to the American Medical Association, which launched a string of lawsuits aimed at stopping Hoxsey. Three times he was prosecuted and fined for practicing medicine in Illinois without a license. To evade authorities, Hoxsey began moving his operations — from Detroit, to Wheeling, W.Va., to Atlantic City, N.J. — before finally setting up shop in Dallas in 1936.  After beating similar charges there on appeal, Hoxsey acquired an honorary degree as a doctor of naturopathy, which enabled him to become licensed in the state.
According to a 1956 Life magazine article, Hoxsey's Dallas clinic eventually generated $1.5 million in revenue annually, from thousands of patients who were willing to pay $460 apiece for "little more than a physical examination, medical advice and some pills." He also published an autobiography, entitled You Don't Have to Die. Using high-powered radio stations across the Mexican border, he promoted his herbal therapy and also peddled what he touted as "bonded eggs," produced by chickens who'd been treated with his cancer cure, according to the Texas State Historical Association.
By the mid-1940s, Hoxsey — whose office contained a folksy plaque explaining that there were two kinds of people, "dem that takes and dem that got took" — was attracting delegations of elected officials to his clinic to tout his miraculous regiment. He even managed to gain the support of at least two U.S. Senators — Elmer Thomas of Oklahoma and William Langer of North Dakota. Langer was so impressed after visiting Hoxsey in Dallas that he introduced a Senate resolution, calling for creation of a special subcommittee to hold hearings on Hoxsey's method and verify that it could cure cancer.
After the AMA Journal criticized Hoxsey as a "cancer charlatan" in 1949, Hoxsey tried to silence the organization with a defamation suit. An elderly Texas judge ruled that Hoxsey's potions were "reasonably comparable" to medical treatments such as surgery and radiation, though he only awarded Hoxsey $2 in damages, according to historian Young. 
At that point, the FDA jumped into the fight. According to a 1960 Washington Post article, the FDA's labs tested Hoxsey's herbal preparations, and investigated the medical records of all the living patients for whom Hoxsey claimed a cure. In 1950, FDA went to court in an effort to prevent Hoxsey from shipping his herbal preparations across state lines. Hoxsey fought back, but after years of litigation, the government eventually won the case on appeal. 
Meanwhile, the FDA fought Hoxsey's efforts to expand his operations. After he opened a clinic in Portage, Pa., one of its first patients was an undercover FDA investigator. After an examination that lasted a few minutes, the investigator — who was perfectly healthy — was told that he suffered from prostate cancer, and needed treatment. Shortly afterward, a federal marshal showed up and confiscated 500,000 doses of Hoxsey's cure. Hoxsey fought the seizure in federal court, but a jury ruled against him, and Hoxsey's herbs were destroyed.
In April 1956, the FDA published a warning in the Federal Register, saying that its scientists had determined that Hoxsey's treatments not only were worthless, but dangerous. Some of the preparations dispensed by his clinic included potassium iodide, which the agency said actually accelerated the growth of tumors. The FDA also said that its investigators had not found "a single certified cure" by Hoxsey's method, and castigated it as "a gross deception to the consumer," according to an Associated Press account.  
It was the first time ever that the agency had publicly denounced a cancer cure as a fraud. In 1957, the agency decided to make its point even more strongly, asking post offices across the U.S. to display its "Beware" posters warning people not to try Hoxsey's cure. Hoxsey responded with a federal lawsuit, claiming that the government was depriving him of a property right — that is, to sell his potions — without due process. But a federal judge in Washington rejected Hoxsey's claim, ruling that the government had a right to disseminate information where public health was at stake.
Soon after that bold denunciation, the Pennsylvania clinic closed, and Hoxsey's business began to collapse. 
In  September 1960, according to the Associated Press, the FDA forced a Texas-based clinic owner to consent to a permanent injunction, barring him from selling Hoxsey's treatments or sharing the profits with him. FDA had shut down the last remaining outlet in the U.S. for Hoxsey's cure. But a few years later, one of Hoxsey's nurses crossed the border to Tijuana, Mexico, and set up a clinic outside of FDA authority, which reportedly still is in operation today. Hoxsey himself stayed in Dallas, and shifted his attention to investments in the oil businsess. He was diagnosed with prostate cancer in 1967, and when his body didn't respond to his famous herbal treatment, he underwent conventional surgery. After spending his last years in isolation as an invalid, he died in 1974.