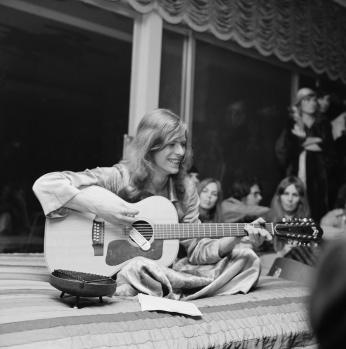 Rock superstar David Bowie, who died at age 69 on January 10, 2016, sold 140 million albums in a career that spanned more than four decades and earned fame as perhaps the genre's most flamboyantly inventive performer.
But back on Jan. 27, 1971, when he arrived on a flight from London at Dulles International Airport, Bowie was still a largely unknown 24-year-old singer-songwriter, hoping somehow to break through. His album The Man Who Sold the World, had been released in England three months before and sold disappointingly. But his label, Mercury Records, hoped that he would make a bigger splash if he went to the U.S. and had a chance to meet rock journalists and radio disc jockeys. So Bowie, despite his fear of flying, had gotten on the jet and endured a flight across the Atlantic for the first time.
But instead of flying to New York or Los Angeles, the twin capitals of the American music industry, Bowie's first stop on American soil was in the D.C. area. The reason, as biographer Marc Spitz explains, was that the Chicago-based Mercury publicist Ron Oberman happened to be in the area, visiting his family in Silver Spring, Maryland. Oberman, his parents and brother Michael, who at the time wrote a music column for the Evening Star, were waiting at the gate when Bowie's plane arrived. They continued to wait, long after the other passengers disembarked.
"David was held in customs at the airport for a few hours," Michael Oberman, who today is a prominent nature photographer, recalled in an email. "Not unexpected in those days." 
Finally, Bowie appeared, explaining that he'd been held up by Customs officials, "maybe because I look so strange." The singer had worked with his then-wife Angela to cultivate an attention-getting androgynous look; as another Bowie biographer, Christopher Sandford, recounts, the slender, long haired singer was clad in a purple maxi-coat and white chiffon scarf, and his luggage contained two dresses.
After dropping off Bowie's luggage at a Washington hotel, the Obermans took him to dinner. In Spitz's account, it was at Hofberg's Deli, on Eastern Ave. NW, near Georgia Avenue on the edge of Silver Spring, a local institution renowned for its corned beef sandwiches. Michael Oberman remembers that it was at the nearby Emerson's, part of a long-gone local steakhouse chain, and that the waitress seated them in a curtained booth and closed the curtains, perhaps so that Bowie's appearance wouldn't provoke too many stares from diners.  
After that, they spent some time at the Obermans' home in Silver Spring. Michael Oberman, who has a photo on his Flickr page of Bowie relaxing in the Obermans' living room, recalled they "mainly discussed theater and just chit-chatted. He was extremely intelligent and erudite." Two years before, an Evening Star writer interviewed Bowie by phone and published a short profile of him at the time his single "Space Oddity" was first released. "I knew David would become a huge success," he explained.
According to Spitz's book, Bowie, who was eager to meet some Americans, also attended a house party that evening in Garrett Park. The next day, Bowie traveled to New York City, and from there went to Chicago and Los Angeles.
Bowie didn't perform any music during his brief stay in the Washington area, by Michael Oberman's account, and he didn't return until November 1974, when he performed at the Capital Centre in Landover, Maryland. As Washington Post reviewer Tom Zito wrote, Bowie — who was touring to support his Diamond Dogs LP — gave one of his characteristically theatrical performances, including utilizing footlights to project a 50-foot shadow of himself onto a screen towering over the stage as he performed with a seven-piece band and six backup singers. He'd jettisoned his former gender-bending attire, in favor of an elegant suit, and his futuristic glam rock was now more soul-infused.
Michael Oberman, who was at the 1974 show, says he wasn't surprised by Bowie's evolution over the decades that followed. From the time that he'd met Bowie, "David already was a shape-shifter in my mind," he recalled. 
Here's some rare footage of the first D.C.-area concert.