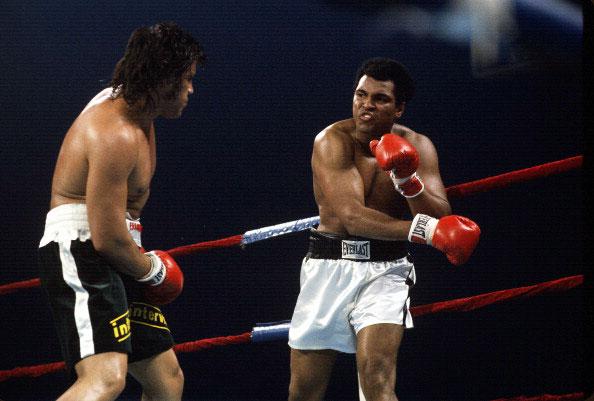 Muhammad Ali twice defended his heavyweight boxing title at the old Capital Centre arena in Landover, Maryland. You're not likely to see either his April 30,1976 fight against Jimmy Young nor his May 15, 1977 bout with Alfredo Evangelista, both of which he won by unanimous decision, on highlight reels of Ali's greatest fights. Nevertheless, they gave Washingtonians a chance to catch an up-close look at "The Greatest," a larger-than-life athlete whose unconventional style and sublime physical grace was matched by his irrepressible talent for hyperbole and outrageous self-promotion.
One such glimpse came around dawn on a morning in April 1976, when Ali stepped into the ballroom of the Sheraton hotel in New Carrollton, clad in his workout gear. He had arrived just a short time before, riding all night in his personal bus from Chicago, but several hundred fans had paid $3 apiece for the privilege of watching him and Jimmy Young, his opponent in an upcoming bout at Capital Centre, go through their training. Though Ali hadn't slept, he wasn't one to disappoint a crowd. 
Young, who'd arrived first, had already finished going through his paces, and was giving a TV interview. But all eyes in the room turned to Ali, who started shadowboxing and displaying the rapid-fire jab and deft combinations that he delivered while doing his trademark shuffle. "Float like a butterfly, sting like a bee!" a spectator called out, mimicking Ali's own trademark description of his style. The crowd began chanting. As a Washington Post account detailed, Ali abruptly stopped his workout and urged them to be quiet, saying that it was time to be serious. After he worked four rounds with his sparring partners, though, he couldn't resist clowning a little, daring one of them, Jesse Hicks, to hit him. Hicks threw a punch that grazed Ali's face. The crowd erupted.
"See, I'm so good, I got hit once and they hollered," Ali joked. He then sat down in the boxing ring and gave journalists one of his typically outlandish interviews, in which he boasted that the government of Turkey was begging him to move there and live in splendor on a yacht. He also explained that he planned to retire from boxing and become a diplomat — "put on coat and a tie and carry a briefcase, and be the black Harry Kissinger."
During his stay at the hotel, Ali took time out from his training to show up at the University of Maryland's basketball team banquet. As a Baltimore Sun account of the event noted, Ali strolled to the podium and shocked the audience by congratulating the players and coach Lefty Driesell on their season. He then facetiously chided Driesell for giving him a miniature grandfather clock with the school logo as a keepsake, "Hey Lefty, I like your class and I like your style, but your gift is so cheap that you won't see me for awhile."
When the actual fight rolled around, unfortunately, it wasn't as entertaining as Ali's public appearances. The champ, ever inscrutable in his strategy, spent the first two rounds contemptuously holding up his gloves in peek-a-boo style, and let the lightly-regarded Young throw punches at his midsection, occasionally answering with flurries of combinations. "Ali is just saying, 'go ahead, hit me,'" announcer Howard Cosell incredulously exclaimed. 
By the middle rounds, though, he seemed clearly in control, and perhaps on the verge of finishing off his younger opponent. But Young, to his credit, rallied in the last three rounds, and caught Ali with a few solid rights and lefts, and two of the three judges had him winning those rounds. But it wasn't enough to change the result, and Ali won a unamimous15-round decision. It was the 51st fight of his career. 
"When you have a bad night and win, it's a good night," his trainer Angelo Dundee explained to the Post.
Though the event attracted just 12,000 fans to Landover, Ali still returned the following April for another title defense against a young Uruguayan heavyweight named Alfredo Evangelista. Again, Ali coasted through the first six rounds, doing little more than evading the challenger. As an Associated Press account describes, three times, Ali brazenly stuck out his jaw and dared Evangelista to hit him — to the consternation of Ali's own cornermen, who shouted at him to stop taking risks. 
After eight rounds, Ali apparently decided that he'd stalled long enough, and went after Evangelista — starting the ninth with a combination to the head that left the Uruguayan weak in the knees. But Evangelista turned out to have more heart than anyone had expected. He refused to quit, and started catching Ali, who had become noticeably fatigued, with body shots. But as he'd often done before, Ali suddenly came alive again, and reversed the momentum by stunning Evangelista in the 13th with another left-right to the head and two right hooks. It was enough to earn Ali another unanimous decision.
Ali earned $2.7 million for the fight, while Evangelista was paid just $85,000. But Ali's best days as a fighter were clearly behind him. After the bout, his longtime physician. Dr. Ferdie Pacheco, urged him to quit. The following February, an out-of-shape Ali lost his title to Leon Spinks. He regained the title by beating Spinks in 1979, making him the first heavyweight to earn the belt three times. But two losses to Larry Holmes and Trevor Berbick finally ended his career. 
But Ali would remain a world-famous celebrity and a beloved, charismatic figure, even as he struggled with Parkinson's disease. In 2005, he again returned to Washington to receive the Presidential Medal of Freedom, the nation's highest civilian honor. from President George W. Bush. By then, Ali no longer was the effervescent reciter of self-promoting poetry, so the President helped him. "The real mystery, I guess, is how he stayed so pretty," the President joked. "It probably had to do with his beautiful soul."