By 2002, Mike Tyson's reputation preceded him. He had won and lost the title of boxing's undisputed heavyweight champion of the world and spent multiple years in prison. But the so-called "Baddest Man on the Planet" was still immensely popular and vowed to regain his title.
Hopeful he could set up a heavyweight challenge against the then-champion Lennox Lewis, Tyson's promoter Shelley Finkel began looking for a venue but was denied a license by Nevada, New York, Colorado, and Texas due to concerns about Tyson's demeanor. Finkel turned to Washington.[1]
The idea of a Tyson bout in the District was met with significant worries, by business and community leaders who worried about Tyson's character and psychological standing. The Telegraph posed the question, "If Tyson was too sleazy for 'Sin City', how on earth can we contemplate him walking in the shadow of Capitol Hill?"[2]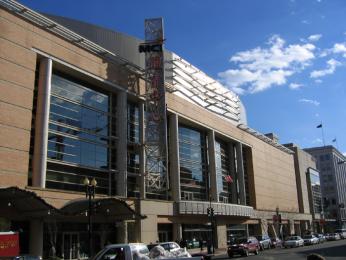 Senator John McCain, added, "I have some sympathy for Mr. Tyson, but I do not believe he's qualified to make this fight."[3]
McCain's statement had little to do with Tyson's abilities in the ring, which were well documented.
Tyson was beyond dominant to begin his career, compiling 37 consecutive wins, the first 19 of which were knockouts. He became the youngest heavyweight champion at just 20 years and four months on Nov. 22, 1986, and gained the title of undisputed heavyweight champion by knocking out Michael Spinks, in June 1988, in just 91 seconds. Sportswriter Ken Lee, of The Independent, once wrote that Tyson "came to the ring with all the determination and pent-up energy that has helped establish him as perhaps the most intimidating force ever seen in boxing."[4]
In the 1990s, however, Tyson's personal issues began to overshadow his performance in the ring. He lost his undisputed heavyweight title and spent three years in prison for a rape conviction.
When Tyson returned to boxing, in 1996, he regained a heavyweight title but quickly lost it again to Evander Holyfield. In a 1997 rematch, Tyson was infamously disqualified for biting off a chunk of Holyfield's ear, ultimately having his Nevada boxing license rescinded for over a year. As the years passed, the former champ seemed more and more unstable.
Still, the financial benefits of a heavyweight championship fight were obvious, especially considering the lagging state of the local Washington economy. So, after several weeks of consideration, the D.C. Boxing and Wrestling Commission agreed to grant Tyson a license.
However, for boxing fans in the nation's capital, it was too late. The Commission's delay caused promoters to look elsewhere. They ultimately placed the fight in Memphis, instead of Washington.[5]
As it turned out, though, Washington would get another chance to see Iron Mike up close a few years later, in a bout that turned out to be unexpectedly historic.
In 2005, Tyson's management team arranged a fight against Ireland's Kevin McBride at Washington's MCI Center. By that point, Tyson's professional boxing career was clearly nearing its end. He had been knocked out in two of his previous three bouts. However, few imagined that the Irishmen posed much of a challenge.[6]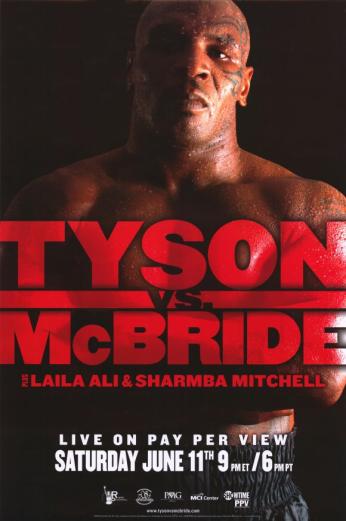 The Clones Colossus, as McBride was known, entered the June 12, 2005 fight as the heavyweight champion of Ireland with a 32-4-1 record with 27 knockouts, standing about seven inches taller, almost 40 pounds heavier and nearly seven years younger than Tyson.[7]
Tyson, introduced as a man "needing no introduction, the world over," with his signature scowl and black trunks, waited for the bell to sound.[8]
Before a crowd that featured a number of NBA and NFL players and former heavyweight champion boxer Muhammad Ali, Tyson was able to hold his own against the younger, longer-reaching Irishman. Tyson made some good connections in the early rounds, to McBride's chin and body, but McBride stayed standing. As the fifth round began, momentum in the ring began to shift in the Irishman's favor. A right hook to Tyson's chin knocked him into the ropes. [9]
As the sixth round began, Tyson was leading on two of the three judges' scorecards 57-55, but began to fight dirty as he attempted to twist McBride's arm, for which he was docked two points by the referee. McBride would continually tie up with Tyson to slow his momentum; pinned against the ropes, Tyson head-butted McBride, cutting McBride's eye. After being examined by doctors, McBride quickly retaliated with a disorienting upper-cut to Tyson's chin. Tyson ended the sixth round slouching on the ropes, sitting on the ring's canvas.[10]
Tyson sat bewildered in his corner as he opted not to answer the seventh round bell, and McBride was declared the winner of the bout by technical knockout.[11]
Tyson, who was clearly out of his prime, earned a purse of about $5 million compared to McBride's $150,000. After the fight, McBride was clearly excited, saying "this win was for the pride of Ireland. I proved everyone wrong tonight…This victory moves me closer to my goal to become the first Irish-born heavyweight champion of the world."[12]
After the fight, Tyson was defeated emotionally, as much as physically, saying "I do not have the guts to be in this sport anymore. I don't want to disrespect the sport that I love. My heart is not into this anymore. I'm sorry for the fans who [sic] paid for this. I wish I could have done better. I want to move on with my life. It's time to move on with my life and be a father, take care of my children."[13]
As he suggested, the result was surely a disappointment for many D.C. boxing fans. But they could take some solace in the fact that they had witnessed a bit of history: True to his word, the McBride fight at MCI Center was Tyson's last.
^ Dan Rafael, "Sen. McCain: Don't give Tyson a shot," USA Today, February 21, 2002.
^ Bob Mee, "Boxing: Washington shying away from Tyson fight," The Telegraph, February 21, 2002; John Scheinman, "Former Champion Tyson Considering a Fight at MCI Center," The Washington Post, March 9, 2005.
^ Rafael, "Sen. McCain;"
^ Graham Houston, "The hardest hitters in heavyweight history," ESPN.com, December 27, 2007, accessed July 26, 2016, http://espn.go.com/sports/boxing/news/story?id=3168817.
^ Scheinman, "Former;" Rafael, "Sen. McCain;" Mee, "Boxing."
^ Scheinman, "Former."
^ Schlabach, "From a Stool "; Dan Rafael, "No 'guts', no glory for Tyson in defeat," ESPN.com, June 12, 2005, accessed July 26, 2016, http://espn.go.com/sports/boxing/news/story?id=2083271.
^ Clifton Brown, "Tyson Quits Fight and May Quit Boxing Next," The New York Times, June 12, 2005.
^ Brown, "Tyson;" Rafael, "No 'guts;'" Mark Schlabach, "From a Stool, Tyson Ends It," The Washington Post, June 12, 2005.
^ Rafael, "No 'guts;'" Chuck Johnson, "Tyson announces retirement after quitting vs. McBride," USA Today, June 12, 2005; "Tyson quits boxing after defeat," http://www.bbc.com/sport, June 12, 2005, accessed July 26, 2016, http://news.bbc.co.uk/sport2/hi/boxing/4084744.stm.
^ Schlabach, "From a Stool;" Brown, "Tyson;" "Tyson quits."
^ Schlabach, "From a Stool;" Johnson, "Tyson;" Rafael, "No 'guts;'" "Tyson quits."
^ Rafael, "No 'guts.'"