Much like any city, Washington's landscape is ever evolving, and the rise of gentrification has transformed many of the city's neighborhoods. Take downtown 14th street, for example. Today, 14th street offers all the hangout spots a D.C. millennial yuppie might desire: hip bars, coffee shops, sleek gyms equipped with spin bikes. In the 1970s and 1980s, though, a less-conventional business threatened to displace the street's small neighborhood shops: adult bookstores.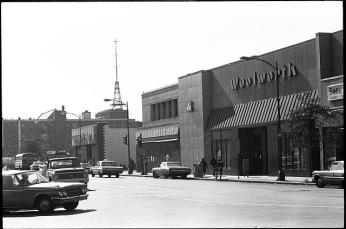 By the 1970s, adult bookstores weren't a particularly novel phenomenon, but the period marked a unique era of growth. According to The Evening Star, adult bookstores were long considered small businesses, R-rated "mom and pop" shops if you will, and were scattered throughout the city.[1] After the 1968 race riots, though, more of these businesses made their home along 14th street.[2] The riots altered the image and former prestige of downtown D.C., and as traditional businesses moved out, adult bookstores moved in.[2] By 1978, business was booming, and conglomerates started to recognize the sex-industry in Washington as viable enough to warrant investment. The "Walt Disney"[3] of porn himself, multi-millionaire and businessman Reuben Sturman, took interest in Washington's pornography scene and acquired eight downtown adult-bookstores that year.[4]
These newfound investments bolstered the business and transformed the downtown area. 14th street, between H and K streets, became what The Post deemed a full-on "porno district."[5] It even became commonplace for tour-buses to make a stop along 14th in addition to the city's more traditional landmarks so that tourists could ogle the bookstores and peep shows.[1] By the early 1980s, 14th street boasted 22 of Washington's 30 adult bookstores.[2]
As the popularity of these shops grew, though, so did residents' resistance. Many expressed concern over D.C.'s reputation, but it was also a personal matter. Conglomerate ownership pushed smaller sex-shop owners out of the city, and the growth of the sex-shop business at large threatened the success of regular businesses. "[14th street] has changed…most of the neighborhood stores [I] knew [are] gone…the problem is that as sex-businesses move in, they force other merchants out.," observed one Washington resident.[1]

Public outcry was even more pronounced in areas like Georgetown, a neighborhood that many contested was too elite and refined for businesses like adult bookstores to make their home. There was really only one business bold enough to open in Georgetown - an "understated" adult bookstore at 3255 M. St. NW.[6] Nearly as soon as the unnamed bookshop opened its doors in 1977, the Georgetown Business Association organized for the bookstore's removal. "People have a right to do business and make a living, but they don't have a right to have any business in any area that they want to," protested Olcott H. Deming, the association's president.[6] 1,500 Georgetown residents signed a petition renouncing the store as "being wholly inconsistent with [their] community standards" and sent it to then Councilwoman Polly Shackleton. Shackleton expressed sympathy with her constituents, stating that though she's "all for free speech," she saw the adult bookstore as risking "the destruction of an entire residential neighborhood."[6] Georgetown residents feared the adult bookstore would pave the way for other sex-shops, attracting "pimps and prostitutes" next.[6]
Interestingly, Art DuFraine and Ted Nicely, owners of the M. street store, took pains to clarify that their business was a far-cry from "the 14th street type bookstores," adding that Georgetown provided a "large number of potential customers" – a more elite-class who desired adult-content made with "good-taste."[6] "It's going to be a nice and comfortable place," assured DuFraine.[6] While some Georgetown goers agreed and even praised the store for offering needed "variety" to the "whole place," there were several residents who lamented that "Georgetown has gotten sleazy."[7]
Concern over the sex-shop industry motivated then Mayor Walter E. Washington and Councilman Douglas E. Moore to push for policies that restricted activities of businesses like sexual entertainment bars and massage parlors; but not much could be done about adult bookstores in particular. "[Under existing law], there really isn't anything we can do," expressed then Councilwoman Polly Shackleton.[6] Some proposed changing zoning laws, but such changes would affect mainly new businesses rather than existing enterprise. "Re-zone. Zone everybody else out," commented DuFraine, "It'll be better for me, I'll be sitting here with a monopoly."[6]
Perhaps frustrated with the legal limitations, one resident took matters into their own hands. In 1981, an unnamed individual "deliberately set fire" to an adult bookstore at 1210 New York ave. NW, causing $50,000 worth of damage to the store and its material.[8]
Adult bookstores and other sex-shops managed to survive for several more years, but it seems that the public, and at times violent, backlash eventually succeeded in wearing down the market. The Washington Post covered the closure of the last two adult bookstores on 14th street in 1989. Carl Aleshire, manager of one of the last shops, reported that his store had plans to move to Baltimore.[9] "This city doesn't want us," Aleshire commented.[9] Newly passed zoning laws discouraged any new adult businesses from taking up residence in the city, banning adult-shops from locating "within 600 feet of a church, school, library or playground or locate within 300 feet of a similar business."[9]
Today, it seems we've come somewhat full circle. Though there are a few adult bookstores scattered throughout D.C., 14th street is a far cry from the red light district Washington residents once feared it would become. Those living in Georgetown might be happy to know that there don't seem to be any R-rated businesses in their neighborhood. The 3255 M. St. NW bookstore is now a very refined Chipotle establishment.
a, b, c "Nation's Top Pornography Dealer Taking Over in D.C." Evening Star (published as The Washington Star) - February 12, 1978 - page 1
a, b, c Linda Wheelr, 14TH STREET'S EVOLUTION SPARES ADAM AND EVE, June 10, 1989, Washington Post, https://www.washingtonpost.com/archive/local/1989/06/10/14th-streets-ev…
^ Sam Sifton, "Notes from Underground," 11 May 2003, NY Times, https://www.nytimes.com/2003/05/11/books/notes-from-underground.html
^ "Nation's Top Pornography Dealer Taking Over in D.C." Evening Star (published as The Washington Star) - February 12, 1978 - page 1
^ "Sleezy 14th street porno district," Ghosts of D.C., https://ghostsofdc.org/2012/05/07/sleezy-14th-street-porno-district/
a, b, c, d, e, f, g, h Eduardo Cue, Adult Bookstore Stirs a Protest In Georgetown: Adult.., 
The Washington Post (1974-Current file); May 2, 1977; ProQuest Historical Newspapers: The Washington Post pg. C1
^ "City Views: What do you think of the new.."The Washington Post (1974-Current file); May 12, 1977; ProQuest Historical Newspapers: The Washington Post pg. 121
^  "$50,000 Damage Caused by Fire Set In Adult Bookstore in Washington," The Washington Post (1974-Current file); Jun 16, 1981; ProQuest Historical Newspapers: The Washington Post pg. C20
a, b, c Linda Wheelr, 14TH STREET'S EVOLUTION SPARES ADAM AND EVE, June 10, 1989, Washington Post, https://www.washingtonpost.com/archive/local/1989/06/10/14th-streets-ev…