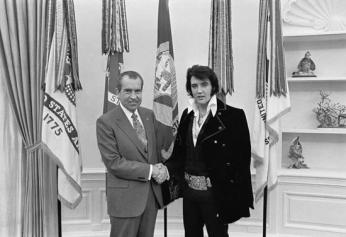 Of all the photos in the National Archives, which one would you suppose gets the most requests for reproduction? Maybe the flag raising at Iwo Jima? The March on Washington in 1963? No. It's this one, taken during Elvis Presley's impromptu visit to 1600 Pennsylvania Ave on December 21, 1970.
That morning, The King showed up unannounced at the northwest gate of the White House with a handwritten six page letter to President Nixon. The letter iterated Elvis's desire to become a "Federal Agent-at-Large" in the war on drugs. After a brief discussion with Elvis and his body guards, Nixon aide Egil "Bud" Krogh became convinced the singer was sincere, and thought he might be helpful in reaching out to young people about the dangers of drug abuse. Krogh sent Elvis back to his hotel and worked on setting up a meeting with Nixon.
A few hours later, Presley was invited back to the White House. At about 12:30 pm Nixon saw him in the Oval Office where The King repeated his offer to help fight drug abuse. The two men talked for several minutes and Krogh made notes of their interaction:
"Presley indicated to the President in a very emotional manner that he was 'on your side.' Presley kept repeating that he wanted to be helpful, that he wanted to restore some respect for the flag which was being lost. He mentioned that he was just a poor boy from Tennessee who had gotten a lot from his country, which in some way he wanted to repay."
After the meeting, Elvis and his bodyguards ate lunch in the White House dining room. Before they left, the singer was given a badge by the Bureau of Narcotics and Dangerous Drugs. What a quirky incident!
Source
"When Nixon Met Elvis," Online exhibit at National Archives website, accessed December 21, 2012. http://www.archives.gov/exhibits/nixon-met-elvis/