A few months back we posted about the legendary double bill of The Who and Led Zeppelin at Merriweather Post on May 25, 1969. There's ample documentary evidence about that epic performance — posters, newspaper articles, photos, ticket stubs. But did you know Led Zeppelin's first live show in the DC area may have been at the Wheaton Youth Center — a nondescript multi-purpose room and gym in a Maryland suburb on January 20, 1969? It was also the night of Richard Nixon's Inauguration. And the weather was terrible. And 50 people were there, tops. But there are no photos, articles or a paper trail of any sort to prove it.
Surely this must be an urban legend. Or is it?
Local filmmaker Jeff Krulik, best known for his classic Heavy Metal Parking Lot, has spent 5 years on the trail trying to find out if this concert (which would have been the lowest-paying gig in the band's history) ever really happened. The result of this investigation is Krulik's new film, Led Zeppelin Played Here, which was recently screened for the first time to an appreciative packed house at the AFI Silver Theatre. We caught up with Jeff via email after the show to ask about this intriguing project.
Nick Scalera: So how did you become interested in this topic?
Jeff Krulik: I've been fascinated with the history of the rock concert industry for as long as I can remember. I've always been curious about the personalities and machinery behind the industry, and how the modern concert industry emerged from the amorphous blank slate of the 1960s. I grew up, and certainly came of age in the '70s arena rock era, and experienced the vibrant nightclub life as a young adult and college student attending the University of Maryland, where I helped arrange and promote concerts, as well as help manage the radio station. In particular, I've always been keen to know about the Washington DC area's place in music lore, and rock concert history. I became friends with fellow obsessives like Mark Opsasnick (Capitol Rock) and Bob Embrey (DC Monuments) and began recording this history through my documentary work.
Led Zeppelin Played Here is my effort to prove that Led Zeppelin's first DC area concert was in a youth center gymnasium in front of 50 confused teenagers on a snowy Monday night in January 1969. And I'm not even a huge Led Zeppelin fan. This whole project came about as I was set to do a film called Maryland's Woodstock, about the Laurel Pop Festival which took place in July 1969, one month before the Woodstock. I wanted to highlight that there was this forgotten pop festival in our area, and basically tell the story of that two-day concert, featuring Led Zeppelin headlining one night.
 
But I soon found a story arc as I connected the dots of Led Zeppelin's performances: in May, they shared a bill as opening band for The Who at Merriweather Post. And in February they were on an opening slot with Vanilla Fudge at the Baltimore Civic Center. But the real curiosity was their first local concert which was said to have taken place on January 20, 1969 at the Wheaton Youth Center.
 
So this is part of my ongoing effort to chronicle the emerging cultural landscape of my hometown, which in many ways, could be anyone's hometown, anyone's coming of age experience.
NS: In your film, Led Zeppelin's official staff (notably touring manager Richard Cole) deny any knowledge of the Wheaton show. Do you think there were any other motivations at work here? If this concert ever really happened, do you think they'd want to admit it?
JK: I honestly think at this point in time they have no recollection as to whether this happened or not. They really cannot remember. And I get that now, having interviewed enough people about different facets from that time period. If I had a chance to grill tour manager Richard Cole, face to face, about Led Zeppelin's lowest paying gig he mentions in his book, I'm sure he'd recall it as somewhere other than Wheaton, MD. At this point in time, he seems pretty adamant that the Wheaton show didn't happen.
NS: In the film you track down an archivist at Montgomery College who finds the earliest printed reference to the Wheaton show in a 1971 college newspaper article.  In your opinion, is this the "smoking gun" that proves the veracity of the other eyewitness accounts of the concert?
JK: Ron Fritts had been compiling research about the Wheaton concert for many years, hoping to crack the mystery. As far as I'm concerned, his find is as much a smoking gun as I've been able to uncover during my five year quest. We really hit it off because we speak the same lingo. He's a jazz authority and involved in several music and culture research projects; I'm very grateful that he reached out to me with his find.
NS: One of the most fascinating "characters" in the film is legendary DC concert promoter Barry Richards — who states unequivocally that he booked the Wheaton show and recalls several other details (including an argument with Zep's long dead manager). His credibility as a witness is called into question by other interviewees in the film. What do you think about Richards' "testimony"?

JK: I think Barry's credible, but then you start hearing him embellish facts and re-imagine history and you start to wonder. I hardly think Barry is the only fast-talking radio DJ icon who is guilty of the same thing. I think it goes with the territory, the patter, the rap, the jive. The danger is when the 'facts' are being taken as gospel, without being cross-referenced or verified, and the internet and our social networking universe is strewn with false information, often times regurgitated over and over.
I think Barry has candidly provided all he's capable of remembering. And understandably, while some of us make a big deal out of something like this, it's very trivial to many others, including the members of Led Zeppelin.
NS: At one point you ask local rock god Dave Grohl (Nirvana, Foo Fighters) to contact Led Zeppelin bassist John Paul Jones about the Wheaton show. Have you heard back from Grohl yet?

JK: No, but I'm hopeful I'll have a chance to continue the dialogue with him. You can tell he's genuinely interested in this story, but he also has a lot of other things on his plate. He's now a documentary director in addition to being a rock star. I figure if anyone can pick up the phone and get John Paul Jones on the line, it's him. Maybe one day I'll follow up.
NS: The audience reaction to the film at the packed AFI Silver screening was really warm and enthusiastic. What are your plans for getting the film some sort of distribution and/or a wider viewing audience going forward?
JK: I was so thrilled at the response at AFI. I'm currently reworking it with editor Brad Dismukes and we are aiming for a 90-minute running time. I'm also planning some more local screenings and possible film festivals, maybe television. Eventually, I'm going to blast it out on the internet. Nobody buys DVDs anymore and I don't feel like manufacturing another one so it can sit in boxes in my closet like Heavy Metal Picnic.
I'm still curious how the film will play outside of this area. On the surface, it's a very partisan, local subject. But deeper down, I believe there's a universality since this could have been Anywhere USA in 1969. It's essentially about the emerging rock and roll culture and the rise of the concert industry we now take for granted. Stay tuned for the next step.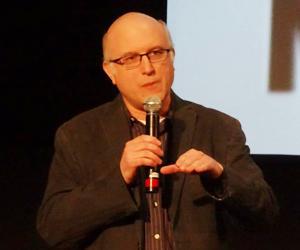 NS: We recently did an article about another local Led Zeppelin show — the legendary double bill with The Who at Merriweather Post in May, 1969. This concert was also referenced in your film. Did you discover any new tidbits about this performance that you can share?

JK: I think that particular double bill is remarkable, and there's no shortage of stories and anecdotes about that once-in-a-lifetime concert. The co-promoters were Mike Schreibman who is still very active in this area, running WAMA. The other promoter was Lester Grossman, who promoted several big rock concerts in the late '60s while in his early 20s, before getting out of the concert business. He writes a chapter about that concert — as he remembers it — in his own self-published autobiography.

There was a comedian on the bill who opened the show named Uncle Dirty. Barry Richards was the emcee. Many people were wandering around backstage, including Jean Aker from Empire Records (featured in my film) who says he played guitar with Pete Townshend backstage. I included an 8mm film of both bands hanging out in the dressing room backstage, which is really interesting to see. Apparently Route 29 was jammed for miles, and every person who has ever mentioned this show says it was one of the most memorable concerts they had ever seen. I can only imagine!

NS: Are there any other projects related to DC's rock history that you are working on currently?

JK: At the moment, I really want to see how much I can expand Led Zeppelin Played Here and still keep it a watchable documentary. After the film runs its course, I then plan to post all of my lengthy interviews on our dedicated website. There's a wealth of material that can't get included in the 90-minute documentary, so I'd like to eventually feature it on the internet, at least that's my hope.

I'm a great believer in oral history, and recording it properly. When I did a phone interview with Nils Lofgren while researching the Ambassador Theater Psychedelic Dance Hall which operated in 1967 at 18th and Columbia Road, he was emphatic that his interview be taped because he wanted to make sure he was quoted accurately. I was not only happy to oblige, I actually videotaped the phone interview, and it's available here.

I'm also always collaborating with author Mark Opsasnick, whose must truly be cited for his exhaustive detail and attention to accuracy. We're likely to repeat an event we hosted last year on PG County rock and roll history, since so many people were turned away and couldn't get in. Look for that in a bigger location later this year, possibly the Greenbelt American Legion.

NS: One last question — on your most famous work Heavy Metal Parking Lot — have you ever heard from any of the Judas Priest fans who appeared in the film?  Do you have any plans to follow up with them in any way, or revisit the topic somehow in the future?

JK: Heavy Metal Parking Lot will always be a crowd favorite, and John Heyn (co-producer) and I are always grateful for the interest, especially now 27 years later. I have no immediate plans to revisit the topic, except in comic book form believe it or not. I love people's early concert memories, and I'd like to create a comic where artists and authors can share their stories. We'll see, since that'll have to be a self-published venture (aka money losing proposition). Sounds just like documentary filmmaking!

Over the years we've heard from many of the folks who were on camera in HMPL; we have an extended alumni group even, and several of them are featured in a "Where are they now?" video that's included on our DVD, and also streamed on Snag Films.
We've love to do a bona fide reunion one day, wouldn't that be fun. Too bad Judas Priest broke up; they could have performed, in the parking lot!