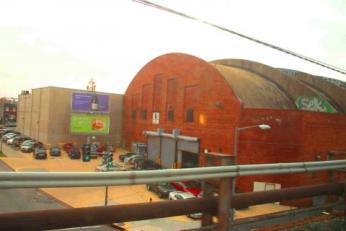 If you ride the Red Line Metro, you've probably seen it out the window at the New York Avenue stop: A massive, rust-colored structure with a curvilinear-trussed roof. It looks like an abandoned warehouse or factory, or a repair shop for ancient locomotives. You'd probably never suspect that 50 years ago in February, the Beatles played their first U.S. concert there.   It also was the home of Washington's first NBA team, and hosted events ranging from figure skating and midget auto racing to Dwight Eisenhower's 1957 inaugural festival and a 1959 speech by Nation of Islam founder Elijah Muhammad.
The place we're talking about is the Washington Coliseum, originally known as Uline Arena, a 72-year-old structure that from the 1940s through the early 1970s was the city's premier sports, music and public events venue. Now that Douglas Development is renovating the hall with a plan to convert it to office and retail space, it seems like a good moment to reminisce about the arena and its past glories.
The Coliseum was built back in 1941 by Migiel "Mike" Uline, a Dutch-born inventor of a ice cube-making machine and an entrepreneur who made his fortune supplying ice to Washington businesses, next door to his industrial plant. (He once churned out 25 tons of ice cubes for an international conference in the city.) Uline reportedly didn't like sports that much himself, but the businessman in him saw an opportunity in growing public interest in ice hockey, and he raised $700,000 to build what was billed as biggest ice rink east of St. Louis, capable of seating 6,000 fans for hockey and up to 10,000 for other events. He hired a local architect named Joseph Harry "Joe" Lapish, who based the arena's design on Army Air Force and Navy hangars that he'd built in Puerto Rico and San Diego, which also featured barrel roofs with ribs on the exterior of the structure. Aesthetics weren't the main consideration: that configuration was simpler and faster to build, according to a National Park Service historical report on the arena.
The Uline Arena, as its owner originally dubbed it, opened in February 1941, with an appearance of figure skater Sonja Henie's Hollywood Ice Revue that drew a crowd of 4,000. (The building was still so new that dust from the construction coated the ice, making it treacherous for the skaters.) Eventually, Uline launched an Eastern Amateur Hockey League team, the Washington Lions, who played in the arena from 1941 to 1957. In 1947, oddly, a game between the Lions and the Hershey Bears had to be halted by officials because of fog inside the arena.
But Uline hosted non-ice events as well. The calendar included plenty of boxing, including a March 1941 bout in which world light-heavyweight champion Billy Conn beat Danny Hassett with a fifth-round KO.  In November 1941, a political group called Fight for Freedom rented the arena for a rally to urge the U.S. to enter World War II — a month and two days before Pearl Harbor decided that question.
After World War II, Uline decided to branch out into pro basketball as well, and purchased a franchise in the Basketball Association of America, the forerunner of the NBA. The Washington Capitols, one of the league's original teams, played from 1946 to 1952, and won the division championship in 1949. The team was coached for its first several seasons by  Arnold "Red" Auerbach, who went on to greater fame by winning nine championships as coach of the Boston Celtics in the 1950s and 1960s.
In his quest to make a buck, Uline booked a wide range of other events as well. In 1941, the arena hosted a "Water Follies" show in which an 80,000-gallon above-ground swimming pool was set up inside the arena for a troupe that performed Ester Williams-style water ballet.  In 1944, he covered the rink with clay for a rodeo that featured a guest appearance by Roy Rogers and his horse trigger. In 1946, the Shrine Circus appeared at the arena, in a performance that had an extra bit of unexpected excitement when a 350-pound bear charged a trapeze performer, who was rescued when a Navy Yard mechanic in the audience heroically jumped on the bear's back. In 1948, Uline installed a track for midget car racing.  President Eisenhower had inaugural events there in both 1953 and 1957.
Uline wasn't the most enlightened individual when it came to race, and his insistence upon refusing to sell African-Americans tickets to hockey, skating and cultural events eventually led the NAACP and others to protest against him.  He died in 1958 at age 83, which allowed him to miss a 1959 speech by Nation of Islam founder Elijah Muhammad.
In 1960, the arena was sold to Harry G. Lynn and renamed the Washington Coliseum.  Because Washington in the pre-Kennedy Center era lacked arts performance space, the owner increasingly booked theatrical productions, ballet troupes and concerts.
In the early- to mid-1960s, the Coliseum also became a hot venue for rock music — including the biggest rock group of all time, the Beatles, whose February 11, 1964 concert at the arena was their first live show in America. Learn more the arena's rich musical history in this article.