Although their first appearance in Washington D.C. in 1964 was certainly more historic, the Beatles' last visit in 1966 was nothing if not eventful, and verged on the downright bizarre. In stark contrast to that triumphant first U.S. concert at Washington Coliseum in February 1964, by August 1966 the Beatles were mired in religious controversy, struggling to sell out concerts, no longer a shoo-in for #1 on the pop charts, and creating music too complex to be replicated on stage. To a large extent the 1966 Beatles had outgrown both their lovable moptop image and their legions of delirious teenage fans. They were at the forefront of massive musical, social and cultural change, and a good chunk of America was just not quite ready.
The Beatles stealthily arrived at Washington National Airport at 3:30 pm on August 15, 1966, for the fourth stop on what would become their final tour.[1] They were scheduled to play D.C. Stadium (i.e. RFK) that night, and according to The Washington Post, there were plenty of good tickets still available, priced from $3 to $5 each.[2] Their most pressing concern however was to address the growing firestorm over John Lennon's remarks on the decline of Christianity and the Beatles' relative standing in a popularity contest with Jesus Christ. 
Lennon's infamous "Bigger than Jesus ..." comment had actually been published in the U.K. back in March in the London Evening Standard, after an interview with journalist Maureen Cleeve: 
Christianity will go. It will vanish and shrink. I needn't argue about that; I'm right and I'll be proved right. We're more popular than Jesus now; I don't know which will go first—rock 'n' roll or Christianity. Jesus was all right but his disciples were thick and ordinary. It's them twisting it that ruins it for me.[3]
The off-the-cuff remarks elicited scant reaction in England at the time, but when they were republished in the American teen magazine Datebook several months later — on the eve of their upcoming U.S. summer tour — all hell (and some actual fire) broke loose. The outcry exploded mainly in the Southern Bible Belt — with radio stations boycotting Beatles songs, several public burnings of Beatles records and paraphernalia, death threats, and other organized protests. The Beatles' manager Brian Epstein considered canceling the tour, fearing for the lives of his clients.[4]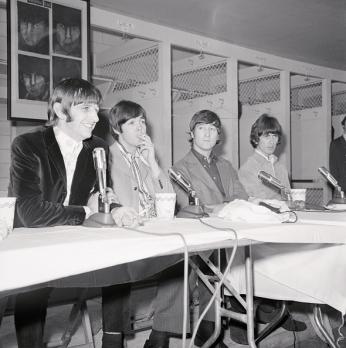 Lennon had already made an apology of sorts in Chicago on August 11, but this did little to allay the controversy. So the Beatles scheduled another press conference in Washington to address the continuing chaos. Since there was little time between their afternoon arrival and the scheduled concert at 8 pm, the event was held in the Washington Senators' locker room at D.C. Stadium. Several of the baseball players' lockers were hastily cleared out, and the Beatles were seated in front of them. Only fragments of the press conference survive, but the tone of the assembled journalists was much more confrontational than the jovial reception they received back in 1964. One reporter went so far as to theorize that the whole thing was an elaborate publicity stunt timed to drum up ticket sales for their tour, to which Lennon replied:
 Well, that is the... one of the most stupid versions of it. 'Cuz that, I mean... That's not a publicity stunt. We don't need that publicity. Not like that.[5]
In addition, The Washington Post published an exclusive interview with Lennon by Leroy Aarons, who described Lennon's comments as "the musings of an almost naively sincere young man going through a process of self discovery," and added that his subsequent qualifying remarks were "the first stirrings of a poorly educated but intellectually hungry individual." [6] 
Despite all these efforts, Washington law enforcement officials still anticipated major problems at the concert, and put tight security measures in place. These included stationing over 500 police officers in and around the stadium, and building a 600-foot long snow fence in the outfield to prevent fans from rushing the stage.[7] Additionally, a "force of special policewomen" was assigned to patrol the stadium.[8]
These concerns turned out to be mostly overblown. The only actual "demonstration" that occurred prior to the concert was staged by five members of Prince George's County Ku Klux Klan, who were led by the Imperial Grand Wizard of Maryland. This small parade left little impression on the Beatles themselves or the crowd: "It turned out to be six guys in white sheets and conical hats walking round with a placard," remembered Neil Aspinall, the Beatles' road manager. "It didn't really amount to much."[9]
The same could be said for the concert experience itself. After several warm-up acts, the Beatles appeared on stage for about 30 minutes in total. They raced through a setlist of a mere 11 songs with no encores, which included several songs also performed during their 1964 and 1965 tours. It did not include a single song from their latest album Revolver — a groundbreaking masterpiece often listed in the Top Ten albums of all time, which would have been nearly impossible to reproduce live anyway. For the 32,164 fans in attendance, the Beatles were difficult to see and hear, as evidenced by a fan's testimonial: 
I've been to plenty of loud concerts, and with the exception of some really bad feedback, I have never experienced anything as annoying and unpleasant as the unrelenting screeching of nearly 30 thousand teenage girls.  It was painfully loud, like multiple jet engine loud. Being a naive 15-year-old boy I had gone expecting to hear a concert. Truth is, we could barely hear or see them. I was in the lower seats above first base, and not too far back, but the Beatles were way out by second base.[10]
After this short, nearly inaudible set, the Beatles were quickly spirited away, traveling immediately to Philadelphia for the next date on this whirlwind tour which would pack 19 shows into just 17 days. As the bus departed, the Fab Four had already moved on, in pretty much every way possible. The 1966 D.C. concert had been a microcosm of all the reasons touring had become more of a threatening burden than a joyous celebration. Though no one outside the band knew it at the time, the Beatles were finished as a live act. Two weeks later, they played their last concert ever at Candlestick Park in San Francisco. 
^ "Guarded Beatles Whisked to Hotel On Arriving Here for Stadium Show,"The Washington Post, August 16, 1966: A1. 
^ "Beatles Are Coming, To Delight of 30,000," The Washington Post,  August 14, 1966: B3. 
^ Jonathan Gould, Can't Buy Me Love: The Beatles, Britain and America, (Random House: 2008), 308–309. 
^ Gould, Can't Buy Me Love: 346-347.
^ Transcribed by www.beatlesinterviews.org from video and audio clips of the press conference: http://www.beatlesinterviews.org/db1966.0815.beatles.html
^ Leroy Aarons, "'Can't Express Myself Very Well,' Beatle Apologizes for Remarks," The Washington Post, August 15, 1966: A1.
^ "Guarded Beatles Whisked to Hotel On Arriving Here for Stadium Show,"The Washington Post, August 16, 1966: A1.
^ "Beatles Are Coming, To Delight of 30,000," The Washington Post,  August 14, 1966: B3. 
^ Jordan Runtagh, "When John Lennon's 'More Popular Than Jesus' Controversy Turned Ugly," Rolling Stone, July 29, 2016, http://www.rollingstone.com/music/features/when-john-lennons-jesus-cont…
^ Alan Bryson, "The Beatles Final Tour & Paul McCartney's First — Being there," Jazzamatazz: https://jazzamatazz.wordpress.com/2013/10/12/the-beatles-final-tour-pau…