Arlington National Cemetery is the permanent resting place of many important American historical figures--military Medal of Honor winners, political figures such as President John F. Kennedy and his brothers Ted and Robert, explorers such as Robert Peary, and Civil Rights Leader Medgar Evers, among others.  But for 51 years, its hallowed ground also provided a burial place for one of Poland's greatest heroes, Ignacy Jan Paderewski, who took a hiatus from his career as a world-renowned pianist and composer to serve as that nation's first Prime Minister. Paderweski also has another odd distinction, in that his remains didn't stay at Arlington, but ultimately were disinterred and shipped back home to his native country.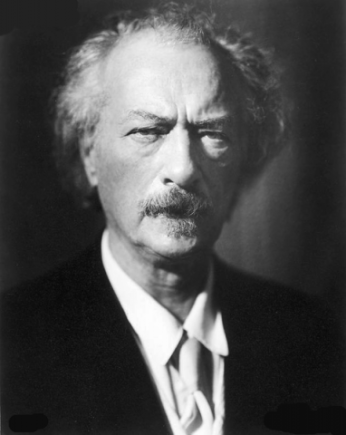 Paderewski was a unique historical figure, Poland's cross between George Washington and Van Cliburn. After his debut as a pianist in Paris in 1889, he toured Europe and the U.S. as well, and attracted throngs of devoted fans. The Washington Post, in a preview of an 1895 performance at the Metzerott Music Hall on E Street, noted that Paderewski's concerts were "greeted by the largest houses that have ever attended piano recitals, and has created a furor never before equaled by any planist that has visited this country."
At the same time, the musical superstar was a patriot who longed to see his nation, which had been partitioned by Germany, Austria and Russia in 1795, achieve independence and self-rule.  He eventually used his musical superstardom to gain the attention of U.S. President Woodrow Wilson, who at Paderewski's urging made the creation of a free and independent Poland one of his famous "14 Points" required to achieve peace in Europe after World War I.  In 1919, he became the first Prime Minister of newly-independent Poland, and also served as its foreign minister and representative to the League of Nations, before quitting politics in 1922, when he was in his early sixties, to resume his musical career.  
In 1939, after the invasion of Poland by Nazi Germany and the Soviet Union triggered World War II, Paderewski--who was by then living in Switzerland--turned down Polish patriots who asked him to head a government-in-exile, saying that at age 79, his health was too fragile. But he eventually agreed to head an advisory council for the resistance regime. After the German army swept through France in June 1940, Paderewski decided to move to the U.S. in order to promote Polish relief efforts. In September of that year, he arrived in New York on his 80th birthday, accompanied by his sister. But  10 months later, at age 80, he died of pneumonia in his Manhattan hotel suite. After learning of Paderewski's death, President Franklin Roosevelt arranged to transport the Polish leader's body from New York to Washington for a state funeral, in addition to memorial service that was to be held for him at St. Patrick's Cathedral in New York City.
On July 3, 1941, the train carrying Paderewski's coffin arrived at Union Station in Washington, in the midst of a thunderstorm. An honor guard of veterans from the Polish army, clad in pale blue uniforms, carried the coffin, and Jan Ciechanowski, the ambassador from Poland's government-in-exile, and his staff escorted the body to the Polish Embassy on 16th Street NW., where Paderewski lay in state.  On July 5, Paderewski's remains rode on a caisson through the cemetery's marble entrance, as a battery of cannon boomed a 19-gun salute in his honor, and the U.S. Army Band played a funeral dirge. The procession was headed by a squad of Polish exiles who'd enlisted in the Canadian armed forces. On a velvet cushion, one of them carried the Polish military cross, which the government-in-exile had awarded to Paderewski postumously. Perhaps because of American sympathy for Poland's plight at the hands of HItler and the Soviets, the service attracted a big crowd of mourners. "Mingling with diplomatic officers wearing silk hats and striped trousers were throngs of plain Americans, some men in shirtsleeves and some women in slacks," a wire dispatch on the front page of the New York Times reported. 
But Paderewski wasn't buried after his funeral. According to the cemetery's official website, because Paderewski had not served in the armed forces of the U.S. or its allies, he wasn't eligible to be buried below ground. Instead, he was interred in the vault of the U.S.S. Maine Mast Memorial in the cemetery's Section 24. The Times article about his funeral noted that the plan was for his body to remain at Arlington only temporarily, "until such time as it can be sent to a free Poland for burial."
But "such time" would turn out to be more than a half of a century. After Soviet forces drove the Germans out of Poland, they installed a communist regime there, to the dismay of the wartime Polish government-in-exile in London. Each of the rival regimes demanded that Paderewski's body be turned over to them, according to a New York Herald-Tribune account. When the dispute remained unresolved, Paderewski's casket remained stored inside the U.S.S. Maine monument. Washington Post music critic Paul Hume, who wrote a biography of Paderewski, called attention to the undignified storage situation.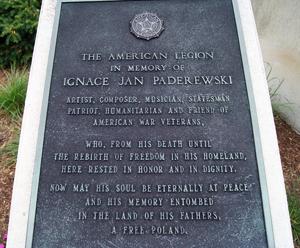 In May 1963, President John F. Kennedy, accompanied by an honor guard of 180 U.S. soldiers in dress uniforms, tried to remedy the injustice by dedicating a plaque honoring Paderewski at Arlington. In his remarks, Kennedy lamented that "that day has not yet come" when the body could be returned to a free Poland, but "but I believe that in this land of the free, Paderewski rests easily."
It took the fall of communism in eastern Europe to get Paderewski a ticket home. After several years of delicate manuevering by the Polish and U.S. governments, on June 26, 1992, workers disinterred Paderewski's coffin and wheeled it out of the burial area to Fort Meyer Chapel, where the Polish leader lay in state that evening for a second time. Then the body was transported to Andrews Air Force Base and put on a flight to Poland for reburial. Oddly, however, the Polish musician and leader's heart, which had been removed from his corpse years before, remained in the U.S. at his family's wishes. Today, it is enshrined in a monument at the National Shrine of Our Lady of Czestochowa in Doylestown, Pa.