On the morning of January 22, 1987, Washington was hit by a massive snowstorm that, in some ways, might have been the beginning of then-Mayor Marion Barry's ignominious downfall.
According to a front-page Washington Post account the next day, the sudden storm quickly dumped 14 inches of snow upon hapless Washingtonians, forcing the federal government, the District government, and businesses to shut down and send hundreds of thousands of workers home. That exodus, combined with the rapid snow buildup, quickly threw its transportation system into chaos. Ice built up on the third rail from which Metro trains draw power, by afternoon, officials had to shut down 37 miles of the 70-mile rail system, as they stuggled to free six trains that were stranded for several hours on the Red Line. Police had to be called in to manage the overflow crowds of stranded commuters at stations. 130 buses became stuck in the snowy roads, including 17 that were jammed up on one stretch of Massachusetts Avenue alone. Cars couldn't get anywhere either.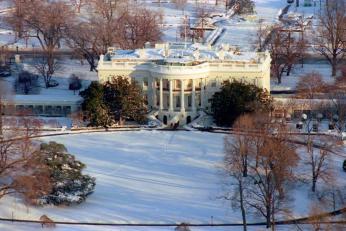 As residents pushed their cars down District streets and stranded commuters searched for somewhere to bed down for the evening, recently re-elected Washington mayor Marion Barry had it considerably easier. As the Post later reported, Barry was 3,000 miles away, playing tennis at the Beverly Hills Hilton in California, where he had come to see Super Bowl XXI between the Denver Broncos and New York Giants. Most politicians might have rushed home to lead the response to such a crisis, or at least to get in front of the TV cameras and reassure the public that they were in control. But Barry wasn't like most politicians. As the District struggled for several days to dig out from the ice that had set in as temperatures dropped to 10 degrees, Barry chose to remain in California. Even after weather forecasters predicted on Friday that the District might be hit be a second, even bigger storm that weekend, he stayed to attend the big game. 
On the afternoon of the Super Bowl, it was a relatively balmy 68 degrees in Pasadena. Back in Washington, snow was falling again. By evening, another 10 inches of snow was piling up atop the snow and ice that still lingered from the previous storm. Power failures and equipment breakdowns again disrupted the Metro system, and roads again became snarled. By the next day, District residents' ire was growing. As the Post reported, the snow-caked pavement seemed to mysteriously end at the District line, and they could see roads in neighboring Montgomery County that had been cleared. With Barry absent, District administrator Thomas Downs was left to defend the poor performance. "D.C. streets are different than suburban streets and are harder to clear," he said in a television interview. But that excuse probably did little to pacify the public. "This is disgraceful," a cab driver told the Post. "The city says they have their plows out, but I haven't seen any of them. They must be plowing their driveways."
Meanwhile, Barry was still nowhere to be seen. The day after the game, he was still in southern California. He later explained that he'd he'd been briefly hospitalized for flareup of a hiatal hernia. But several years later, during Barry's federal trial on drug and perjury charges, witness testimony made that out to be a cover story. Barry's friend, attorney Lloyd Moore, testified that he'd received a phone call from one of Barry's traveling companions, who'd told him that the Mayor had collapsed after smoking cocaine, according to a Los Angeles Times account.
When Barry finally returned, he chose to survey the chaos from high above, in a police helicopter. That may have given him a more comprehensive view, but the meme of the mayor blithely flying over ordinary Washingtonians' struggles didn't help him. It helped even less when he defended the government's ineffectual snow-and-ice removal efforts, explaining that "We're not a snow town." A blizzard of criticism in the news media, on talk shows and street-corners ensued, and a day later, a chastened Barry had to apologize. "We have been humiliated and laughed at around the country," he admitted.
But the debacle helped fuel rumors about Barry's behavior and resentment toward him. It was the start of a downfall that would culminate not quite three years later on Jan. 19, 1990, when he was arrested by the FBI and District police at the Vista International Hotel, after a sting operation caught him smoking crack cocaine.
WETA looks back at the people and events of the 1980s in a one-hour documentary, Washington in the '80s.