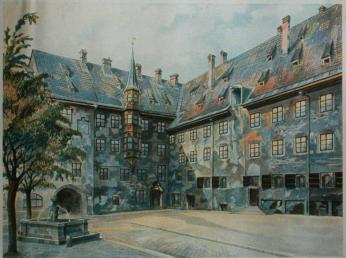 In 1956, the Woodward & Lothrop department store in Washington DC, located at 11th and F St NW, hosted a traveling exhibit purporting to showcase the "American Dream." Woodward & Lothrop, or "Woody's" as it was affectionately called, was a staple in the city for over one hundred years, from the late 1800s to 1995, when it merged with another company. During the "Era of Department Stores," a period lasting from the '30s to the '70s when department stores were the main mode of shopping for the American family, Woodward & Lothrop was the King of DC. This is probably why the store felt entirely comfortable hosting the "American Dream" exhibit, and the exhibit's main draw: four watercolors painted between 1917 and 1919 by Adolf Hitler.
That's right, alongside items like Thomas Jefferson's razor and Babe Ruth's uniform, a tankard made by Paul Revere and WC Handy's trumpet, Lincoln's hair tonic and Teddy Roosevelt's pocket watch, the Thirteenth Amendment and a replica first lightbulb — were Hitler's watercolors. Why were these paintings included among the thousand "national treasures," to be carted around to 50 department stores in 50 cities, shown for free to all the citizens of America?[1] As with many other things in the '50s, the answer was the Cold War. Hitler's paintings were included as America's war trophies. It was a warning to Russia, a reminder of America's might. The paintings were akin to the mounted head of a deer in a hunter's lounge. And whatever the Russians thought or understood about this display, Americans loved it and turned out by the thousands.
Such a scene would be impossible in any mall in DC today, or indeed in any museum. A few of Hitler's watercolors, as well as other paintings and photographs produced by the Nazi regime, are currently held about twenty miles south of Washington at Fort Belvoir. Here, behind a heap of security, are 456 art pieces produced in Nazi Germany as propaganda that glorify Adolf Hitler, the Nazi war effort, or some other aspect of the Nazi regime. These pieces came to be held at the Army's Museum Support Center at Fort Belvoir through the efforts of Captain Ordon W. Gilkey, a "kind of non-monuments man."[2] Gilkey was tasked by the US Army with the 'de-Nazification' of Germany through rounding up all the German art he could find. In what some called a "looting campaign," the Captain sent thousands of art pieces back to America to be sorted through and locked up. All but 456 pieces were eventually sent back, excluding 200 non-propaganda pieces that the German government agreed be kept by America as a sample of German artwork. All of it is held in a special temperature- and humidity-controlled vaults deep in Fort Belvoir, maintained and cataloged as a larger WWII exhibit by the Army's curators who restore and care for hundreds of years of US Army History.
If the "American Dream" paintings aren't in Fort Belvoir as part of Captain Gilkey's collection, and several sources state that the watercolors there have never been displayed, perhaps they are held in the National Archives. More than 2.5 million images of Germany dating back to the 1860s, including art from the Nazi period, are in the Archives and this number only grows: as recently as 2008, the National Archives acquired a huge cache of Nazi photo albums. The Archives' ownership of their Hitler watercolor paintings has been controversial in the past and it took a 20-year court case, settled in 2003, to allow the Federal government to keep them. In 1983, heirs of Heinrich Hoffman (friend of Hitler) and Houston collector sued for possession of Hitler's paintings and other items. Over decades, Hoffman argued that the US government had illegally seized the artwork in the last days of WWII, and to continue holding them would be unlawful. The government argued that there was a clear precedent in US and international law to allow wartime seizure of goods from a defeated enemy. The judge ruled for the Federal government and those watercolors remain in the vaults of the National Archives, accessible only to scholars.
Hitler's paintings can be obtained freely around the world at expensive auctions but in DC they'll probably stay under the government's lock and key, deemed too controversial to display to the public. What a difference from 1956 Washington, when just anybody could stroll downtown and take a gander at Hitler's failed art career!
Sources:
Honan, William H. "Court Ruling Leaves Hitler's Paintings in U.S. Hands." The New York Times, June 8, 2003.
Lisicky, Michael J. Woodward & Lothrop: A Store Worthy of the Nation's Capital. Lecture at the Alexandria Historical Society, 23 March 2016.
Manning, Lt. Col. Rob. "Westphal meets those charged with protecting, preserving Army history." U.S. Army, June 5, 2012.
Ruane, Michael E. "Fort Belvoir holds art made by the Nazis and found by a World War II U.S. Army officer." The Washington Post, February 23, 2014.
Samuel, Lawrence. The American Dream: A Cultural History. (Syracuse University Press, 2012.)