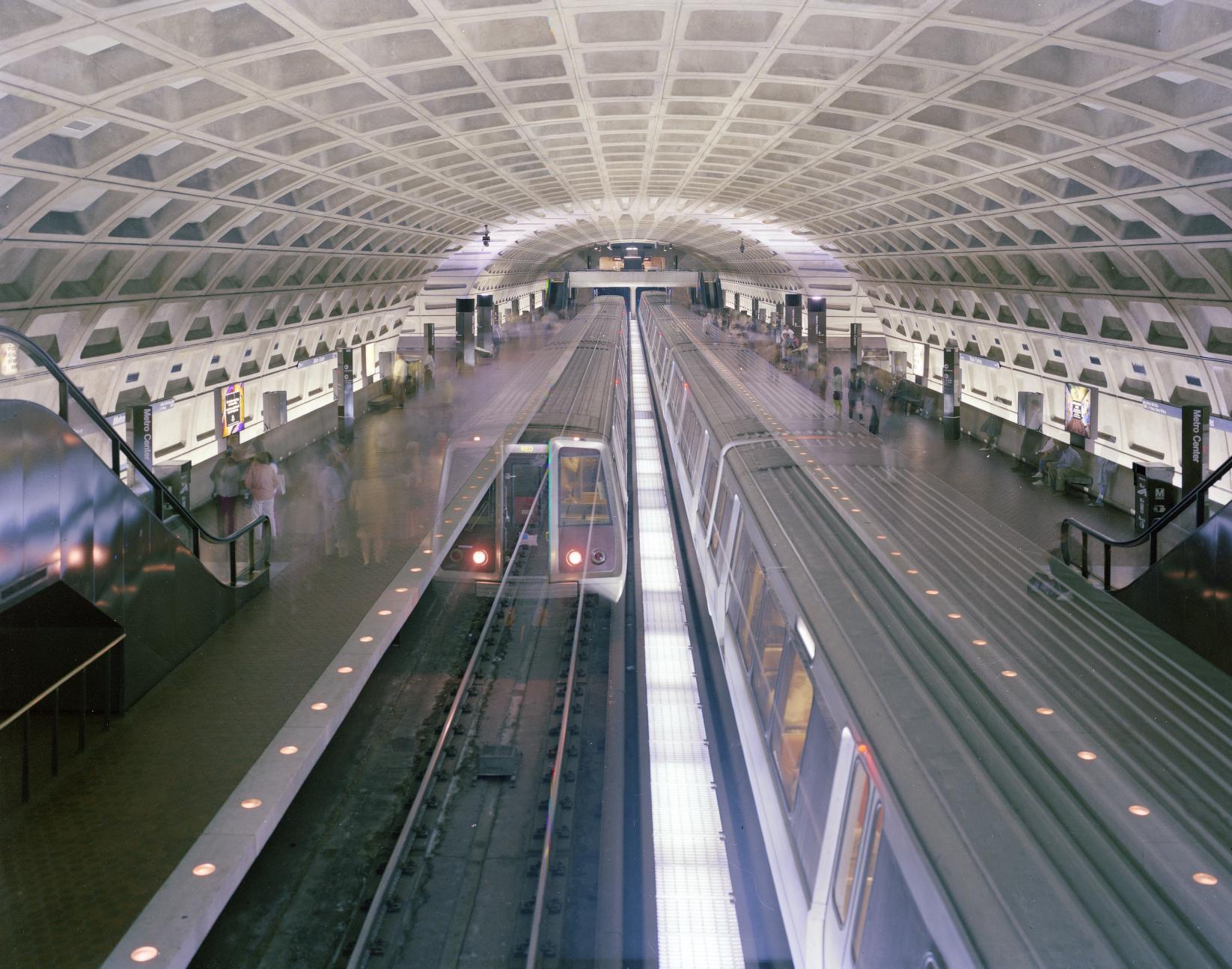 There is no Metro stop in Georgetown because residents in the 1960s protested Metro out of fear that it would bring "riff-raff" (read: criminals, the poor, and people of color) into the neighborhood. Sound familiar? This oft-repeated story has become a tightly-woven thread in the tapestry of DC's history and culture. But is it true? The answer is complicated.
The historians who have tried and failed to bust this myth for good and the journalists who originally proliferated the myth tend to have one thing in common: they trace the Georgetown Metro myth back to a single Washington Post article from 1977[1]  – and a single woman who came to represent the mythology.
That woman is Eva Hinton. A Georgetown resident since 1932 and a historic preservation activist, Hinton had long been known for opposing development and commercialization, and promoting the "status quo" of the upscale Georgetown she called home.[2]  In 1977, the Post interviewed her and referenced a position paper from the Citizens Association of Georgetown which argued that a Metro stop would "lead to nowhere but deficits." Commenting on the position paper, Hinton said, "You come to a point in your life when you've got something. If you want to keep it, you've got to do something to keep it… What it means is… leave us the hell alone."[3]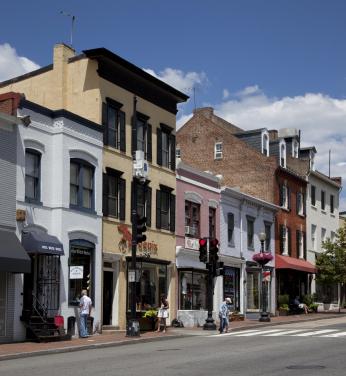 Hinton wasn't the only Georgetown resident quoted in the article. One unnamed merchant interviewed said, "The whole charm of this place is that there aren't great surges of people, the way you have in New York, along Fifth Avenue… Maybe it looks like I'm against progress, but it wouldn't be progress. It would be the end of Georgetown as we know it." Charles H. Conrad, executive director of the National Capital Planning Committee, remarked, "A subway would have wrecked Georgetown."[4]
But while others spoke out along with her, Hinton was one of the most well-known people (infamous to those who found her NIMBY crusades tedious) quoted in the article. Her photo also accompanied the piece, which might explain why she has become synonymous with the Georgetown Metro myth. Hinton, known by some as "Mrs. Georgetown,"[5]  fit a Georgetown stereotype: a wealthy, white, seemingly holier-than-thou preservationist who some saw as standing in the way of progress and looking down on outsiders.
And this stereotype of Georgetown as a place unwelcoming to development and newcomers had some basis. Some residents were indeed resistant to change and an influx of outsiders. Speaking on development in the 1970s, the former president of the Citizens Association of Georgetown, Grosvenor Chapman, said, "We have an east, west, north and south front. Close the windows, they're coming through the doors."[6]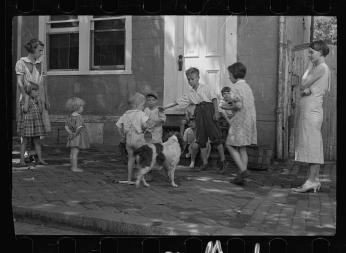 Notably, as much as some Georgetown residents professed to be against change, Eva Hinton's Georgetown was the product of major change itself. Before the 1940s, the neighborhood had been home to mostly low-income Black and white residents, and more integrated than many neighborhoods in Washington. Among other factors, a rise in wartime jobs led to a high demand for housing in Georgetown by middle- and upper-class whites, pushing out much of Georgetown's Black population.[7]  People like Eva Hinton created the Georgetown we know today—and the Georgetown that Metro skipped over.
At the time that Metro was first proposed, there was the perception that the Metro would bring increased crime. As former Metro spokesperson Cody Pfanstiehl recalled, "the subway meant spit, grime and rape" in the minds of many citizens.[8]  Former DC mayor Walter E. Washington was frank in his assessment that Georgetowners, "didn't want strangers—basically black—coming up out of the ground in their neighborhood"[9] –an acknowledgement that many white Washingtonians unjustly associated increased crime with people of color.
So then there was a neighborhood-led push against the putting a Metro in Georgetown! Case closed, right? Not so fast. There were actually a number of other factors, which influenced why Metro never made it to Georgetown – and they had considerably more sway over the final outcome than Eva Hinton and her friends.
Geography
Georgetown's location on the banks of the Potomac presented some pretty significant challenges, as Harry Barley, Metro's acting director of marketing in detailed 1996:
"Bringing a line to Georgetown would have been an engineering challenge. The likeliest routing would have been to divert the Orange/Blue Line at Foggy Bottom to Georgetown and then under the Potomac River to Rosslyn and beyond. That was viewed as more complicated than the current route."[10]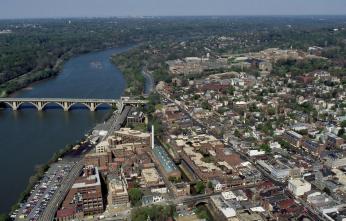 For the Metro to reach Georgetown, the line would have to tunnel under the Potomac and go beneath private properties, not just city streets. The depth of that hypothetical tunnel under the Potomac would have created an incline too steep for Metro trains to handle. Technology today has made this almost a non-issue, but at the time it was a major concern.[11]  In other locations, like Congress Heights, WMATA was able to overcome similar engineering challenges by rerouting the line.[12]  But the Georgetown stop came with added challenges.
Geology
Georgetown is built on especially hard bedrock that WMATA would have had to blast through at great expense to create a tunnel for the Metro. One of Eva Hinton's major concerns about Metro construction that she expressed in the Post article was that drilling into this rock would have threatened the foundations of Georgetown houses.[13]  It is possible that this is true, but it appears that WMATA did not go so far as to investigate it.
Planners Decided Against It
With some considerable engineering, placating of private citizens, and some big bucks, perhaps WMATA could have overcome the challenges presented by the Potomac and put a station in Georgetown. And it seems that was considered – briefly – when the system was being designed. A 1963 sketch proposed a highway bridge to carry the Metro across the Potomac to Georgetown.[14]
Notably, this plan was thrown out not by Georgetown residents, but by highway planners.[4]  The 1977 Post article that highlighted Hinton even seems to confirm this. Charles H. Conrad, executive director of the National Capital Planning Committee, told the author that "only one staff study ever included a Georgetown stop, and it bit the dust early."[13]  According to Barley, "Because Georgetown was never on any Metro plan, there was no need to debate these points." (E.g. the engineering challenges discussed above.)[15]
A Different Vision for Metro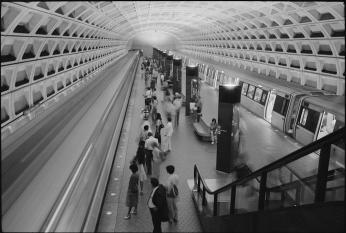 Before WMATA could examine how to engineer a stop in Georgetown, they had to consider if Georgetown even needed a stop in the first place. When it was first conceived, the vision for Metro was significantly different – and more limited – than the system we know today. Whereas now many Washingtonians see Metro as a viable transportation option to access nightlife, dining, and shopping, that wasn't the case originally. Metro was designed to transport workers to and from the downtown core and there just weren't enough commuters coming to or from Georgetown to make a Georgetown station worth WMATA's while.[16]  WMATA preferred to put stations near busy bus stops and areas with a high concentration of apartment buildings.[17]
According to Barley, "When the system was planned in the 1950s and 1960s, Georgetown, with its expensive town houses and mansions, was not seen as a strong market for transit use. Metro was looking for corridors that would lend themselves to high-rise development to channel future growth. Georgetown didn't fit that profile."[15]  So, engineering challenges or not, Georgetown just wasn't worth Metro's while. Quite the blow to the ego of any Georgetown residents who wished to "look back at a victory in a battle that never was fought" as one letter to the editor of the Washington Post quipped in 1997.[18]
The Making of a Myth
When one considers these various factors, it seems obvious that while some Georgetown residents did express opposition to a Metro stop in their neighborhood, it was basically a moot point due to the much larger logistical issues. But perhaps the most interesting aspect of this entire Georgetown Metro question is the very fact that the mythology has persisted for decades.
Local publications have attempted repeatedly to quash the myth. (See here, here and here for a few of the many examples.) Furthermore, in Zachary Schrag's definitive history of Metro, The Great Society Subway (2006), he debunks the story… and yet the myth remains.[19]  Why can't Washington let go of the Georgetown Metro myth?
Part of why the myth has such a tight grip on the collective Washingtonian psyche is because, false as it is, it says something true about a changing city. Metro was not created in a vacuum of maps and equations. It grew against the backdrop of a city—and a country—experiencing growing pains as it grappled with issues of race, class, and social justice.[20] And, when it came to Georgetown, the myth meshed with the neighborhood's reputation as an exclusive, white neighborhood. As Topher Matthews characterized it for Greater Greater Washington, the myth "conforms with what many people think of Georgetown residents. 'Of course Georgetowners stopped Metro to keep out people of color, that's just the sort of thing Georgetowners would do,' goes the reasoning."[21]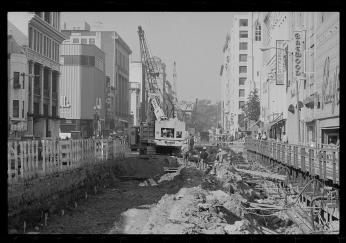 In fact, white, wealthy Georgetowners were not the only Washingtonians to take issue with WMATA. "Local political squabbles" impacted Metro's development all over Washington.[12]  Residents and businesses in many neighborhoods regardless of race or class protested the Metro. Some reasons for protest included the noise and dirt of construction, disruption of business, and yes, preservation concerns and fear of increased crime.[22]
Chauncey Thomas, a member of the Columbia Heights Association for Growth and Enrichment, noticed a sentiment among Black and Latine residents that WMATA wanted to, "misuse public funds by suggesting a subway to benefit white suburbanites who can afford other means of transportation while leaving blue-collar Negro and Spanish residents… at the mercy of inadequate, inconvenient, and expensive bus service."[23] Some Black Washingtonians distrusted the mostly white WMATA because they wanted more agency in the rebuilding of their city after the destruction that followed MLK's assassination and the white flight of the mid-20th century. Race and class were inextricable elements in the creation of the Metro.[24]  Now decades later, it's easy to point the finger at those who tried to stand in the way of development in the past. It can be more challenging to examine the role these issues play in the present.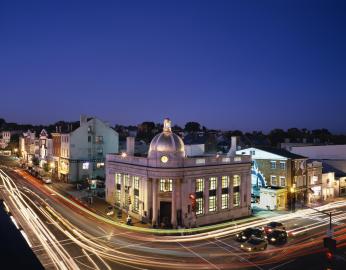 So, if you've come here searching for a definitive answer about why Georgetown doesn't have a Metro stop, the best we have to offer is this: it's complicated. The myth isn't all bad though. Like all good local lore, it's like an inside joke that separates locals from tourists. It also gives Washingtonians something to commiserate about when trying to get to Georgetown. Nothing binds people together quite like complaining about public transportation!
Local legends are always fun to tell, but next time you're looking to let a newcomer in on some DC gossip, try a ghost story or some historical hot goss instead. The true story of Metro is a lot more complex than one story can express.
^Luke Mullins. "Everything You Think You Know About the (Nonexistent) Georgetown Metro Stop Is Wrong." The Washingtonian, Nov 10, 2021. https://www.washingtonian.com/2021/11/10/everything-you-think-you-know-… Jordan Pascale. "Why Doesn't Georgetown Have A Metro Station? It Goes Beyond NIMBYism." WMAU 88.5. Nov 12, 2019. https://www.npr.org/local/305/2019/11/12/778473521/why-doesn-t-georgeto… Matthews, Topher. "How the urban legend of Georgetown residents halting a Metro stop came to be." Greater Greater Washington. Jul 29, 2019. https://ggwash.org/view/73159/the-history-of-the-urban-legend-of-george…
^Eisen, Jack. "A History of Preservation." The Washington Post. May 23, 1984. https://www.proquest.com/docview/138292700/60B347CD3D6A4C3DPQ/6?account…
^Levey, Bob. "Metro's not coming to Georgetown-and nobody's crying." The Washington Post. Jun 30, 1977.
^Betty Beale. "Space Film Draws VIPs, Criticism." The Evening Star. April 3, 1968.
^"Can Georgetown Survive?" The Evening Star. May 8, 1979.
^Kathleen Menzie Lesko, ed. Black Georgetown Remembered: A History of Its Black Community from the Founding of "The Town Of George" in 1751 to the Present Day. Georgetown University Press (2016), 85-109.
^Fehr, Stephen C. "Mood in Georgetown Swings Toward Metro." The Washington Post. Jan 10, 1994. https://www.proquest.com/docview/307701563/fulltext/454DD8C51C74CCEPQ/1…
^Ibid.
^Ron Shaffer. "Georgetown and the Metro." Washington Post. Feb 15, 1996. https://www.proquest.com/docview/307920754/454DD8C51C74CCEPQ/9?accounti…
^Jordan Pascale. "Why Doesn't Georgetown Have A Metro Station? It Goes Beyond NIMBYism." WMAU 88.5. Nov 12, 2019. https://www.npr.org/local/305/2019/11/12/778473521/why-doesn-t-georgeto…
^ a b More Than A Subway: A Chronicle of Transit Goals for the Nation's Capital, Metropolitan Washington Council of Governments (1979), 34.
^Schrag, 155.
^Luke Mullins. "Everything You Think You Know About the (Nonexistent) Georgetown Metro Stop Is Wrong." The Washingtonian, Nov 10, 2021. https://www.washingtonian.com/2021/11/10/everything-you-think-you-know-…
^Schrag, 156.
^Christopher J. Stephens. "Metro's Phantom Georgetown Stop." The Washington Post. Apr 1, 1997. https://www.proquest.com/docview/1458323303/454DD8C51C74CCEPQ/7?account…
^Luke Mullins. "Everything You Think You Know About the (Nonexistent) Georgetown Metro Stop Is Wrong." The Washingtonian, Nov 10, 2021. https://www.washingtonian.com/2021/11/10/everything-you-think-you-know-… Jordan Pascale. "Why Doesn't Georgetown Have A Metro Station? It Goes Beyond NIMBYism." WMAU 88.5. Nov 12, 2019. https://www.npr.org/local/305/2019/11/12/778473521/why-doesn-t-georgeto… "All You Need to Know About the Georgetown Metro Stop." The Georgetown Metropolitan, Jan 24, 2011. https://georgetownmetropolitan.com/2011/01/24/all-you-need-to-know-abou… Lori Aratani. "Five Myths about Metro." The Washington Post. Nov 20, 2015. https://www.washingtonpost.com/opinions/five-myths-about-metro/2015/11/… Topher Matthews. "How the urban legend of Georgetown residents halting a Metro stop came to be." Greater Greater Washington. Jul 29, 2019. https://ggwash.org/view/73159/the-history-of-the-urban-legend-of-george… Christopher J. Stephens. "Metro's Phantom Georgetown Stop." The Washington Post. Apr 1, 1997. https://www.proquest.com/docview/1458323303/454DD8C51C74CCEPQ/7?account…
^Schrag, Zachary M. The Great Society Subway: A History of the Washington Metro. Johns Hopkins University Press, (2014), "Introduction"
^Matthews, Topher. "How the urban legend of Georgetown residents halting a Metro stop came to be." Greater Greater Washington. Jul 29, 2019. https://ggwash.org/view/73159/the-history-of-the-urban-legend-of-george…
^Schrag, 157
^Anderson, 14
^ Ibid. 27